Note:
This procedure applies only to content coming from Finalsite modules such as Forms Manager or Media Manager, and shared via iFrame.
If you want to share web pages from your Composer site via an iFrame, please contact Support.
If you want to embed content on another site, you must first add that site to the "Safe Domains" list.
Any third-party websites that displays Finalsite content via iFrames must be added to the "Safe Domains" list on your site first in order for that content to appear. Content that is shared via social media platforms such as Facebook or Flickr is not affected - this only impacts content displayed within an iFrame (which would have had to have been manually created).
If you embed forms, files or Media objects onto sites that have not yet been whitelisted, that content will no longer be accessible. Please configure the "Safe Domains" list on your site right away to make sure that your iFramed content remains accessible to all users. Similarly, if you hear from your end users that they cannot access a form or media object that's coming from your website but displayed on another one, check the "Safe Domains" settings first and make sure the third party site is listed there.
The list controls are found in Site Administration > Site Information > Safe Domains.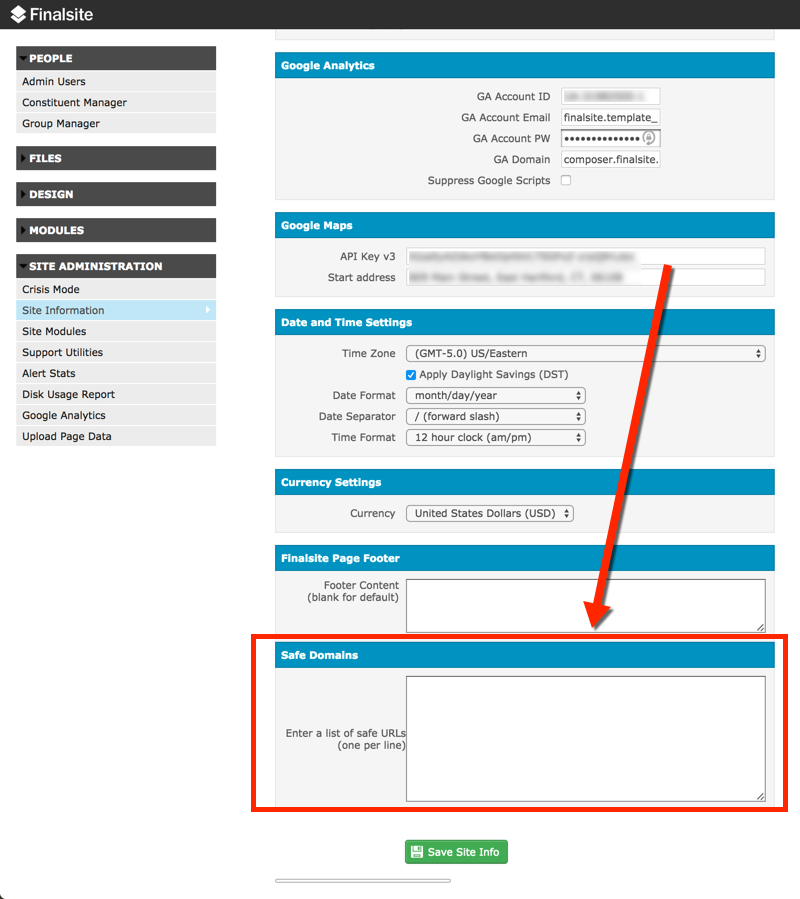 Update the list with a "bare domain," meaning no 'http://' or 'https://' or 'www.'
For instance, if you have content shared on http://www.somecontent.com/yourschool, you would add "somecontent.com" to the Safe Domains list (without the quotes!) Note that if you include anything other than the bare domain, then the list will not save any of the URLs you enter.
This procedure was implemented in early January, 2017. At that time, some existing Finalsite content that was being iFramed into other sites was exempted in order to ensure that it remained visible (particularly for cases such as fundraising forms).
Going forward, the whitelisting procedure will apply to all content shared via iFrame.
Support does not have the ability to tell you where all of your content may be displayed via iFrames on other domains, but please contact Support if you have any questions about the Safe Domains list.