This article refers to our legacy product, Forms Manager. For the best Finalsite experience, we recommend using our newest product, Forms, which is already available to you in your modules list. To learn more, please review our New Forms FAQ or Compare Forms and Forms Manager.
Forms can be set to expire after a specified amount of time. Expired forms are not accessible by website users.
To set an expiration date for a form, click the "Scheduled" radio button in the "Activation" section on the left side of the Build & Edit tab.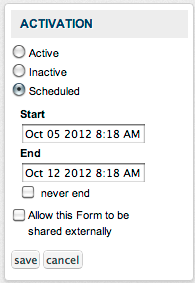 Use the "Start" and "End" fields to pop open the calendar. Select the time frame for which the form should be active. Click the "Save" button when finished. The Activation section will indicate that an activity period has been set.
Outside of the specified date range, the form will display the expiration message. This message can be customized in the Form Layout section at the top of the Build & Edit tab. Click the "Show" link to reveal the "Expired form message" field.