This article refers to our legacy product, Forms Manager. For the best Finalsite experience, we recommend using our newest product, Forms, which is already available to you in your modules list. To learn more, please review our New Forms FAQ or Compare Forms and Forms Manager.
The "Submit" button label can be changed to any custom text that you want. To do this, open the Form Layout section at the top of the Build & Edit tab.

Then, you can edit the text in the Submit Button Text field to change what shows up in the submit button.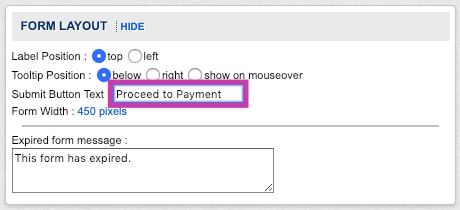 Best practice: Many schools use this option on payment forms to change the text to "Continue to Payment" or "Proceed" to indicate to the user that the payment form is ahead.