You can change the fields that are displayed on the Forms Results table using the "Set Columns" control above the Results table:

The "Set Columns" window will pop up. Here, you can select what's shown on the Results table. The available columns are broken up into three sections, each section contains a number of usable fields. Click on a field name on the right to add it to the table (shown on the left).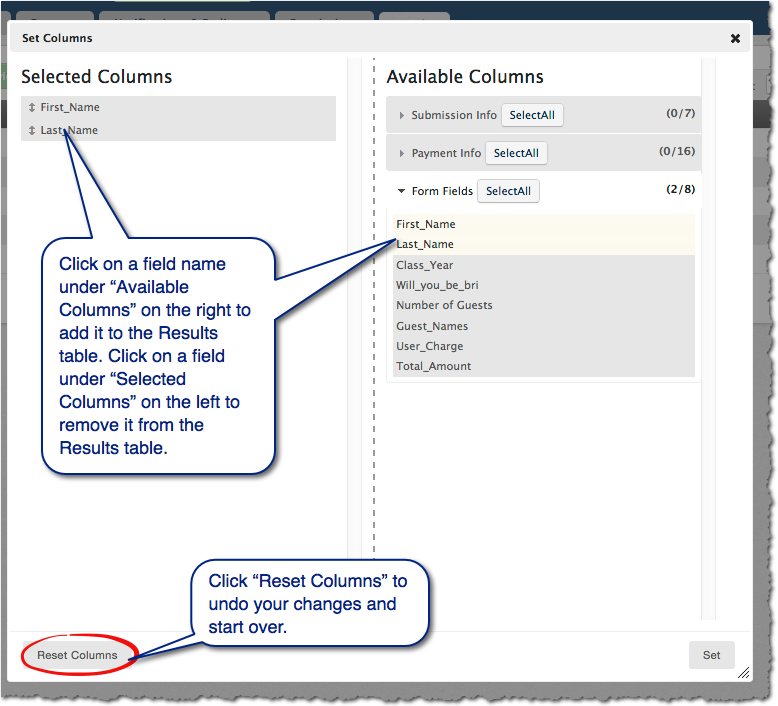 By default, the first 8 fields of your form will be displayed on the Forms Results table. You can override those defaults by selecting fields from "Available Columns" on the right to add them to "Selected Columns" on the left. 
The "Available Columns" fields are broken out by section:
Submission Info: These fields contain information about individual submissions to the same form - things like the unique SubmitID of each response, the confirmation email associated with the response, the date/time it was received, which version of the form was used to generate the response, etc.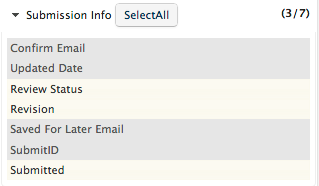 Payment Info: The Payment fields are only available for forms that collect a payment. These fields include details about the credit card transaction associated with this submission, such as the total amount, the card details, the payment status, and so on.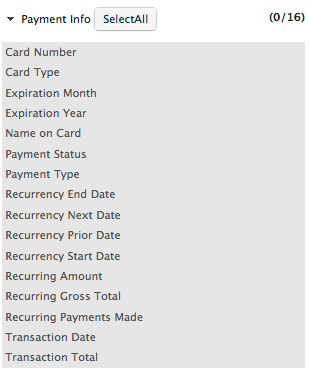 Form Fields: Any field that was part of the form submission can be included on the Forms Results table. The "Form Fields" section contains an entry for each of the fields on the form; these fields can be added individually to the results table.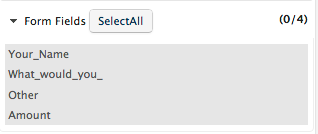 Note that the names of each form field in the Set Columns screen correspond to the "Results View/Reporting Label" data that's set when the field is first added to the form. If you want to change the name of a form field in the Results view, go back to the Build & Edit section of Forms Manager, and edit the form field there.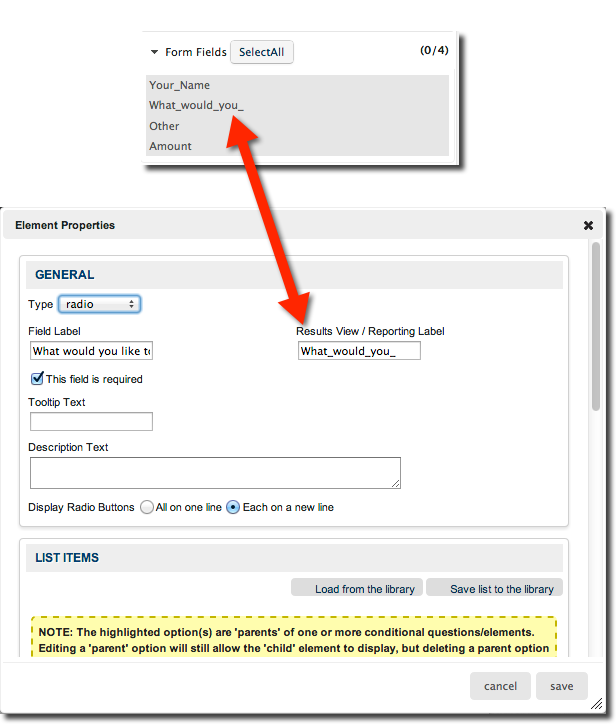 Once you have established which fields should appear on the results table, you can click-and-drag the field names to set the order of the table columns. Click on the up-and-down arrow on the left side of each field name to reorder the fields. The order of the fields in the "Selected Columns" display will determine the order of the columns on the Form Results table.