This article refers to our legacy product, Forms Manager. For the best Finalsite experience, we recommend using our newest product, Forms, which is already available to you in your modules list. To learn more, please review our New Forms FAQ or Compare Forms and Forms Manager.
Form templates are a useful way to save a form that you intend to modify and reuse multiple times. For example, you could create a basic field trip form that captures all of the standard information needed for every field trip and save it as a template. Each time you need to create a form for a new field trip, you could simply modify the template to add the information that is unique for that particular event, without having to recreate the fields that are common to all field trips.
To create a template, make a form as usual on the Build & Edit tab of Forms Manager. When you have created all of the basic fields you will want to use for all versions of this form, click the "Save As Template" button at the upper left of the Build & Edit tab.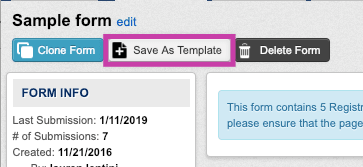 You will prompted to either "Convert this form to a template" or "Save a copy of this form as a template."
If you convert the form to a template, the form that you have created up to this point will be saved only as a template. If you select "Save a copy," however, the form you have created will be saved as a template and will also remain in Forms Manager as an actual form.
Selecting either option will open the current form as a template. A gold box will appear at the top of the form, indicating that you are in template mode. Any subsequent edits will be saved to the template, not the form itself.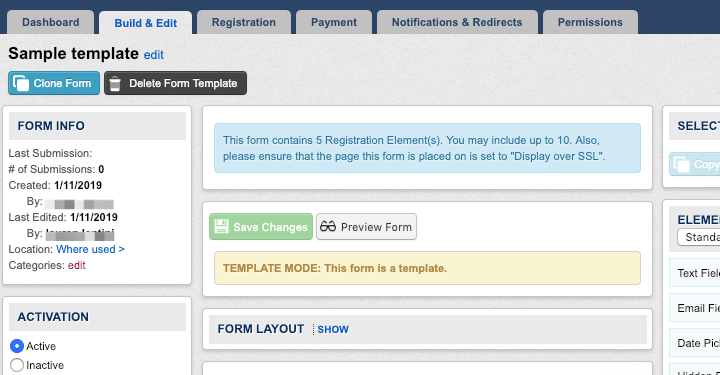 To use the template at a later time, open Forms Manager and select "Form Templates List" from the Dashboard.

Open the template you wish to use and click the "Clone Form" link at the upper left. (You can also opt to create a new form, and select "Create Form from template" when prompted.)
The fields you created in the template will be restored to a new form. You can now add in any additional fields needed to capture specific information for this use of the form, and complete the form-creation process as usual. The template you opened initially will NOT be updated.