The Payment Manager module allows site admins to create reports of historic transactions. Those reports can be run at any time to display up-to-the-minute information, and can be exported as a spreadsheet to be saved or used elsewhere.
Open Payment Manager from the Site Manager menu.

Payment Manager displays information from all web transactions, whether they're made via Forms Manager, Registration Manager or Commerce Manager. A separate tab provides further details on any recurring payments that users have created (if any).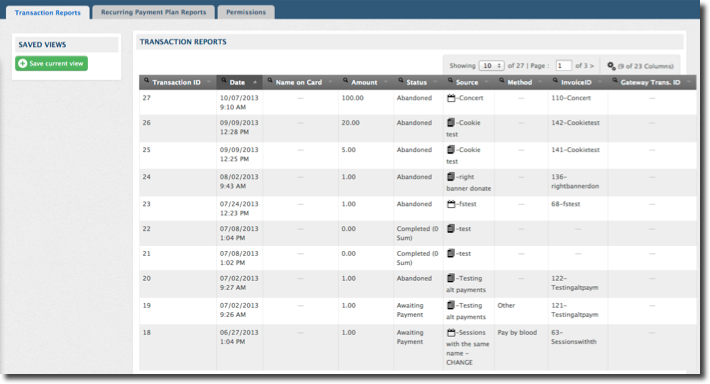 Use the magnifying lens and triangle icons in each column header to filter and/or sort the information displayed on the table, respectively. Each row of the table represents a separate transaction.
The data that's shown on the table can be customized by clicking on the 'gear' icon at the upper right, and selecting "Set Columns."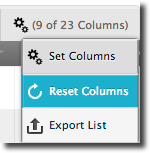 A new window will pop up, showing the various pieces of data that the form can display. Use the checkboxes to determine which columns will appear on the table.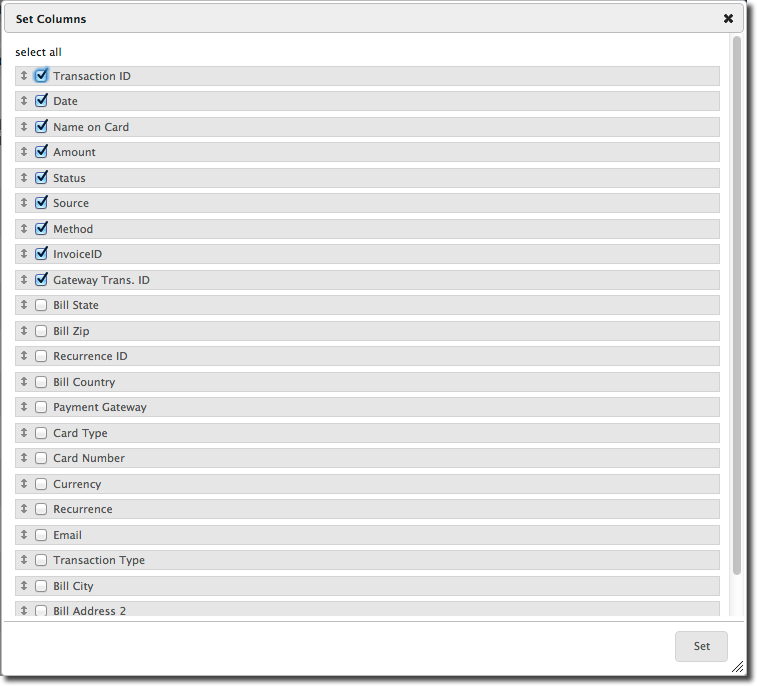 Use the arrow icon on the left-hand side of each column entry to click-and-drag the order. The entry listed at the top represents the left-most column, with each subsequent entry displayed on the table in the next column to the right.
Available columns include transaction data, including the credit card type, the partial card number*, the amount of the transaction, and the name on the credit card used. More information is available regarding the billing address, the email address provided in the transaction, and so on. All of the information captured during the checkout process can be viewed in a Payment Manager report.
*We cannot display the full 16-digit account number for credit card transactions. For security reasons Finalsite does not store this information (doing so would make our payments system non-PCI compliant.) We store and can can display the card type (MC/Visa/etc.) and the last 4 digits of the card number, but not the whole account number.
Saving Reports
After customizing the table data displayed, users can click the "Save Current View" button on the left-hand side of the screen. This will store the current column customizations on the user's computer; in the future, they can then jump directly to that particular arrangement of columns without having to open up the "Set Columns" window.