There are a few ways to specify what admins can and cannot do in Forms Manager:
1. Forms Manager vs. Forms Manager (Admin): In the Admin Users section (Under Site Manager > People), each administrator group has checkboxes for various modules. For Forms, there should be two: one for Forms Manager, and one for Forms Manager (Admin).
Giving an admin group rights to Forms Manager (Admin) gives them full rights to Forms Manager. This will typical only be required for the Administrators group.
Giving a group access to Forms Manager will simply allow them to access the tool from the Site Manager tab. For additional access, you'll need to control permissions from inside Forms Manager (see below).
2. Module Rights: The next level of admin rights can be found in the Module Rights section of Forms Manager. This can be found by accessing the Forms Manager Dashboard, and clicking the Module Rights link on the left.)
In this screen, you can add administrative groups or users, and grant them rights to Create Forms, Delete Forms, Manage available Categories, and Manage the List Library. These rights affect Forms Manager as a whole, and do not affect individual form permissions.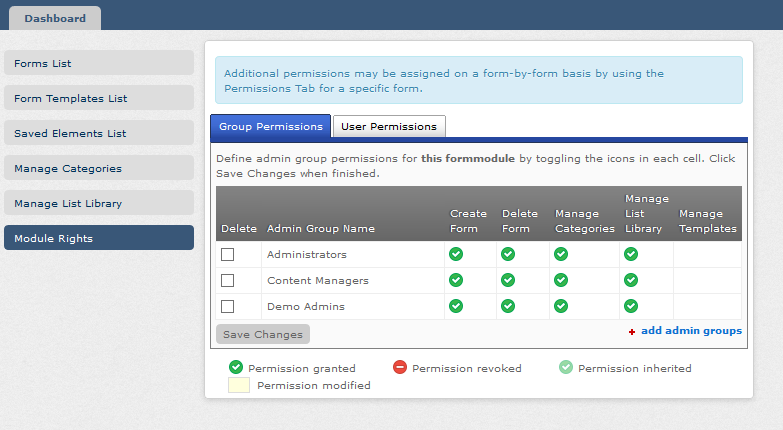 3. Permissions Tab: The final place to edit form rights, and the most granular, is on the Permissions tab of the form itself. Each form has separate permissions, and each user or group can have different rights.
The different access options for groups/users are: Edit Form, Publish Form, View Results, Mark As Reviewed, View/Enter Form, and Edit Results.