To bring a Google Calendar into Finalsite:
First, login to your Google Calendar, and find the list of calendars on the left. Click the arrow next to the one you want to share, and click Calendar Settings.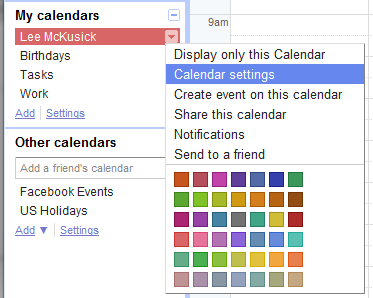 In the next screen, look for the sharing buttons. There are two sets. The first ("Calendar Address") is for public calendar subscription, which lets you share the calendar with other users. The calendar must be set to public on the "Share this Calendar" tab. The other ("Private Address") is meant to be for you only. The private subscription feed includes all calendar items, including those marked "private." The one for sharing, meanwhile, will only include items marked "public." Choose which feed version you want to pull into Finalsite. In either case, the feed URL you'll need is represented by the green button, labeled "ICAL."

Copy the iCal URL from the appropriate green button.
Next, open Calendar Manager in Finalsite. Create a new calendar. Set the Calendar Type to "Live iCal," and paste the copied URL into the "Live URL" field.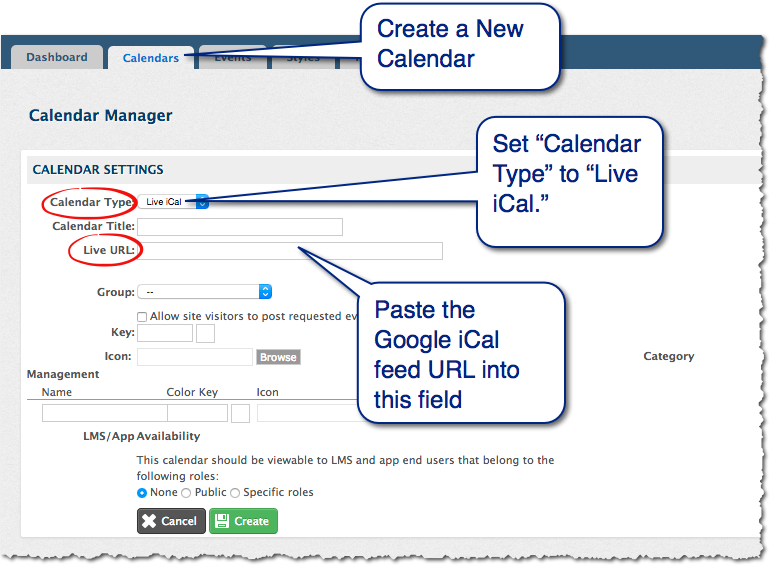 Save the calendar, and events from Google should automatically populate the calendar. As new events are added to the Google Calendar, they'll be pulled into the Finalsite calendar, as well. 
The fields that are synced between Google and Finalsite are:
Start Date / Start Time
End date / End time
Title
Location
Description