In this Article
---
Page Settings is where you can configure how this specific page on the site behaves, what it looks like to search engines, change the page's name, find its direct URL, control its visibility in the site navigation, and more. From any page, click the pink "gear" icon on the bottom bar to open up the configuration options for that page.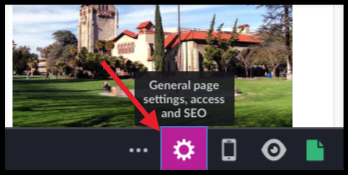 Page Settings is divided up into six sections: "General," "Linked," "SEO," "Nav Info," "Access Control," and "Permissions." Click the corresponding button across the top of the window to display each set of controls.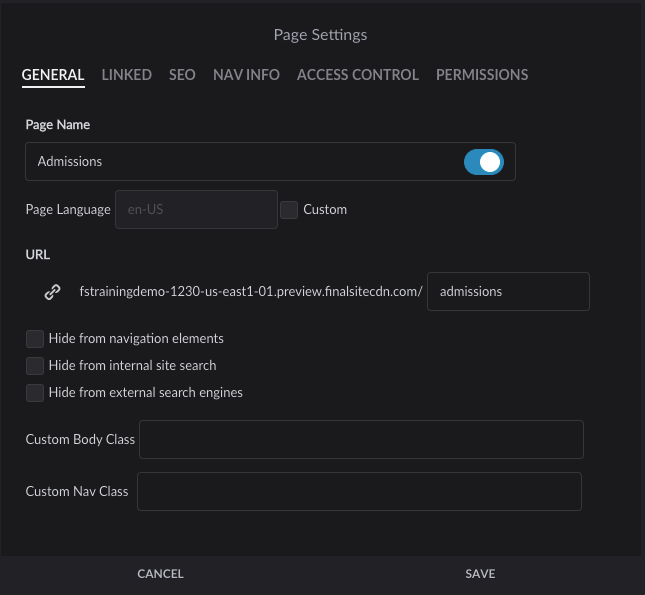 General settings
General settings affect the page name, as well as the visibility of the page name and the page itself.
Page Name: Sets the name for the current page. This is the label that will appear in the site navigation for any links pointing to this page. Use the slider button to show or hide the name of the page at the top of the page content area.

Page Language: The default page language is configured in Domain Settings; however, you can enable the "Custom" checkbox to set a different language for a specific page.

URL: This is the "friendly" direct URL for this page. The default URL for each page is derived from the page name, but you can override that and define a custom URL by typing a new name into the field provided. The complete URL path to this page is shown to the left of the editable field. You can copy the complete URL for this page to your clipboard by clicking the "link" icon on the left.

Hide from navigation elements: Select this checkbox to remove this page from the site navigation for end users. The page will still be accessible via its direct URL and site search.

Hide from internal site search: When selected, this page will not be listed when visitors use the search tool on your site.
Hide from external search engines: When selected, this page will be hidden from search engines like Google.

Custom Body Class: If you create a custom CSS definition and want to apply it to this page, enter the CSS class name here.

Custom Nav Class: This adds a class to the navigation for page-specific customization.
Linked
Select the "Linked page" checkbox on the "Linked" panel to reveal the settings to convert the page into an Internal Redirect page, an External Redirect page, or to reuse content from an existing page. Refer to Linked pages for more information about this feature.

SEO settings
SEO ("search engine optimization") settings control how this page appears to search engines and what it looks like when it shows up in search results. These fields are populated by default based on other page settings, but can be overridden with custom values if necessary. For each field, select the corresponding "Custom" checkbox to override the default values.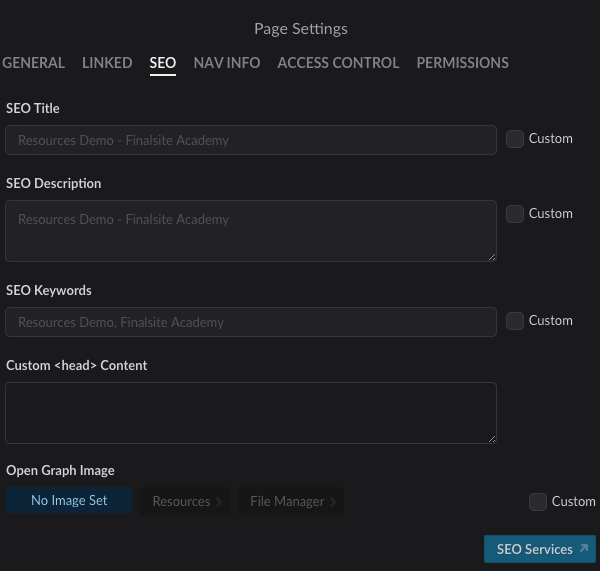 SEO Title: The SEO Title of a page is the title displayed by search engines (e.g., Google, Yahoo, Bing, etc.). Title elements are used to match a user's search terms with relevant results, making this field extremely important for SEO purposes. In addition, if this page is shared on social media sites such as Facebook, the link text will often be derived from the SEO Title of the page. Even if your Page Title is more creative, you should make sure that the page's SEO Title accurately reflects the page's content. Keep your SEO titles short - search engines will typically display only the first 50-60 characters of an SEO Title (basically, as many will fit on a very narrow display such as a phone.)

SEO Description: The SEO Description is a short explanation of page content. This description will be displayed on search engine result pages underneath the SEO Title when users run a search that matches this page. The Description text will also be used on social media sites when users link to this page. That can be a good way to determine what you enter here: think of how you'd want this page to be described when it's included in a post on Facebook.

Although Descriptions don't impact your page's ranking within search results, they're often important for enticing users to click on a link. Descriptions should be no more than 500 characters. Do NOT use quotation marks in an SEO Description; any text after the quote will be cut off when displayed on search engine results pages.

SEO Keywords: Use this field to set keywords that search engines should associate with this page.

Custom <head> Content: This field can be used to add your own stylesheets, scripts, or metadata to the page in the code.

Open Graph Image: Select an image that you want to be associated with this page when it is shared on social media
Nav Info
This panel allows you to set a description and a thumbnail for this page to be used on your site's navigation menus (these are typically only used in the "main" navigation controls users encounter on your homepage and section-header pages). These will only appear in Navigation elements that are configured to show thumbnails and descriptions.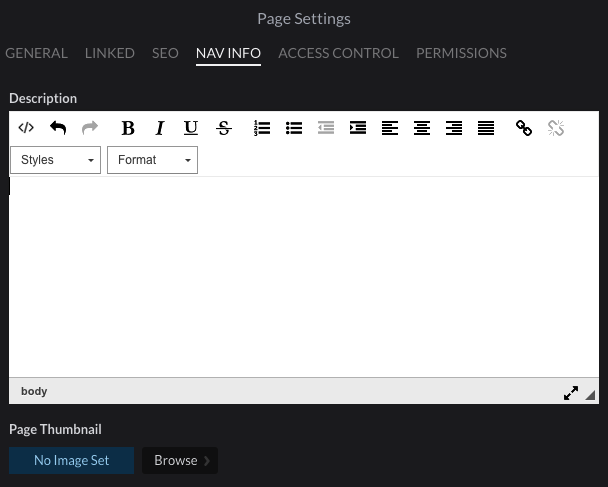 Access control
The access controls let you define which site users can view this page when browsing the site.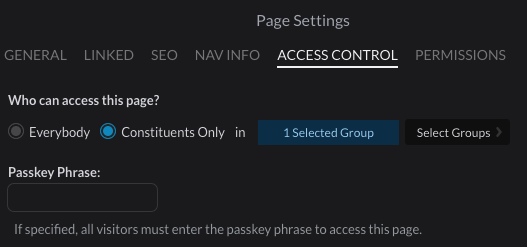 Who can access this page?: Use the radio buttons to control whether this page is visible to public users, or restricted to only those users who have a site login ("constituents"). If you select Constituents, use the grey button to define exactly which Constituents have rights to view the page. These can be selected according to role, group membership, Site Admin User group, Athletic team, and so on.

Passkey Phrase: If a passkey phrase is entered in this field, users will have to enter that phrase before they'll be able to see the page contents.
For more information, see Password protect a site page.
Permissions
The Permissions tab allows you to set the editing rights level for each admin group with Composer permissions. Refer to Setting Composer page permissions for more information about these settings.