The first frame of a video is not automatically used as the thumbnail because, quite frequently, that frame is completely black. By default, Multimedia Manager will pick a single frame from the middle of the video to use as a thumbnail. You can override this default, though, and select which video frame is displayed as the thumbnail image. You can also upload a .jpg image to use as a thumbnail.
Selecting a video frame
If you'd like the thumbnail image to be a still from your video, find the video in Multimedia Manager and click the green "Create Thumbnail" button.

A new window will pop up with a low-resolution display of the video. Use the slider control along the bottom of the window to move back and forth through the video. You can also use the left and right arrow keys on the keyboard to page through each frame of the video one at a time. Once you've selected which frame you want for the thumbnail, click the "Create Thumbnail" button. (Even though the video is previewed in a lower resolution, the thumbnail will be created from the original video file.)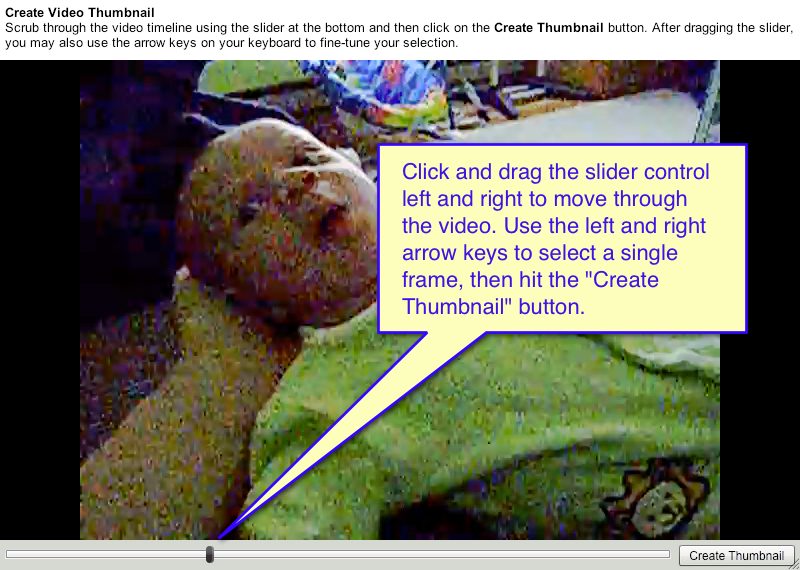 Selecting an image file
If you want the thumbnail to be an image that is not a frame from the video, you also have the option of uploading a .jpg image file. Open the folder containing the video. Hover your mouse cursor over the video and click the yellow pencil icon to edit the video's properties.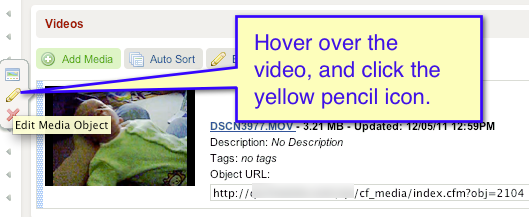 In the "Video Thumbnail" section, click the "Choose File" button.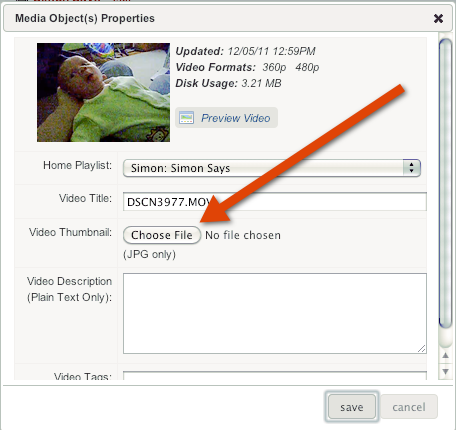 A dialog box will open, allowing you to select a file from your computer to use as the video thumbnail.