New Admin Users are created in Constituent Manager (previously admin users had been created in Site Manager > People > Admin Users, but all users are now created in Constituent Manager regardless of their type.) 
View this video for a demonstration of how to create an Admin User.
Creating an admin user
Start by accessing the user's profile in Constituent Manager, either by adding a new profile, or finding one that already exists. Go to the user's "Account" tab and click the green "Create Admin Account" button.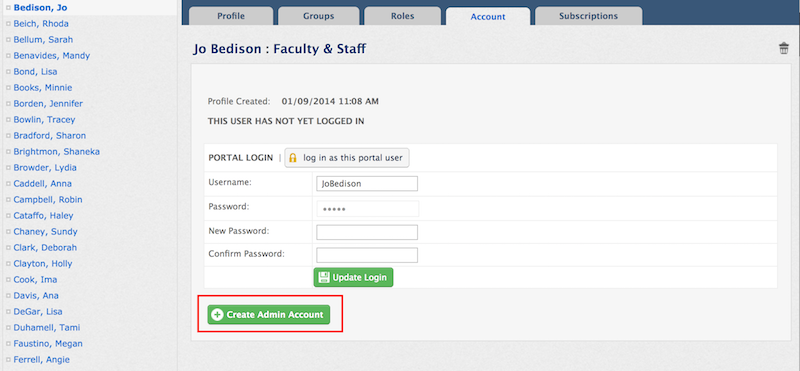 If you're simply adding this profile user to an existing admin account, click "Browse" to pop open a new window containing a list of active site admins, and select an admin account from the list.
At this point, you can elect to sent an email to the user containing the username and password for their new admin account, as well as instructions for logging in. The email will be sent to the user's Primary email account, as defined in the "Profile" tab of Constituent Manager.
In many cases, you'll want to create a new admin account however, rather than simply adding a portal user to an existing admin account. Let's back up and look at that process.
Select "Create New Account" from the radio buttons.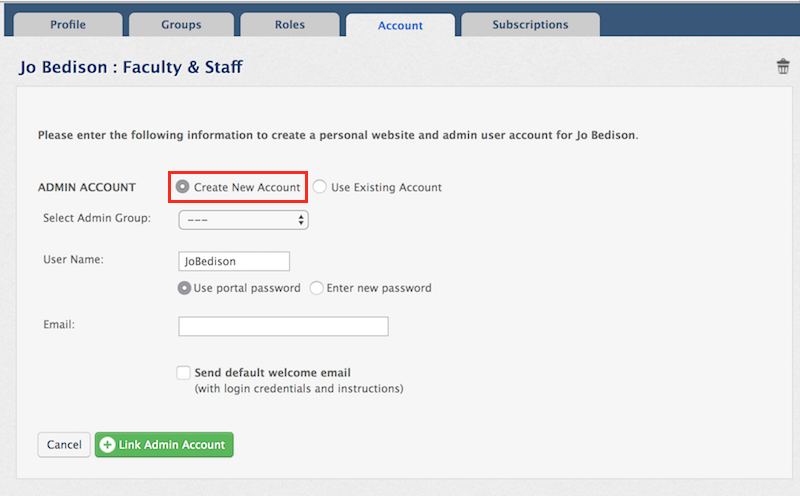 Use the dropdown menu to choose an existing Admin User Group for this admin account to join. Admin User Groups are setup in Site Manager > People > Admin Users. Remember, each member of an Admin User Group has the same rights and privileges to edit the site and its properties.
Enter a username for the admin account. Use the radio buttons to either carry over the user's existing password, or enter a new one. Enter an email address for the admin account. This will default to the Primary email address in the user's Constituent Manager profile, but it can be changed if you want.
Again, you have the option of sending the new admin an email containing their username, password and login instructions.
Click "Create Admin Account" to finish up. The new admin account will be created and visible on the Admin Users page.
Deleting admin accounts
Admin accounts are deleted from Modules and Settings > People > Admin Users. Find the Admin User Group that contains the user you want to deleted.
Select the "del" checkbox to the left of the user's name
With the checkbox selected, scroll to the bottom of the screen and Save the page. Any selected admin user accounts will be removed.