Giving Constituents Control of Field Visibility
Site Admins can grant constituents the ability to choose for themselves whether to hide or show any field in their public profile. This lets individuals determine what information is visible when other site users view their profile on a Directory page.
Find the field you want constituents to be able to adjust by going to Constituent Manager > Settings > expand out Constituent Roles > choose [Role] > Profile Fields Tab. Click on the small pencil icon next to the field you want to edit.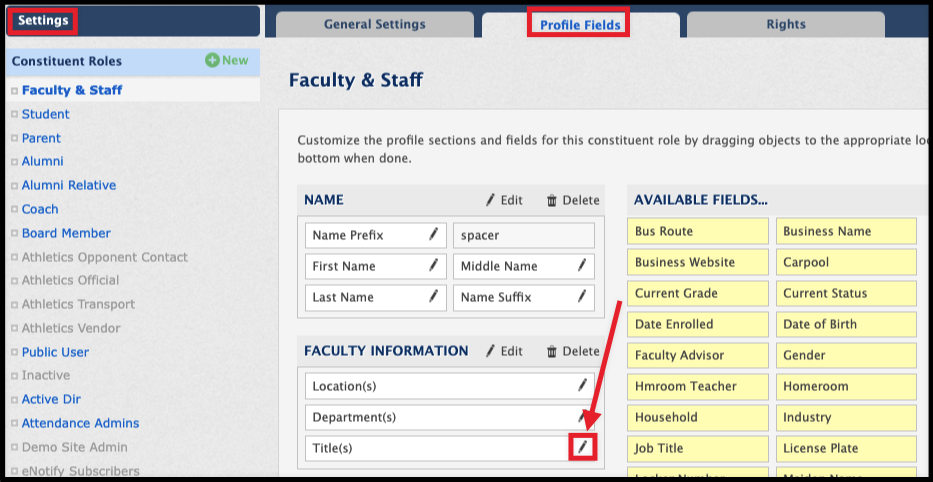 Select the checkboxes labeled "Enable updates to this profile field by group constituents," and "Allow this profile field to be hidden or shown by group constituents."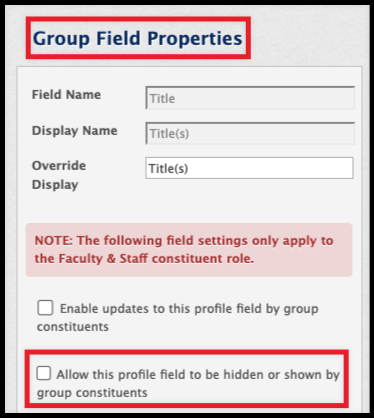 If those checkboxes are selected, then when users view their profile, any fields whose visibility they are allowed to control will be displayed as hyperlinks. Clicking that link when viewing one's own profile will let individual users control visibility of that information (see below).
Editing the Visibility of Directory Information
Constituents can control whether certain information in their profile (such as address, phone number, etc.) is visible to other site users, or hidden from them.

Click on the underlined name of the data field to display the visibility controls, and use the radio buttons to control whether or not the information in that field is viewable. In this example, "Name Prefix" is an editable field, while "First Name" and "Last Name" are not. Clicking on "Name Prefix" brings up this menu: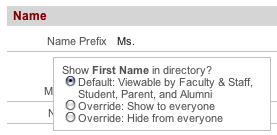 Note that the "Default" label will reflect the current settings for that field; these can vary from the illustration above. The override options will remain the same, however: constituents can elect to show that information to everyone, or to hide it from everyone.