To include an image on a page, first you need to upload it to your Finalsite server. Images and other files are saved in File Manager.
You can access File Manager in two ways. The "Modules & Settings" dropdown menu in the Finalsite toolbar contains a direct link to File Manager.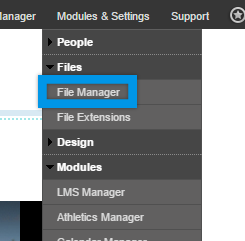 You can also click the "Insert Image" button in the Editor, and then click on the "Browse" button in the window that appears.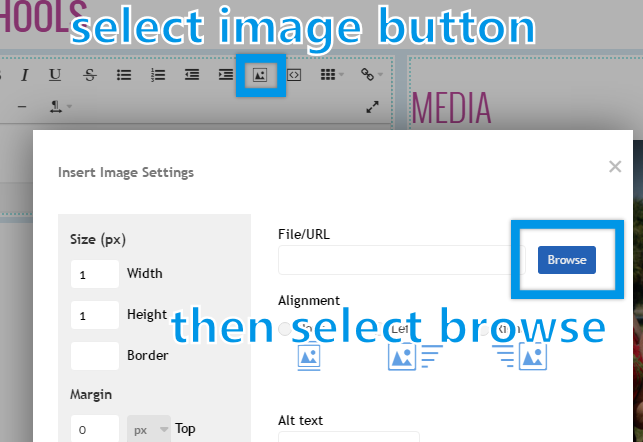 Either method will open File Manager.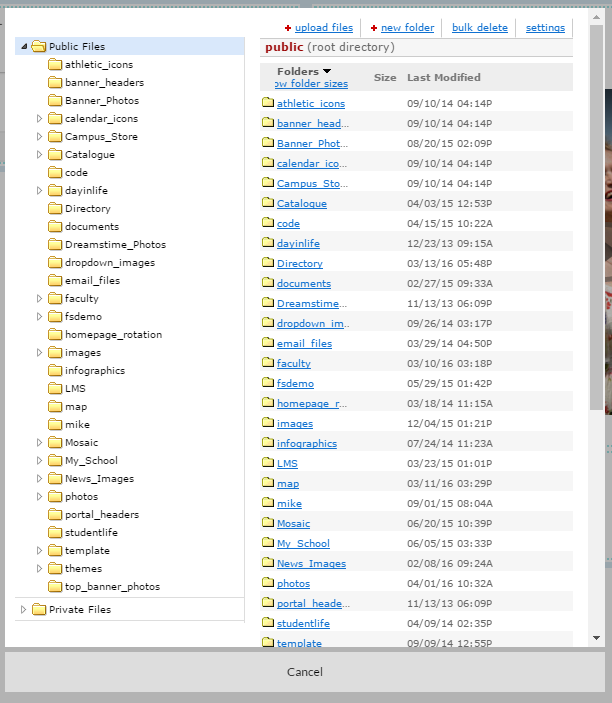 The left side of the screen contains a list of folders in an "expanding tree" display. Click on a folder and the right side of the screen will display the files and sub-folders it contains. If the folder where you want to save your file doesn't exist, use the "new folder" link to create it.
To upload files, navigate to the folder where you want to save them and click the "upload files" link at the top of the File Manager screen. (Note: If the "upload" link is not visible, it's likely that your account does not have uploading privileges to that folder. Refer to the "The 'upload file' link is missing" section of the article Troubleshooting Guide for Uploading Files for information on how to fix this.)
When you click on "upload files," the Bulk Uploader appears.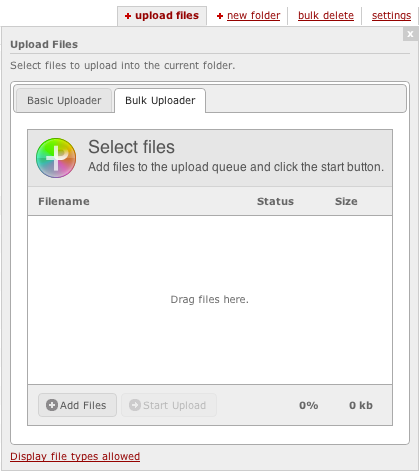 Drag files from your computer into the Bulk Uploader or click "Add Files" at the lower left to select files from a folder on your computer. You can add as many files as you want to the Bulk Uploader - up to 300MB of files at one time.
If you decide not to upload a file after you've added it to the Bulk Uploader, click on the gray icon at the right-hand side of the file row to remove it.
When you've added all of the files that you wish to upload, click the "Start Upload" button. The files will be added to File Manager.
After you've added an image to File Manager, you can drop it into any web page that you're editing. Click on the "Insert Image" icon (as shown at the beginning of this article). Then use the folders on the left-hand side of File Manager to navigate to where the image is saved. Click on the name of the image, and it will be added to the page that you're currently editing.