The ability to create new Posts content is tied to a user's permissions within the module.
User permissions are set individually for each Board. Site admins with the "Posts" admin right can assign permissions to users for each Board in the module using the Action Menu for that Board.
Find the Board whose permissions you want to edit. Click on the three-dot action menu, and select "Permissions."
Start typing a name into the "Add Constituent" field. Posts will begin suggesting users from Constituent Manager with matching names. Click on the desired user to select that person.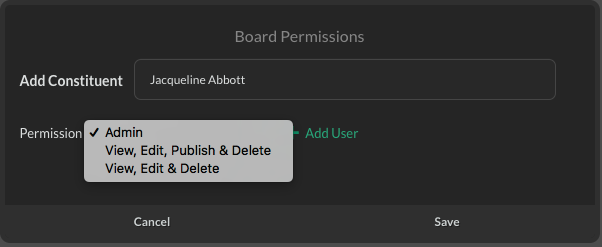 Select the appropriate permission level for the user.
View, Edit & Delete - users with this permission level can edit Posts at will, but cannot publish anything to the live site. Another user with a higher permission level would have to login to review & publish those posts.
View, Edit, Publish & Delete - same as above, but with the added ability to Publish Posts to the the live site.
Admin - these users have full permission to view, edit, delete and publish Posts, and can also adjust other users' permission levels or add new users.
Select the "+ Add User" link to assign the permissions to that constituent. You can then add additional users as needed.