In this Article
---
Site Admins have more editing capabilities than regular site users. Not every admin user will have access to the same controls - the access they have is determined by the settings configured in the Admin Users module. 
Click on the People icon in your left navigation and open up the Admin Users module.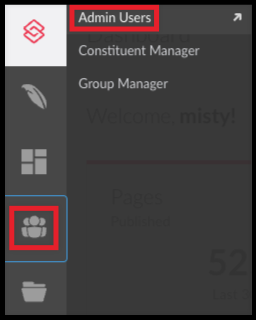 Site management rights are not assigned to individuals. Instead, rights are assigned to various Site Admin Groups, and individual admins are then added to a group. 
Note: Site Admins can only belong to one Site Admin Group at a time.
Admin Users best practices
Create as many admin user groups as you need with different granular configurations.
Configure your user groups to allow (or restrict) access to various components of the CMS, which allows you con control exactly how much of your site the members of each group are allowed to edit.
Case Scenario #1: Give members of the Admissions department the ability to edit the pages in that section of the website but not in other sections.
Case Scenario #2: Give certain admins the ability to configure individual modules such as eNotify or Multimedia Manager, but restrict their access to other parts of the site. All of this can be done by configuring the various options in Site Manager > Admin Users.
Check the graphic below to see which sections on the Admin Users page control which tabs on the top menu bar. (Please note that the color-coding shown here on the Knowledge Base is not present on the actual Finalsite page!)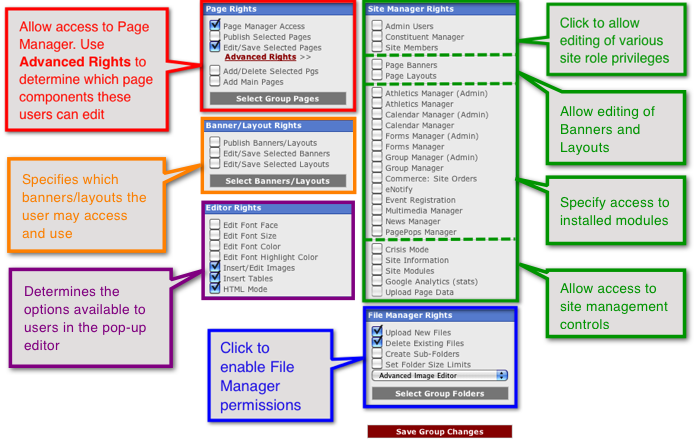 Controls outlined in green relate to the Site Manager tab. The Site Manager tab is hidden for members of any Admin group that does not have at least one Site Manager right given.
Note that some modules have two sets of rights: one that's followed by "(admin)", and one that isn't. Those rights that are followed by "(admin)" will grant full access to the corresponding module - users with this right will be able to use every control and feature in the corresponding module. The other set of rights is more limited, and those privileges can be fine-tuned from within the corresponding module. As an example see the Knowledge Base article, Allowing coaches to post game results to learn more about the various types of admin rights that apply to the Athletics Manager module.
If a particular module is missing for members an admin group (for instance, if members of that group are unable to see the "News Manager" in the module menu), check the settings on the Admin Users page and make sure that at least one corresponding checkbox under "Site Manager Rights" is selected. 
Blue outlined controls are related to File Manager, found within the Site Manager tab. Without a t least one of these checkboxes selected, users in this Admin group will not have access to File Manager, and that menu item will not be displayed on the Site Manager tab. To allow limited File Manager access to only a specified folder or folders, use the "Select Group Folders" button.
The box outlined in purple displays the available Editor Rights options. Use these controls to configure the content styling options available to the user in any pop-up editor on the site.
The controls in the orange box determine the users' access to various banners and page layouts which have been defined in Site Manager > Design > Page Banners, and in Site Manager > Design > Page Layout. The "Select Banners/Layouts" button can be used to determine specific Page Banners and Page Layouts that these users are allowed to edit and use. These rights should be given to designers, or any other users in charge of determining how the site looks.
The red outlined controls give users in this admin group access to make, edit and delete web pages. At least one of these controls must be checked in order for the Page Manager tab to be visible when these users are logged in. The "Select Group Pages" button allows you to restrict members of this group to only edit pages within a specific section or sections of your site.