Production Branch
The Production Branch is a part of your website, and is found in Composer with your other site pages.

In the left sidebar of Composer, click on "Production Branch."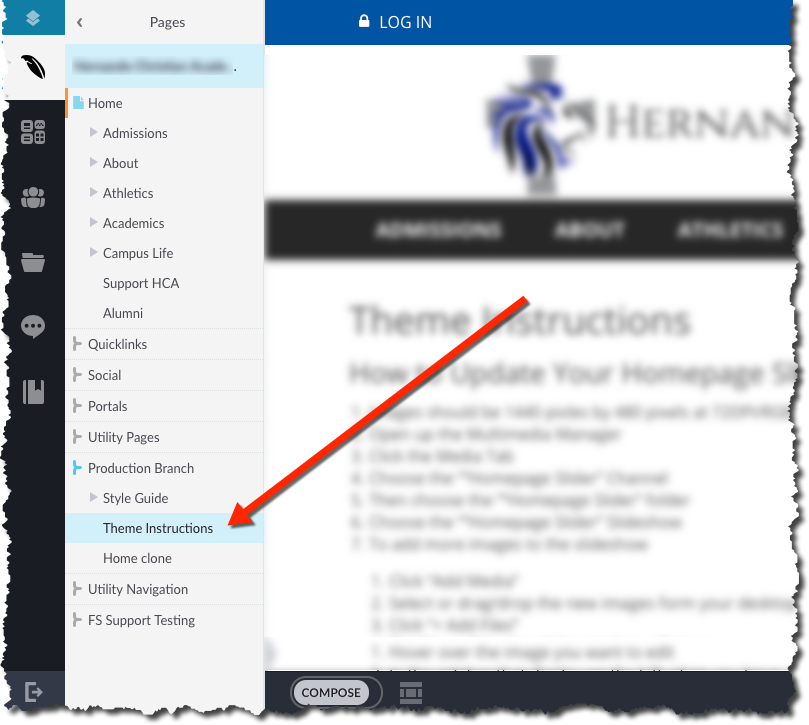 In that branch, you should be able to find the pages called "Style Guide" and "Theme Instructions."
Style Guide
When we talk about "styles" on the web, we mean the combination of visual elements that comprise a site's unique look and feel - the colors, fonts, the relative sizes of the headings and body text, and so on. To keep things predictable, styles on websites are not a free-for-all; there's a defined look and feel for regular text, for various "levels" of headline text, and other common page features. This consistency helps to orient users and make sure the site is easy for them to read.  
The Style Guide section of your site visually demonstrates examples of all of the various styles available on your website. Click on the "Style Guide" page to see examples of "Normal" text, as well as alternate fonts, bold face text, italic text, headers, lists, and other text styles. You can also see the standard colors used on the site, callout buttons used to draw attention to links, and other visual style components.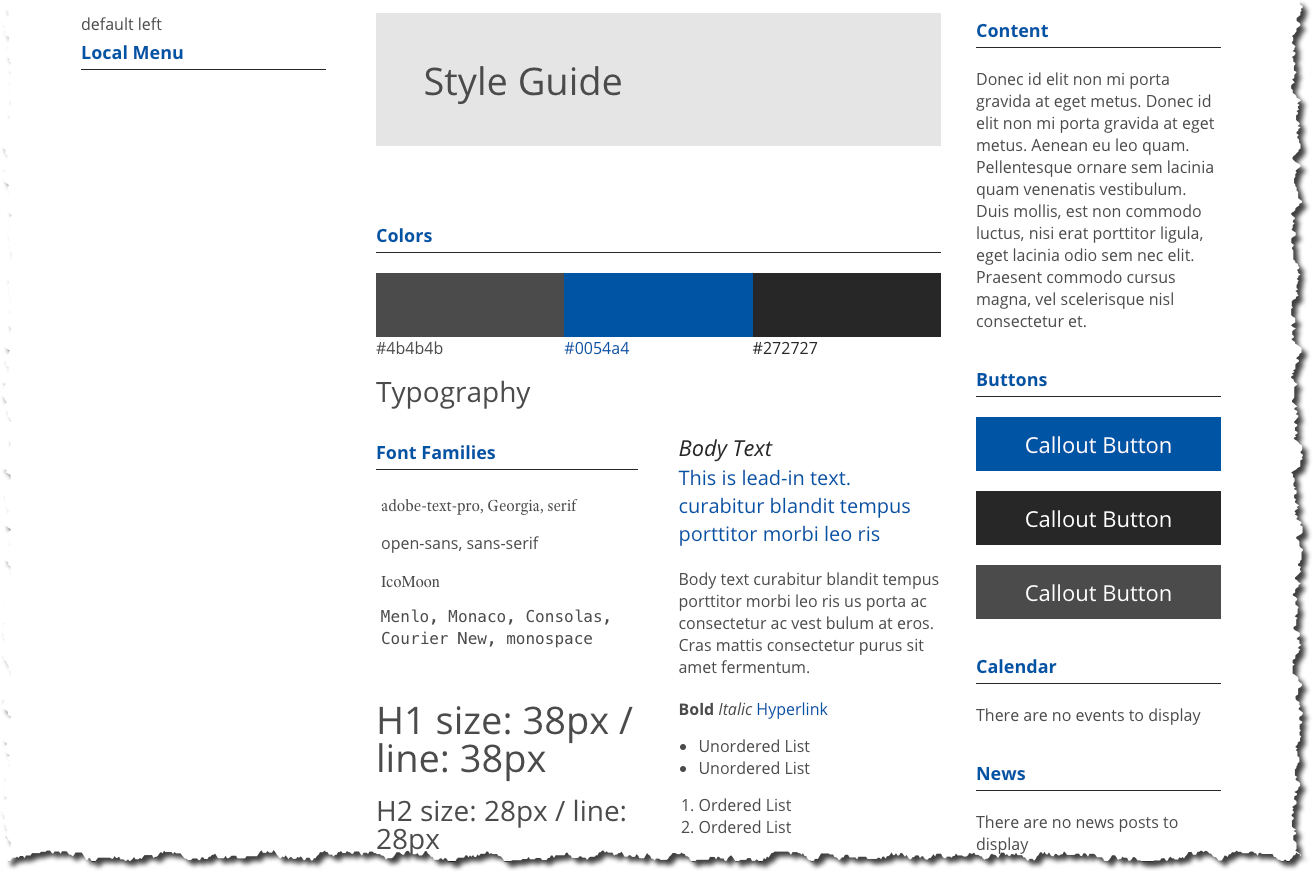 Sub-pages under the "Style Guide" page visually demonstrate other types of Finalsite elements and content modules, showing how those types of content will appear on site pages.

Theme Instructions
The "Theme Instructions" page, also found in the Production branch, can be thought of as the "Instruction Manual" for your specific website. It includes step-by-step overviews for how to perform many common website functions, including:
Update homepage slider

Add news to the site

Add buttons to site content areas

Update calendar elements to change the events that they show

Use the 3 "callout button" styles included with your website

Change the "utility navigation" (links on the top bar of your website headers)

Change what's in the "Quicklinks" menu on the homepage

Change what's in the site footer

Change social media links
(The actual list of instructions on your site's page may change depending on the details of your specific site's design and features.)
Guides
Guides are curated help content found within Composer itself. We use them to demonstrate new Composer features, and to keep admins up to date on regular software updates and new feature releases.
Currently there are two types of Guides: Walkthroughs and the "What's New?" blog alerts. Hovering over the "Guide" icon in the left-hand Composer nav bar will reveal a menu where you can choose from individual guides within either section.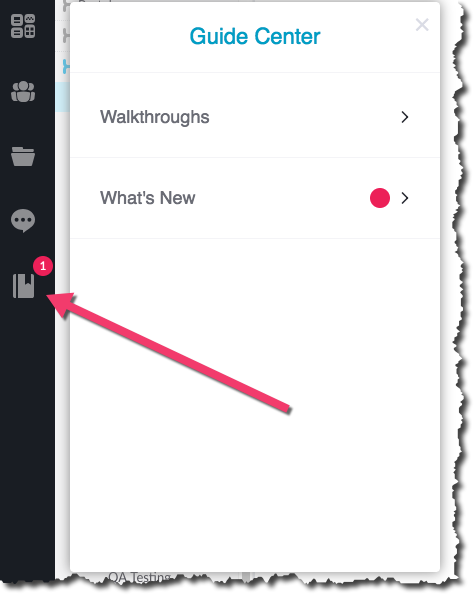 Walkthroughs
Walkthroughs are step-by-step, on-screen tutorials that orient you within Finalsite and help to illustrate what we mean when we talk about various Finalsite features. 
If a Walkthrough is available for a Finalsite module, it will be displayed the first time an admin logs into their admin account. After that, the Walkthrough can be replayed by selecting it from the Guides menu.
Introduction to Composer
This guide is a tour of the main features of Composer and where to find them, including the left-hand nav, the Page Layout menu, the bottom bar, the Page Settings menu, and more.
What's New?
The entries in the "What's New" section are links to individual posts on Finalsite's Software Update Blog. The Software Update blog details visible changes that we make to the software. Finalsite (usually!) releases software updates every two weeks. An update blog post goes out a few days in advance of each release to give site admins a heads-up about what may be updated, and any action that may be required on their part.
Support tab
The Support Tab, found as a button on the left-hand Composer nav, collects the links to the resources that Finalsite maintains to help you learn about Finalsite and get the most out of your website.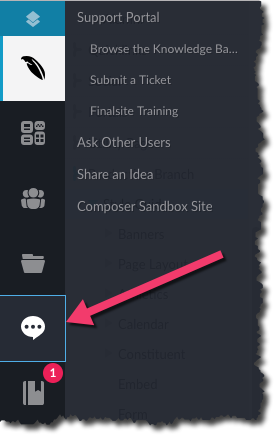 Finalsite Status Page
Servers are complicated machines, and sometimes they malfunction (other times, we swear they just get cranky). If there is ever an issue with the server that hosts your website, the Finalsite Status Page will tell you what's going on, what Finalsite is doing to resolve the issue, and estimates to restore service (if available).
We recommend that you setup an account on the Status Page when your site is accessible and everything's perfectly fine - doing so in the midst of an outage can be difficult! (The Knowledge Base has more details on signing up for a status page account.)
Support Portal
The Support Portal contains useful information for Finalsite site admins, and includes several different sections.
Browse the Knowledge Base
The Knowledge Base includes over 700 in-depth articles and videos explaining various Finalsite modules and features, and how to use them. It's designed to answer the most common questions that users have about our software (many Knowledge Base articles began their lives as tickets that we received from clients, in fact).
Submit a Ticket
If you have a question that can't be answered with our Knowledge Base articles and videos and you need to speak with a dedicated Support expert, submit a Support Ticket. You'll be asked to fill out a form explaining in detail the issue that you're facing. On our end, a Support staffer will respond with information and context to help get you un-stuck.
We use the ticketing system rather than having you email our Support staff directly because having a central repository of open questions and available responders means that we can react to individual questions more quickly.
Finalsite Training
When you're just starting out with Finalsite, want a refresher, or are interested in a new module that you've never used yet, Finalsite Training presents content developed to get new users up and running.
Software Guides
The Software Guides are focused on individual Finalsite products and modules. They draw resources from the Knowledge Base, training videos and your own website to teach you just what each module is capable of.
Getting Started
The Getting Started Guides are collections of Knowledge Base articles that walk new users through the basics of what each Finalsite product/feature does, and what its major features are.
Webinars
The Finalsite Training Webinar series is one of the best ways to get up to speed with Finalsite's products. Everyday, a member of Support's Training team will run a hands-on demonstration to show a module or feature in-context. Webinars are interactive, so attendees can ask questions. If you register for a webinar but are not able to attend, we'll email you a link afterwards that you can click to download a video recording of the session.
Ask Other Users (Finalsite Community)
Finalsite Community is a website where site admins can discuss how they use Finalsite, ask admins at other sites about their processes and best practices, and discuss how other schools have approached similar issues that your own school faces.
Share an Idea (Finalsite Ideas)
If you have an idea about how Finalsite could work better, our developers want to hear about it. We use the Finalsite Ideas website to gather feedback from users about how we can improve our products with future updates, and new features that would be useful for us to incorporate.
Composer Sandbox Site
If you want to play around with Composer in order to learn how to use it, or learn about a module your school hasn't purchased, you can use the "sandbox" site to run experiments without risk. The Sandbox site is public and available to all Finalsite admins. It has all of Finalsite's features turned out, so if you think that Finalsite has a solution that would fit your needs and you want to evaluate it, you can try it out. All information posted to the Sandbox site is public, so don't put anything sensitive on there! Also, since the Sandbox is open to all Finalsite admins it can get a little bit Wild West in there, and we reset and wipe the whole site periodically to keep things fresh and functioning as expected.