To create a new Calendar configuration, select "Dynamic Content" from the Messages main menu, choose "Calendar" from the left nav, and click the "+ Content" button in the top-right corner.

Enter a title for the configuration.

Expand the "Content Filters" menu.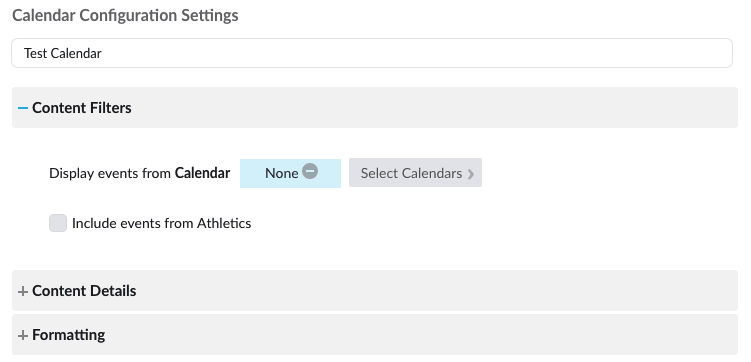 Click "Select Calendars" to choose one or more calendars from which events will be pulled.
Select the "Include events from Athletics" checkbox if you want to display games, practices, and other Athletics event data. This will reveal a dropdown menu you can use to select one or more teams. Highlight the team(s) and collapse the dropdown menu to select them. (Alternatively, use the Athletics dynamic content configuration to create a separate configuration for athletic events.)
Expand the "Content Details" menu.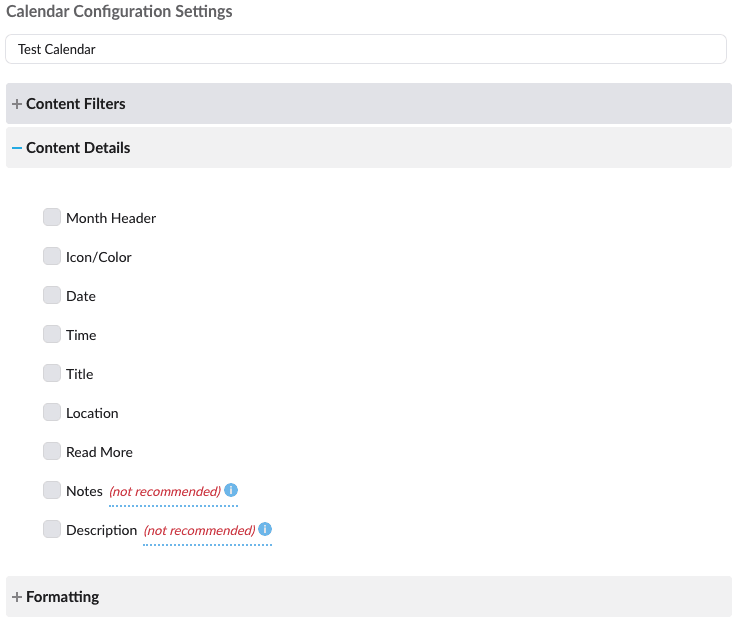 Under Content Details, choose which elements of the displayed events you would like to display. These can be:
Month Header 

Icon/Color

Date

Time

Title

Location 

Read More

Notes (not recommended)

Description (not recommended)
Notes and Description content are not recommended because they may contain HTML content that's not compatible with the email format. This may cause the content to display incorrectly or break the email's formatting, especially on responsive (mobile) displays.
Each of these fields can be given custom formatting once you select them. Choose a different font family, font size, alignment, font weight, and color for each detail to give a thoroughly unique look to your dynamic content. "Inherit Element Font" will use the font set in the "Formatting" menu below.
Expand the Formatting menu.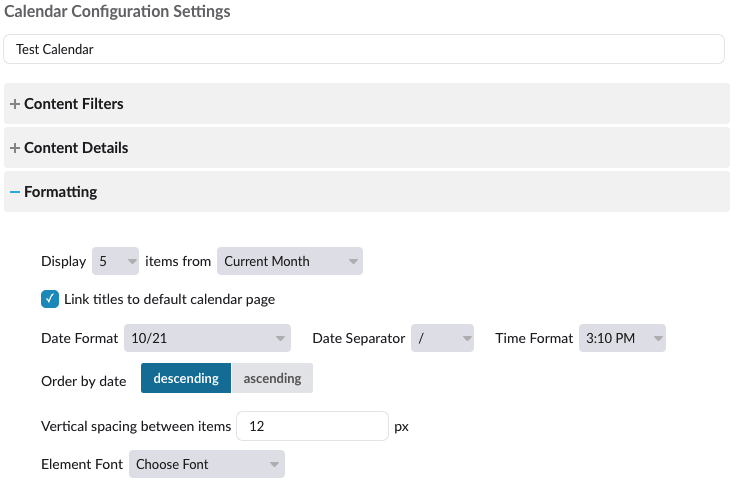 Formatting allows you to designate how many events will appear, what order they'll appear in, the date format, the spacing between events, and whether to link the event title back to the default calendar page. You can also customize the default font that calendar content will use in the message.
Once you have configured the settings, click "Save" at the lower right to finalize the configuration. Your configuration will then be available to use in the Message and Template editor.