Permissions for who can use a template when creating a message are controlled in the "Permissions" section of a given template.
Click the gear icon on the bottom bar in Composer when creating a new template to display the "View Permissions" for that template, or jump directly to it from the gear icon on the template grid screen.
Enter a constituent name to give an individual user permission to use the template, or use the button to select a group from Group Manager and grant all group members permission to use that template. Select from "View," "View & Edit," and "Admin" rights.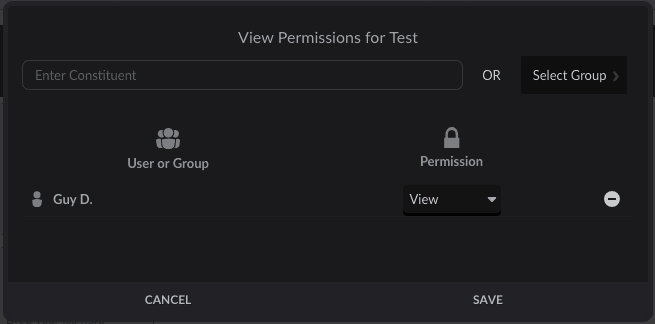 View rights give the user or group permission to use that template to create a new message; it will appear on the dropdown list of templates to select. However, any rows that are locked in the template will not be editable by them. Only users with "View & Edit" or "Admin" permissions will be entitled to edit locked rows of the template.