This article refers to our legacy product, Forms Manager. For the best Finalsite experience, we recommend using our newest product, Forms, which is already available to you in your modules list. To learn more, please review our New Forms FAQ or Compare Forms and Forms Manager.
Forms Plus is a component of Forms Manager that allows you to use forms to manage simple events.
You can add special "Registration Elements" to a form to activate its Registration features. You'll then configure the types of seat(s) you want to offer and basic event details. The form is published just like any other form on your site.
Step 1: Create a registration form
Start by opening up a new or saved form. From the Element Library dropdown menu on the right, select "Registration Elements." Add up to 10 of these registration elements as you would regular elements on a form. Adding an element from the Registration Elements list will automatically designate this as a "registration" form.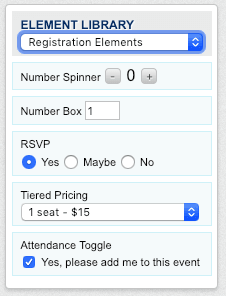 Save the form, publish it, and then preview it to see how it will appear to site users. See Registration Elements for more information.
Note: You must publish the form before moving onto the next step. Don't worry, the form will not appear on your website until you add it to a site page, site banner, or other publicly visible site element.
Step 2: Configure the Registration tab
After adding Registration Elements to a form, you'll then have to configure the event settings. This is done in the "Registration" tab.
The Registration Summary screen shows you a quick overview of current registrations for this event. Use the buttons on the left side to adjust the settings and view additional information.

Seating types are a way to distinguish between individual event attendees, and let you use a single form to give event participants additional options when registering (such as signing up for a waitlist if an event is full). See Using seating types for more details.
RSVP settings allow you to configure your form for a designated list of guests, rather than open registration. See Manage RSVPs for more information.
Step 3: Publish the form
Once you are finished setting up your form, you can add it to your site so that users can register for your event. See Add a form to a page on your site for more details.