This article refers to our legacy product, Forms Manager. For the best Finalsite experience, we recommend using our newest product, Forms, which is already available to you in your modules list. To learn more, please review our New Forms FAQ or Compare Forms and Forms Manager.
Once you have built your form on the Build & Edit tab and configured the Payments tab if necessary, it's time to decide what happens after a user submits the form.
Step 1: Configure admin notification
When someone completes your form, is there anyone you want to receive an email notification of that fact? If so, add their email address next to "Send email to." Use the checkboxes next to "Email Contents" to determine the contents of that email, such as whether to include the full form results or a link to view the results in Forms Manager.

Step 2: Configure respondent confirmation
Next, decide what the user will experience after they click the "Submit" button, both on the website and in their email inbox.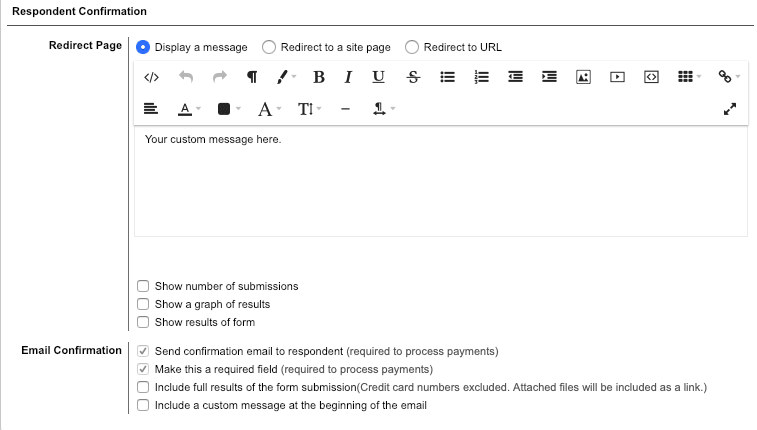 After a form is submitted, the user can either be shown a message on the same page, or be taken to a page on the site or an external URL. These options are available as radio buttons in the "Redirect Page" section. A best practice is to make a thank-you page underneath the form page and send users there once they have finished the form.
Refer to Set up a post-submission redirect to learn more about these options and how to configure them.
In addition to the redirect, you also have the option to send the respondent a confirmation email. This email is required if you are processing payments with the form, but otherwise it's up to you (or you can leave it up to the user). You may want to include a custom message at the beginning of the email, and you even have the option to personalize that message with any of the required fields from the form.
For more information on both admin notifications and respondent confirmation emails, see Enable email notifications.