This article refers to a feature that is only available in our legacy product, Forms Manager. While we're constantly working to add functionality to our new Forms module, the feature described in this article is currently only available in Forms Manager. Please subscribe to our Software Update Blog where you can get updates on our new developments.
When you set up a Forms Plus form on which spots or items can sell out, the limit should be the actual number you want to register. If it is possible that additional spots or items will become available and you want to allow people to sign up for a waitlist, you can enable the waitlist for that seating type.
Go to the Registration tab on the form and select the "Seating" option. Activate the Edit toggle for the "Seating Types" section, then select the checkbox under "Waitlist Enabled."

Set the number of seats available under the "Limit" column, and click "Save Seating Types" to confirm the change.
If a user signs up for that session and the limit is full, they will see a message that says that it is full but asks if they would like to be added to the waitlist and provides a field to request a number of seats. You can customize this message under the "Options" section of the Seating screen.

At that point, they will complete the remainder of the form and submit it, but they won't be charged for that waitlisted session. Their information will then be added to that session's waitlist.
Then, if additional spots become available for that seating type, the form admin would go to the "Waitlist" section of the Registrations tab, filter by the seating type for which spots are available, and offer the additional spots to the first person in line. Click the edit pencil next to the person's email address to enter the number of seats offered, set a time limit, and compose a message to the user.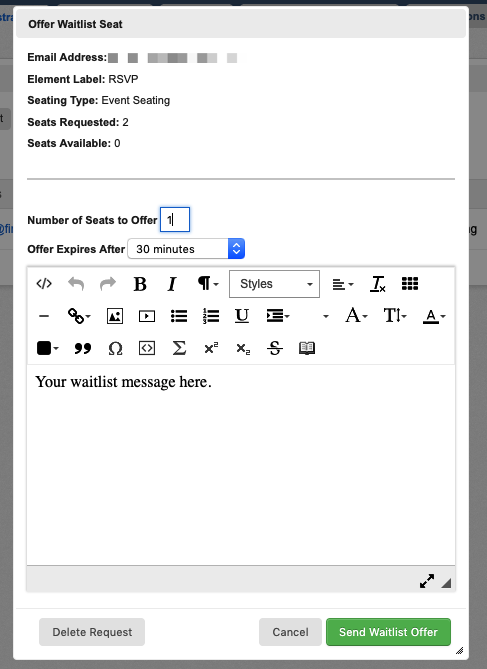 The user will receive your message with a link to the form. They will have a certain amount of time to respond to that offered spot, at which point the offer expires and you can move on to the next person on the waitlist. If they take the spot, they will be added to the list of people signed up for that session.
If you have offered spots to everyone on the waitlist for that session and no one wants them, then you can go back to the "Seating" section of the Registration tab and update the seating type limit to open it back up to new registrants.