Finalsite has partnered with OpenApply, Ravenna, Blackbaud Education Management (BEM), and Finalsite's Enrollment Management Systems (formerly SchoolAdmin) to drive applicants through a refined admissions funnel, saving time and money while connecting schools and prospective families.
When parents inquire via your EMS, the parent data -- along with the related student information -- will flow into the Constituent Manager module. The data we synchronize includes contact, demographic, relationship, and admissions status information.
Note: This data should only be used for sending emails via Messages, or with automated Workflows. It is not possible to manually manage these users in Constituent Manager. Parents should continue logging in to your EMS throughout the application process.
The integration will create a series of groups in Group Manager that can be used to set a dynamic entry trigger in the Workflows module. For example, we want parents of students in the "pending" (inquiry) status to be automatically entered into the workflow.
The workflow should be geared toward nurturing the applicant from the parent of an inquiring student to one who wants to apply to your school. When a parent inquires in your EMS, the record will be sent to Finalsite. The parent will be added to the appropriate group, and the workflow will begin.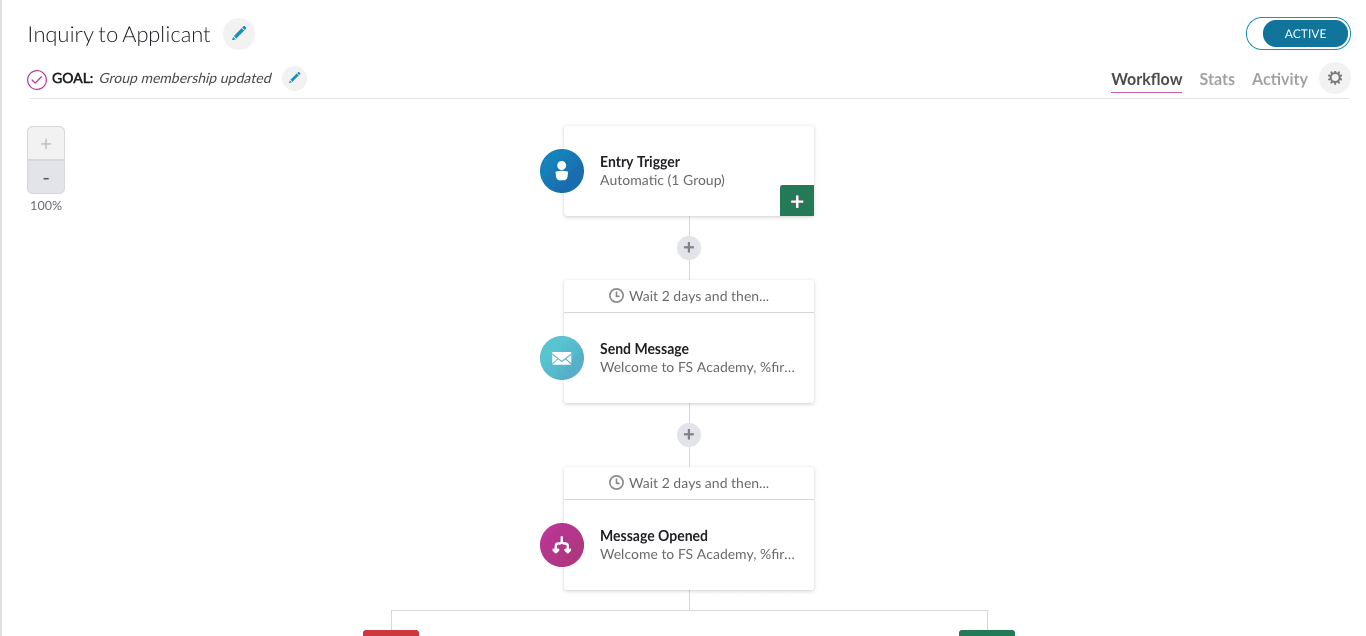 Best practice: Set a goal for the workflow
The goal should be for the group associated with the applicant status. When a parent moves to this group, the workflow will end -- even if he or she is not at the last step. This is important, so that a parent who applies at some point during the "Inquiry to Applicant" workflow will not receive any further emails, the last of which would likely be an invitation to apply.
For further information, please refer to our other articles about OpenApply, Ravenna, Blackbaud Education Management and Finalsite EMS (formerly SchoolAdmin) integrations.