While you can add subscribers to a list from the administrative side of Messages, you also have the option to allow users to opt in and sign themselves up for a mailing list. This article explains how to configure the mailing list to allow self-subscribing, as well as two ways users can sign up.
Enable user sign-up
Allowing users to subscribe themselves to a list is a question of list privacy. Go to the settings gear in the bottom-right corner of a list screen and click on the Privacy tab to change the list's access level.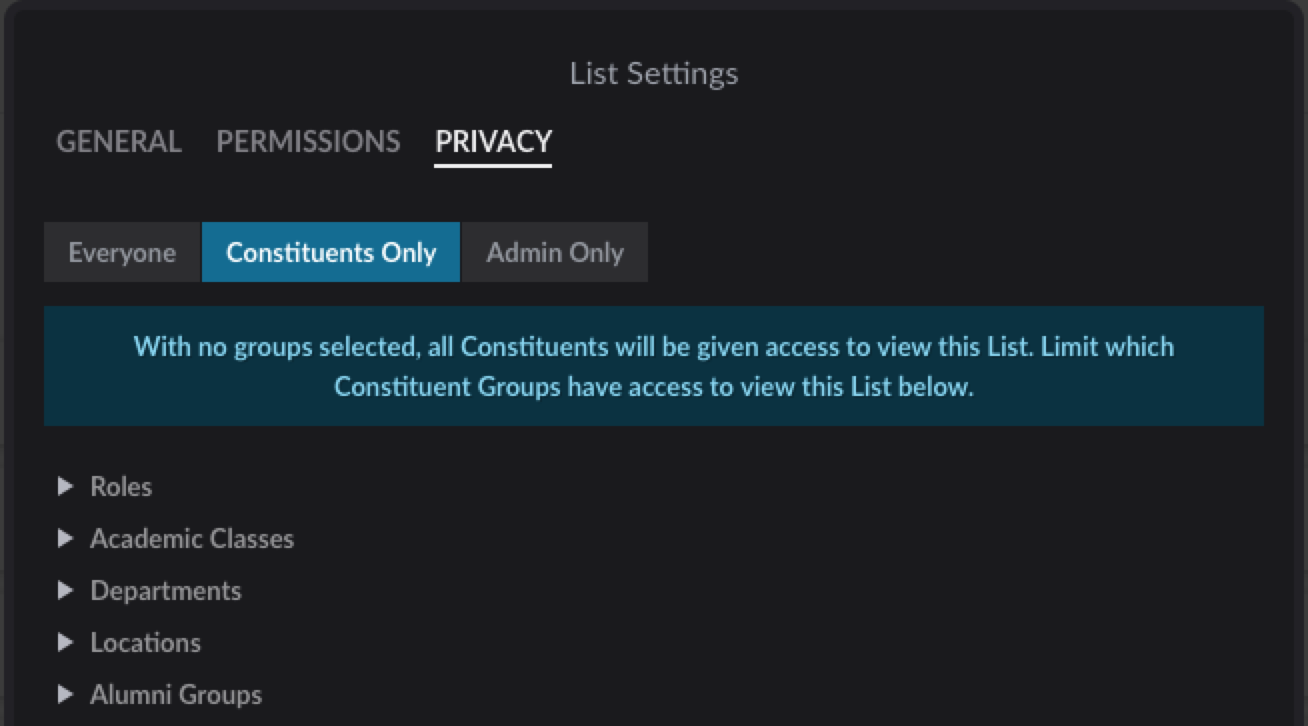 By default, lists are set to "Admin Only." You can change this setting to "Constituents Only" to allow anyone with an account to sign up, and limit it by group if desired. If you choose "Everyone," all site visitors can sign up for the list without necessarily having an account.
Once you have set a new privacy level, users can sign up for this particular list.
From their profile
When users log into their portal account, they can manage their subscriptions from the "Notifications" link in their portal menu.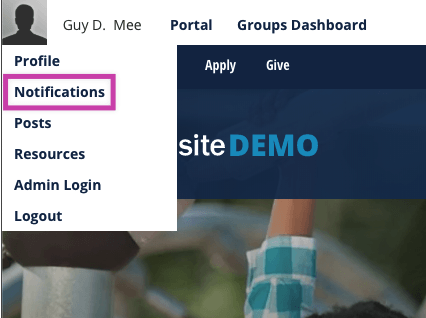 From here, they can manage their status on any list they are subscribed to, and also sign up for available mailing lists. They should click the "+ Subscription" button to see those lists.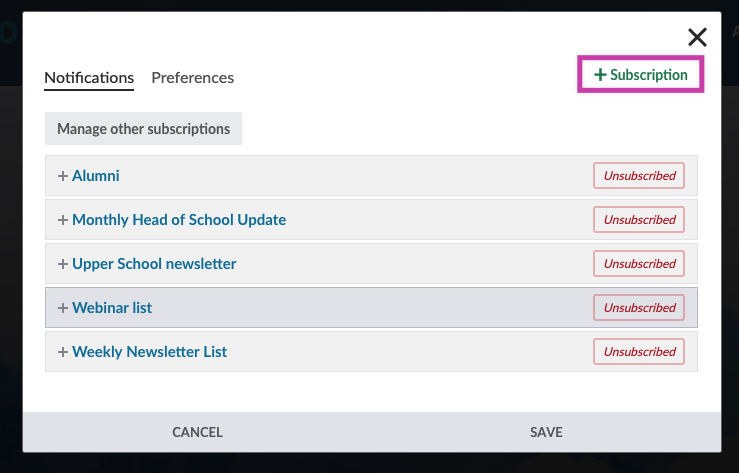 Any available lists that the user is not already subscribed to will appear on this screen. The user can expand the list accordion to see the list's description and select an email address from their constituent profile to subscribe with.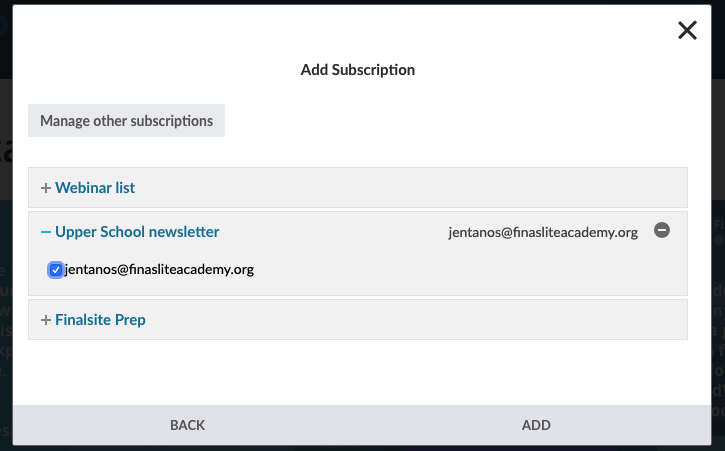 From a Messages element
One way to encourage constituents to sign up for a list, as well as allow users without an account to subscribe, is to use the subscribe icon in the Messages element. Select the "Display subscribe icon" from the Controls section of the element settings to show the bell icon in the top-right corner of the element.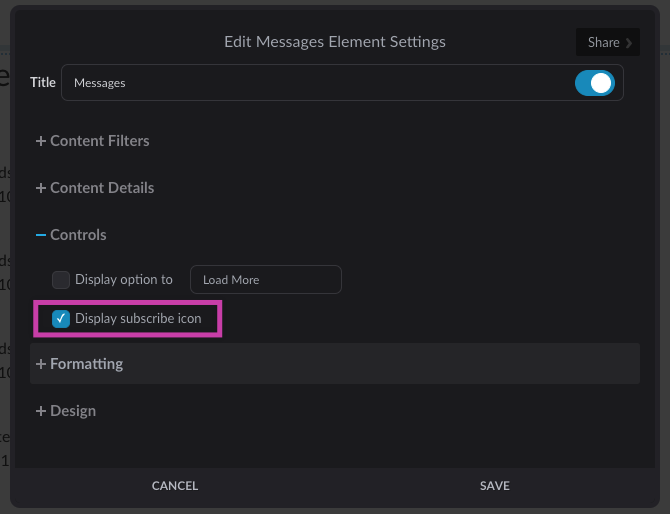 When users click on the icon, they'll see the available lists that they can click on to choose which one(s) they want to subscribe to.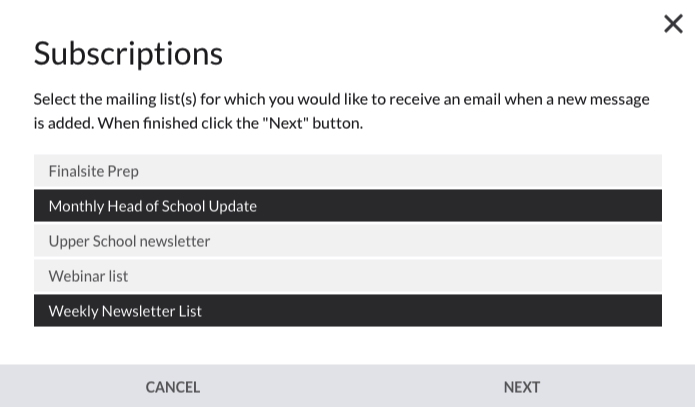 Once they have chosen their desired lists, they'll click "Next" to proceed to the address screen.
If the user is not a constituent, or not logged in, they'll be prompted to enter their first and last name and email address. After confirming they are not a bot, they can click "Signup" to subscribe to lists without the need to create an account.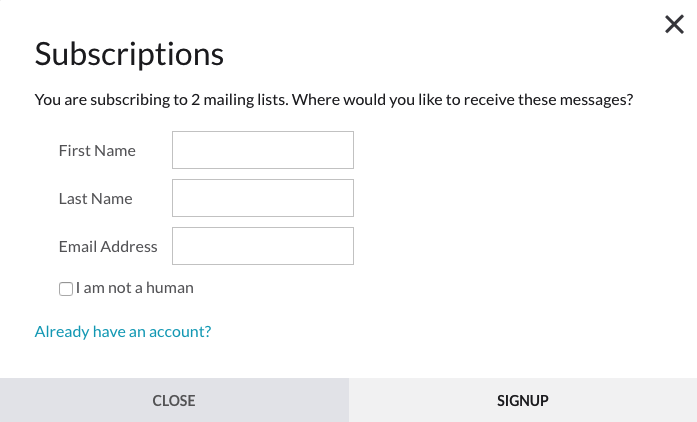 If the user is logged into their constituent account when they click "Next," or they click "Already have an account?" and log in, they'll be able to select which of the email addresses from their constituent profile they want to use to subscribe to the list. Then they'll click "Subscribe" to confirm their selection.