The public-facing side of the app is a great way to distribute information to your community. However, there may be specific pieces of information that require an extra level of security.
For this data, providing a login will allow you, as an admin, to control access to additional information for only those who are members of your community. The following sections will appear differently to individuals who log into the app, depending on the settings.
Directory: Each role may be set to be visible only to constituents in certain roles, so users must be logged in to view those profiles. In addition, any information in the profile that is set to be role-specific will only show if a user is logged in. Here's a short article on where those profile settings live in Constituent Manager: Set directory profile data visibility.
Calendars: In the settings for each calendar, you can restrict that calendar's visibility in the app to specific roles. If you have done so, then those calendars will only show to specific people who are logged in. To change these settings, go to Calendar Manager > Calendars and click the edit pencil next to the calendar. Adjust the radio buttons under the "LMS/App Visibility" section, and select the checkboxes for the roles you want to be able to view the calendar.
Posts: In the Board Settings for each board, there are privacy settings so that boards can be restricted by role or group. If these are set, posts from those boards in the Posts section of the app will only appear to those who are in that role or group and are logged in.
Resources: If you choose a private resource gallery to display, it will only display to those who have logged in and are a part of the role or group assigned privacy permissions.
To enable the login feature for your app, select the "Enable login" checkbox under the General Settings in the Mobile Apps module.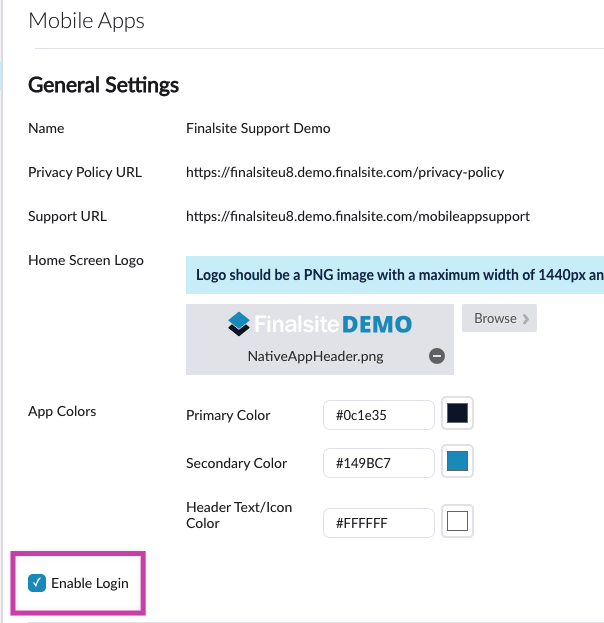 Once you have enabled login, select "Enable Login instructions on the Home Screen" to display a button on the home screen and prompt users to log in. These instructions will disappear once the user has logged in.