In this Article
---
With Messages, you can send messages to users in their preferred language via email, SMS text message, or even text-to-speech. This feature is powered by Google Translate.
Note: Cloning a message with translated content will not re-translate the new content. A new message has to be started from the beginning rather than cloned in order for the content to be successfully translated.
Step 1: Set up Constituent Manager
In the Constituent Manager Settings section, you'll find a new profile field for "Preferred Language." Add this field to the profile in Constituent Manager for any roles that you wish to receive translated messages. By default, the field is set to English; however, all the languages available in Google Translate may be selected.
Step 2: Create the English version
On the Message Details screen, add list(s), or select Important Announcements and add group(s). Select a template and compose your English message as usual for all modes of communication. 
Step 3: Add translations
Once you have added recipients to the message, you can see the preferred languages for all the constituents the message will be sent to.
Click on the Languages dropdown menu to find out what languages your users would prefer to receive this message in. 


Select the language to generate a translation. 

Note: Adding a translation can only be done once, and it cannot be removed afterwards. Once it has been created, anyone with that language selected will receive that version.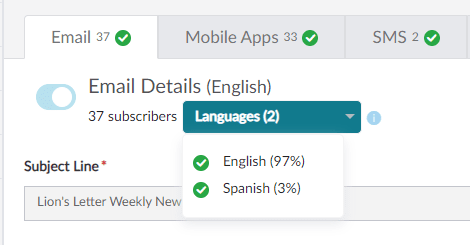 If you opt not to include a translation for users with a particular preferred language, those users will receive the English version.
Step 4: Edit and customize
After you have generated a translation, you can edit it as necessary. You can even customize images, to provide a truly personalized experience for users in different languages.
Use the dropdown to switch back and forth between the language versions.
Note: Once the translation has been created (in step 3), additional edits are not automatically translated. You will need to go to each translation to make changes.