This article refers to our legacy product, Forms Manager. For the best Finalsite experience, we recommend using our newest product, Forms, which is already available to you in your modules list. To learn more, please review our New Forms FAQ or Compare Forms and Forms Manager.
Once you've finished collecting submissions from your form (or even before), it's time to review the results. One of the easiest ways to do that is by using the export utility in Forms Manager.
Note: Data from Finalsite forms can not be fed directly into third-party databases via integration, sync, API, or other means. Data must be exported from Forms Manager and then imported into your third-party provider.
Once the form has loaded, navigate to the Results tab, which is the last option on the right.
Next, determine which data you want to export by clicking the blue Set Columns button. This determines the information that will be exported. Every form field is an option, and there are several payment options as well. Drag and drop the columns on the left side to change the order in which they appear.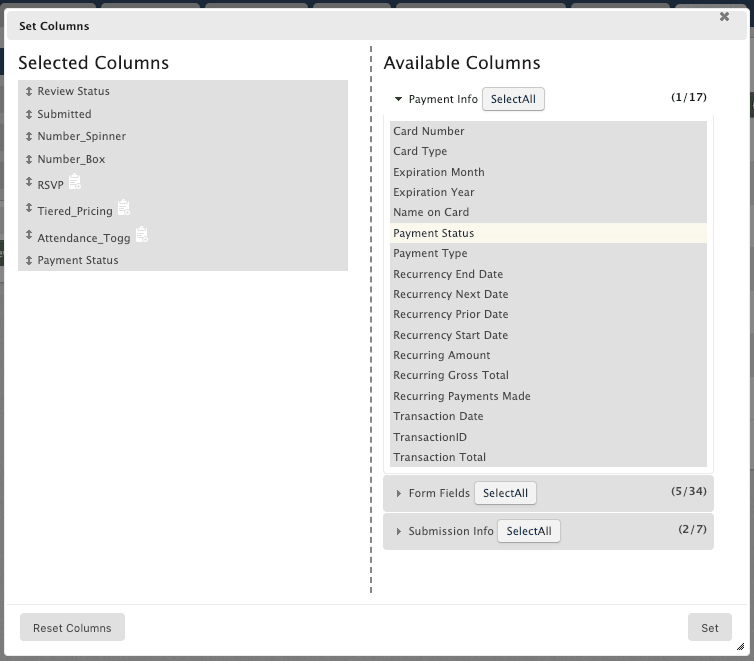 When you're satisfied with the data, it's time to export. Click the "Export" button next to Set Columns.

There are several popular formats available for download: XLSX, CSV, and XML. Click on your preferred format, and the file will be downloaded to your local machine.

Allowing other users the ability to export results requires a quick visit to the Permissions tab. Ensure that their admin group has Forms Manager access, and then make sure that they have permission to "View Results."
When they open Forms Manager, they will only have the option to open the forms for which they have been granted permission, and only the Results tab will be available.
Troubleshooting: Can I bulk download file uploads from results?
Unfortunately, there is not currently a way to bulk download files from the Forms results. We do, however, have this as an enhancement request for future development on our forms product.