Resources is a Finalsite module that stores, organizes, and manages files for your website. All the files previously uploaded to either File Manager or Multimedia Manager can now be saved together in Resources. With Resources, you can easily store PDF files, images, videos, and other types of files together, as well as relocate, rename, and rearrange them as needed.
The Resources module is found by clicking on the folder icon in the left Composer toolbar. Five menu items are available to admin-level users: Resources, Galleries, Permissions, Settings, and Deleted Resources.
Resources
Click on "Resources" to view your uploaded files. Resources are separated into "Public" and "Private" folders, and you can add additional folders as desired.
Navigate to the folder you want on the left-hand tab. Files are shown in a list or grid view on the right side of the screen.

Use the search filter at the top of the "All Resources" view to filter resources by keyword or tag. You also have a "Filter" button that enables filtering by resource type, resources with no alt text, resources used or not in use on the site, resources that are not tagged, and external resources.
Disk Space Usage
Admin-level users can click on "Disk Space Usage" to see how the allocated file space on your site is being used.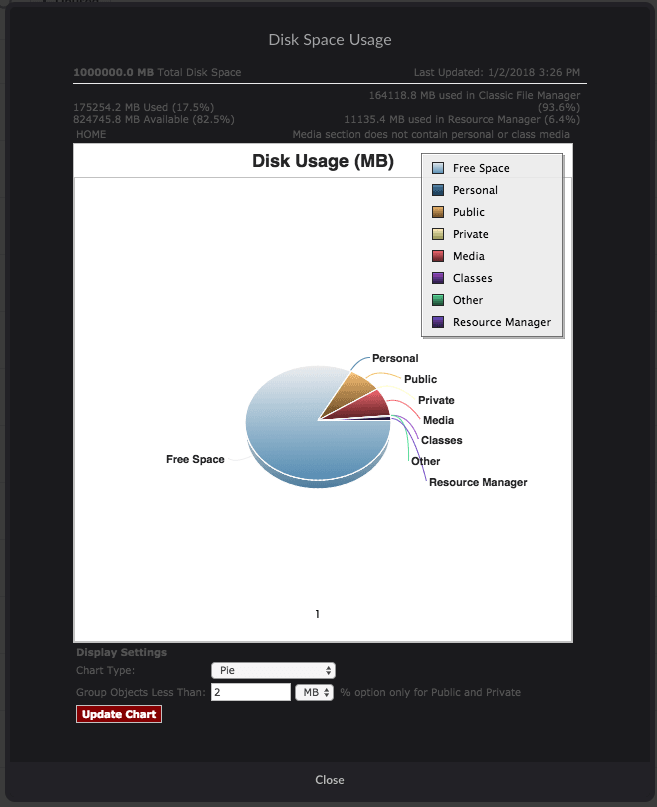 The following categories of files are displayed: free space, personal, public, private, media, classes, other, and Resource Manager.
Click on a category to reveal more details about where the files are located.
Under Display Settings, you can use the "Chart Type" dropdown menu to choose whether to display this information in a pie, bar, horizontal bar, or cylinder graph.
Galleries
Click on "Galleries" to view any galleries you have created. (Read more about galleries in the Galleries article.)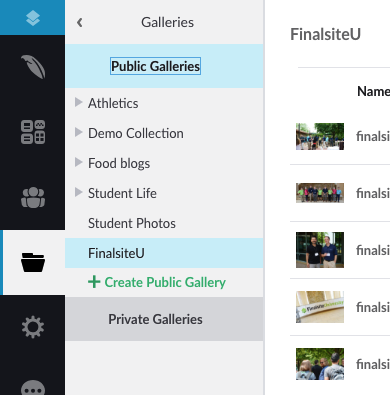 Permissions
The Permissions tab is how you can control who is able to access Resources.
When you open the Permissions screen, you'll see all of the admin user groups who have "Composer" permissions assigned in Admin Users, and a dropdown to allow you to choose a permission level for the members of each group: Not Allowed; View, Upload & Edit; or Admin.
"Not Allowed" means that admin users in this group will not have any access to the Resources module. "View, Upload & Edit" means that those admins will be able to view all the resources, edit their properties, and upload new resources, but they will not be able to delete resources, or view and restore deleted resources. "Admin"-level groups will have full rights to the Resources module, including the ability to assign admin permissions to the other admin groups.
Users do not have to be site admins in order to use Resources, however! Portal users can be assigned rights to specific galleries and access the module from their Account menu. For more information about Resources permissions, see the Permissions article.
Settings
Resources settings are available to help ensure ADA compliance on your site by requiring alt text in order for images to be shown on the site. There are separate toggles for Resource elements and the content editor. A warning box will display the number of images that will be affected by enabling the alt text requirement for Resource elements.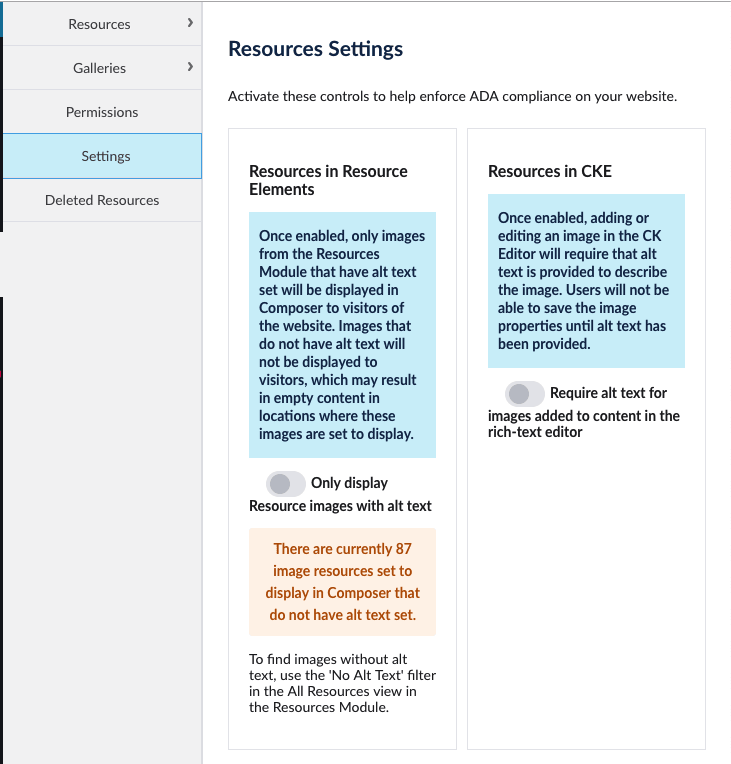 Deleted Resources
You can delete a resource by clicking on the trashcan icon underneath its thumbnail image from the "All Resources" view. However, that resource is not immediately deleted, in case a mistake was made and it needs to be restored. Instead, it is moved to the "Recycling bin."
Deleted resources will remain in the Recycling bin for 30 days before being permanently removed.

To access the Recycling bin, select "Deleted Resources" from the main Resources menu.
Click on the resource(s) you want to return to Resources and select the "Restore" button.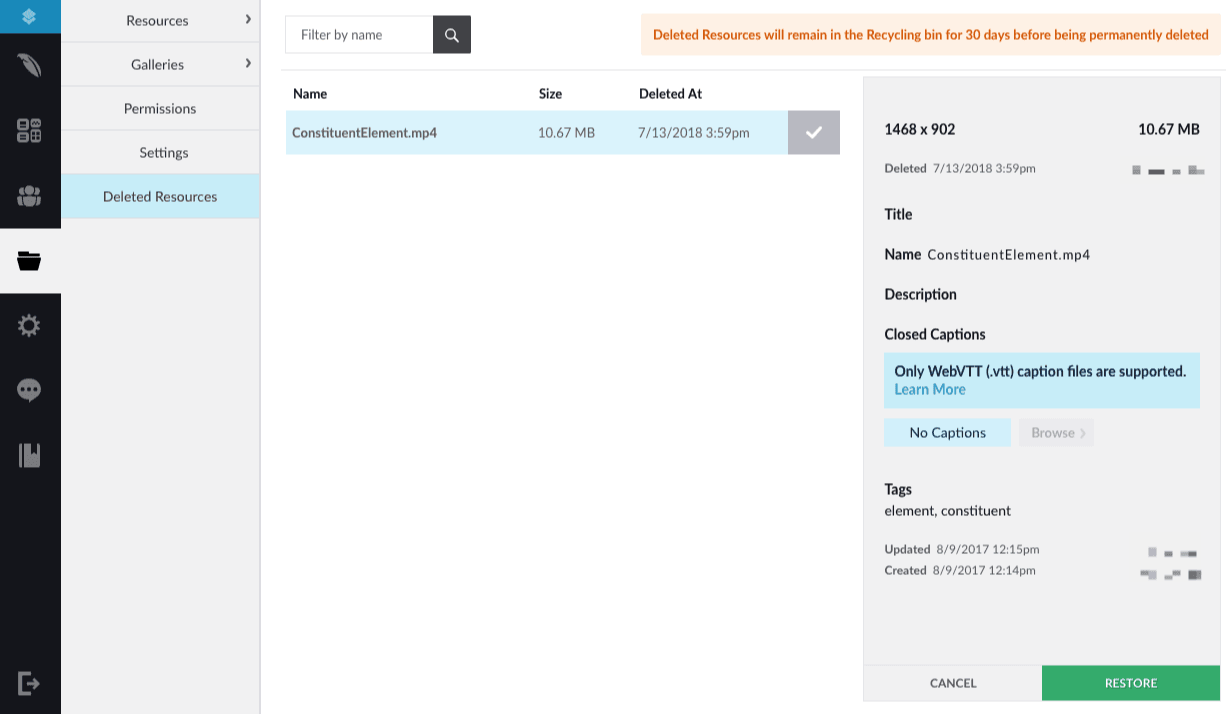 Note: This will restore the file to Resources, but not to any galleries or locations on the site it existed before being deleted.