There are four different page status options in Composer.
A yellow "new page" status

An orange "unpublished changes" status

A blue "scheduled" status

A green "published" status
Page status indicators will update automatically as you edit, save, schedule, and publish pages.
The pages listed in the Composer left navigation will also show a yellow or orange highlight if they are new or have unpublished changes, so you can quickly see which pages on your site need to be published.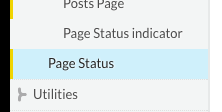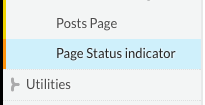 If you want to publish them just as quickly, you may want to use the Bulk publish tool.