Private files give you a way to secure files on your site that aren't meant to be displayed to the public, but still need to be accessible online for certain constituents. A good example of such files is documents for your board of trustees. 
To display a private file on your website, first upload it to the "Private" section of Resources. The Private Resources section works just like the Public section: you can create folders to organize the files stored there, and put files into galleries in order to display them on the site. The big distinction is that Public resources are public - that is, they're always accessible to everybody - while Private resources are restricted to only be visible to selected users. (Note that a private resource must be in a gallery in order to appear on the site!)
A private gallery can be displayed on a site using a Composer Resource, Image, or Video element. First, it's necessary to set the Privacy for that gallery. From the three-dot Action Menu for the gallery, choose Settings. Then choose the Privacy tab. From here, you can select whether only admins can view the contents of the gallery, or some or all constituents.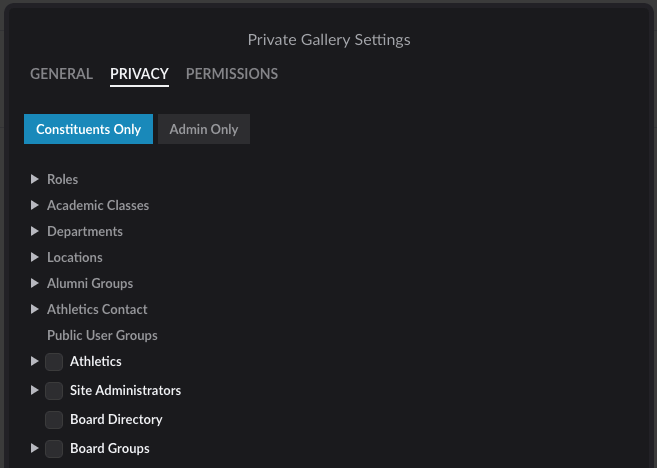 When you select "Constituents Only," the gallery will be visible to anyone who has a portal account and is logged into the site. To restrict that further, choose from the groups in the list that appears. 
It's a good idea to display private resources on a page that is already restricted to the role or groups you have chosen for the gallery privacy. Otherwise, anyone who is not authorized to see the resource who visits a page with the resource will see the message "You are not authorized to access this resource."