In this Article
---
Redirect Manager lets site admins create and manage 301 and 302 redirects in a central location within Composer, rather than on a page-by-page basis. Redirects are set for URLs that correspond to an external page (such as a page on a school's previous website) and points them toward a Composer page instead. When creating a new Redirect, you'll need to enter the URL of the old/existing page, the URL of the new target page, and the type of redirect.
Locate this module in the Composer left navigation menu under the name Redirects.

Note: If you do not see the option for Redirects in your Composer menu, please submit a ticket to Support to have it turned on.
Create a New Redirect
Click the + New Redirect button in the top right corner to create a new redirect.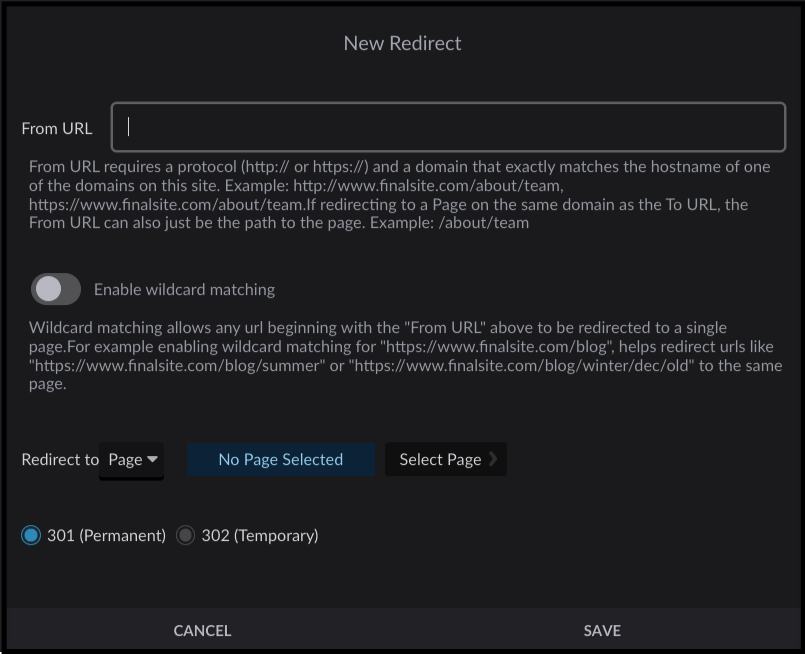 From URL: Enter the web address of the existing (old) page.

Enable wildcard matching: This setting allows any URL beginning with the link you place into the From URL field to be redirected to a single page. 

For example, enabling wildcard matching for "http://www.finalsite.com/blog" helps redirect URLs similar to https://www.finalsite.com/blog/winter/dec/old to the same page. 

Redirect to Page OR Redirect to URL: Click this dropdown to determine if users will be redirected to either a Page on your site or a different URL. Click Select Page to choose the page on your Composer site users will be redirected to.


301 (Permanent) vs. 302 (Temporary): Select which redirect type this will be.

301 (Permanent): These redirects best preserve site analytics tracking information when users click on them. In most cases, a Permanent redirect is more effective than a temporary one.
302 (Temporary): Temporary redirects do not preserve site analytics. In fact, different search engines handle 302 requests differently, so using them can add a great deal of uncertainty to analytics results. 

Click Save.
Create bulk redirects
Finally, it is possible to bulk-create redirects for a large number of pages if you don't want to set them up one-by-one in Redirect Manager. For more information about creating redirects in bulk, please submit a ticket to Support.