Constituent Manager can send an email to administrators or other users whenever a constituent modifies his or her account. This can be a handy way to track user updates to their profiles. Email alerts are controlled on a per-role basis, so you can turn alerts on for Alumni and Parents but leave them off for Students and Faculty/Staff members.
In order to receive email alerts, you must first activate alerts for a specific role, and then specify the frequency and time frame on which alerts will be sent.
Activating Email Alerts for a Specific Role
Open Constituent Manager.

Go to the Settings tab.

Under Constituent Roles, select a role.

Check the box next to "Enable profile update email alerts for this group."

Enter e-mail addresses that should receive these updates in the field which pops up (multiple addresses can be separated with commas).

Click the green "Save Settings" button.
Note: if you want to deactivate user profile update alerts, you can turn them off for an entire role by finding that role in Constituent Manager > Settings, and deselecting the "Enable..." checkbox.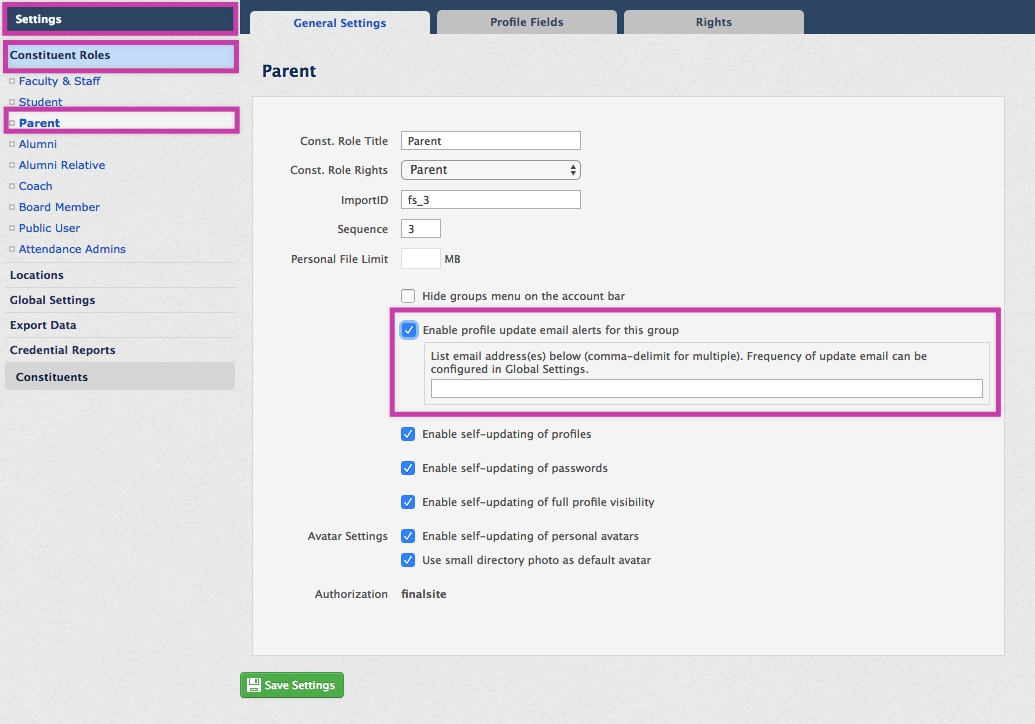 Setting the frequency of email alerts
You can control how often Constituent Manager sends out email alerts by adjusting the frequency setting. You can select to receive emails on an hourly, daily or weekly basis; any modifications entered into Constituent Manager after the most recent previous email alert was mailed will be collected and sent out.
Open Constituent Manager.

Go to the Settings tab.

Open Global Settings.

Select an option under "Profile Update Email Frequency."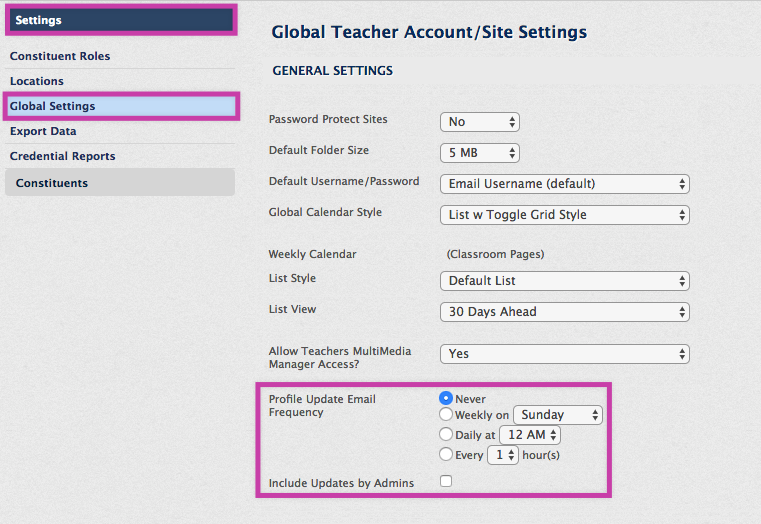 Monitored fields
User modification of any of the fields listed below will trigger an email alert.
Note: Fields marked with an asterisk (*) can be household fields; an alert will be triggered if any member of a household adjusts these fields in their own profile. The corresponding fields in the profiles of all of the other members of that household will be updated automatically.
Contact Info
Primary Email
Home Email
Work Email
Mobile Email
School Email
Home Phone
Shared Home Phone*
Work Phone
Mobile Phone
School Phone
Home Fax
Shared Home Fax*
Work Fax
Address Info
Address Line 1*
Address Line 2*
Address Line 3*
City*
State*
Postal Code*
Country*
Degree Info
Degree
Degree Year
Degree School
Title Info