With so many events on your site, it is helpful to be able to organize and categorize them to make them easier to use. Besides creating a calendar for each type of event you have, the two main tools Finalsite provides to achieve that organization are groups and categories.
Essentially, calendar groups are collections of multiple calendars, while calendar categories are subdivisions within a single calendar. Both can be used to organize events and progressively filter them on a calendar page. In addition, calendars are displayed by Group in Calendar Manager, so it can help with your back-end organization as well.
Groups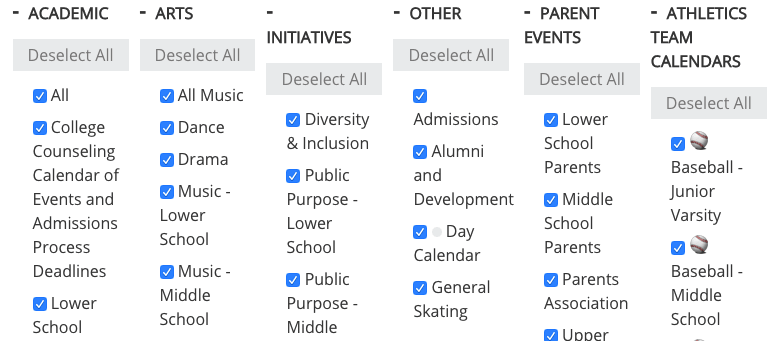 In this example above, the school has calendar groups for Academic, Arts, Initiatives, Other, Parent Events, and Athletics. These groups contain multiple calendars for each group. Users on this site have the option to select or deselect all from a particular group, or to choose individual calendars from one or more groups. They've used the Calendar Tools element with "Allow Users to Filter Calendars" and "Organize Calendars by Group" selected. Aside from Athletics, this example has just a handful of calendars in each group, organized clearly by topic, so the user can easily glance through them and find what they're looking for.
Categories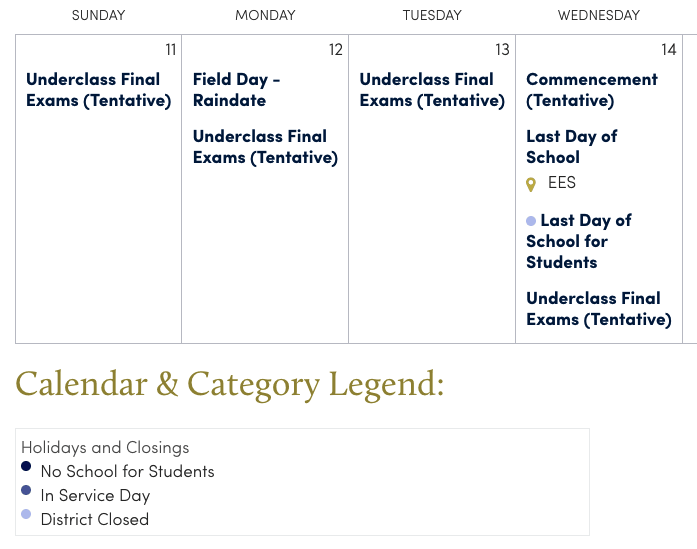 This example above, uses calendar categories to color-code the events on its Holidays and Closings calendar. Depending on category, each type of event has a different color assigned. Rather than using a Calendar Tools element, they've used the "Display Calendar & Category Legend" setting within the Calendar Grid element. The categories on this site work well because they used it for a very limited number of events, and they used colors that work well with their site design.
Tabs

As an admin, which calendars you select to display in an element is part of your organization as well, and you may decide to utilize multiple calendar elements. This example combines Calendar Grid elements with a Tab element and has their Lower School, Middle School, and Upper School calendar on separate tabs. To the user, it looks like the grid stays in place and only the events change, but in reality it's three separate elements with different calendars set to display on each. Some calendars may be set to display on more than one element, and events can be set to display on more than one calendar, as well.
Conclusion
How you organize your calendars can vary widely based on the needs of your school. We've provided a lot of different options for how you might set them up, but there's no need to use them all. The best approach is not to make the organizational system too complicated. All the above examples work well because they don't overwhelm users with information.