Calendar events don't have to be added through the Calendar Manager interface. When creating a large number of events at once (say, when populating a school calendar in advance of the upcoming academic year), you can use a Calendar Upload spreadsheet to list all of the events to be added to a calendar and create them all at once. It's possible to upload events to a class calendar; assignments, however, cannot be uploaded.
To upload events, begin by downloading the Calendar Events Data Upload Template from the Knowledge Base. The template spells out the format to use when creating calendar events in bulk. Opening the template in Excel, you can see that the each row of the spreadsheet contains a specific event, while each column represents information pertaining to an event, such as date, start time, end time, and so on.

The Event Title and Start Date are required for all events. You can optionally specify a Start Time, End Time, Notes, Description and Location for each event. Be sure to delete the first row (specifying which columns are required and which are optional) before finalizing your file for upload.
Note: Recurring events cannot be uploaded via a datasheet.
Once you have entered all of the events you want to upload, save the file in tab delimited format. Select "Save As" from the File menu, and set the format to "Tab Delimited Text." Give your spreadsheet a unique name. You may see an error message regarding the active sheets - click "OK" to continue. If you have populated multiple workbooks in your spreadsheet, you'll have to save each one as a separate tab delimited file.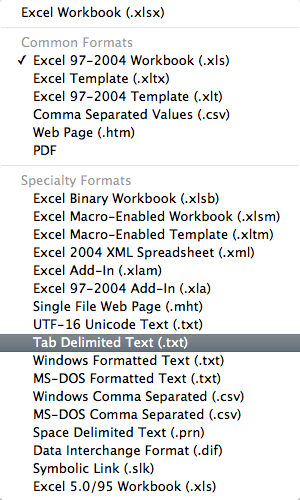 Once you've saved the spreadsheet, go to Calendar Manager and click on the "Import" tab. Select the "File" radio button, and make sure the "Format" option is set to "Tab delimited." Use the "Choose File" button to open up a file picker and select the spreadsheet that you saved. Finally, use the dropdown menu to select which calendar you wish to update. If you want to display the events on your spreadsheet right away, select the "Publish on Import" checkbox; leaving it unchecked will mean that you'll have to publish the events individually once they're uploaded.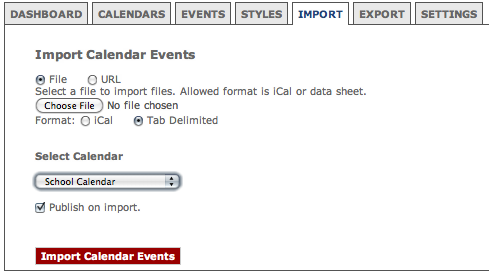 After Import, it is still possible to bulk publish by month or by year with the "Bulk Publish" button on the Events tab.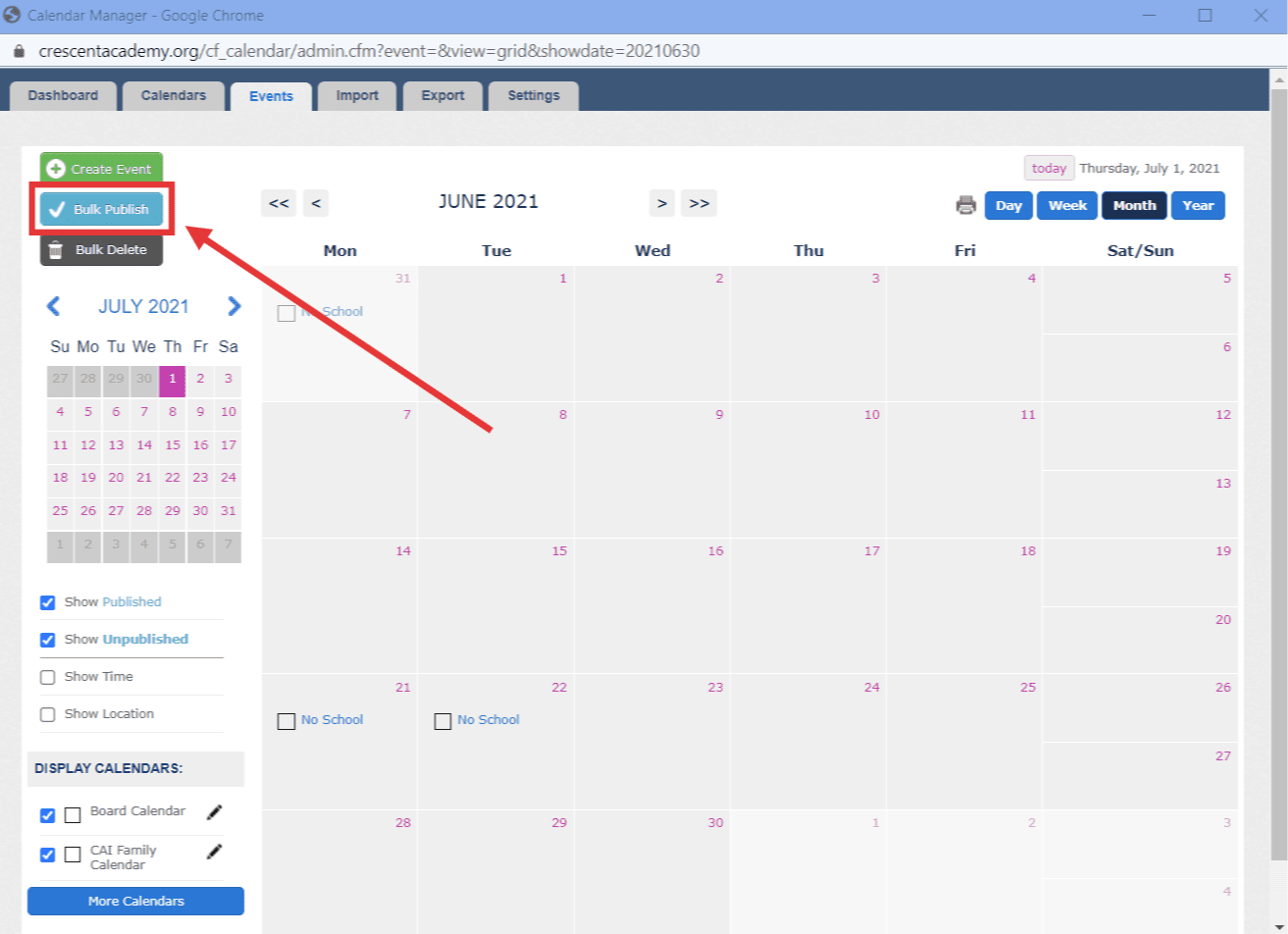 When everything is set, click the red "Import Calendar Events" button. If you have made any adjustments to the column headers (i.e., the name of each column), you may have to re-associate the columns with the various pieces of data that Calendar Manager accepts as an import.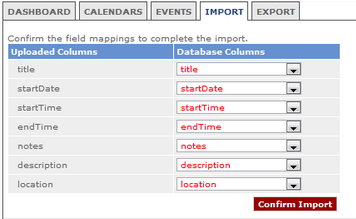 If you use another calendar manager, such as Apple's iCal or Google Calendar, you can also save events from a calendar in that program as a .ical file and use that to upload those events to your finalsite calendar. Just set the format to "ical" and upload the file that was generated by your calendar management software.