In this Article
---
The settings on the Page Layout and Appearance menu control the overall presentation of a page and the elements it contains. Each page on the site has its own Layout and Appearance Settings menu icon, located in the bottom bar next to the Compose toggle.

In the Page Layout and Appearance menu, you can:
Add page banners
At the top of the window, use the dropdown menus to select any banners you want to use to frame the main content area of the page.
Banners (sometimes also called "headers" and "footers" when applied to the top and bottom of a page) are built just like pages: they're populated with elements that define the content they display.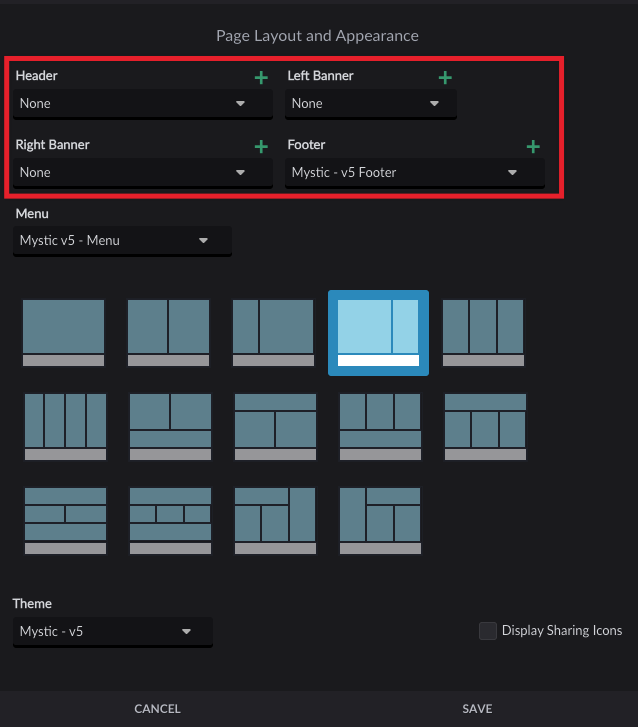 Click the Composer button and click on the Banners tab to view and edit any existing banners.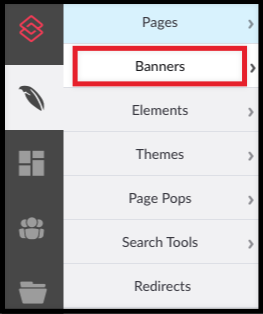 Select a page layout
Page layouts let you control how the elements on a page are lined up and displayed.
Select one of the 14 available layout diagrams. The white areas in a layout diagram represent the banners that have been selected for this page. As you select or remove banners, the corresponding white rectangles will appear and disappear from the layout diagrams. The blue rectangles represent content areas - columns and rows - that can be populated with various elements. Click on the layout diagram you want to apply to this page, then click the "Save" button.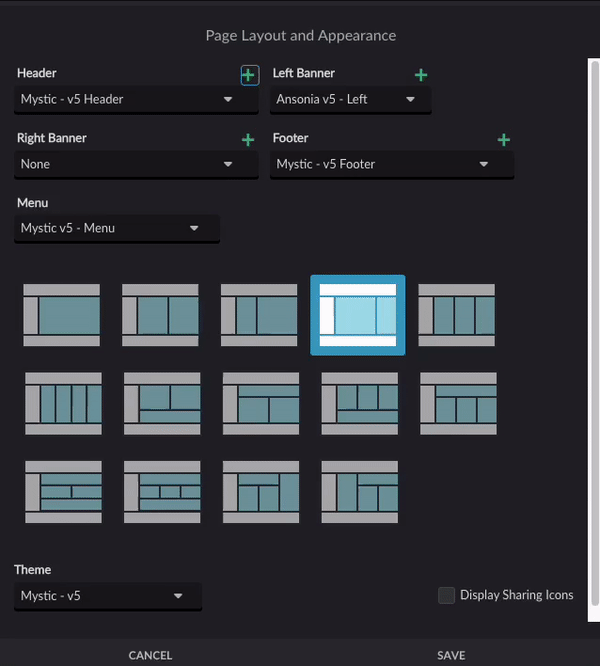 Select a theme
Themes allow you to quickly change the visual, behavioral, and other properties of a page. See Applying themes in Composer for full details.
In brief, themes are a collection of CSS and JavaScript files that combine to give a page a unique collection of visual properties and capabilities. If you are comfortable with creating stylesheets and scripts, you can create your own, new themes. If you aren't sure how to do that but still want to create a new (or edit an existing) look and feel for some or all of your site pages, contact Finalsite Support for more information about what's possible.