Column Layout elements give you even more control over the arrangement of elements on your pages. In addition to adding multiple columns to a page through the Page Layout and Appearance menu, you can add two, three, or four columns to any layout section. Two-column layouts are available in "Wide Left" and "Wide Right" styles.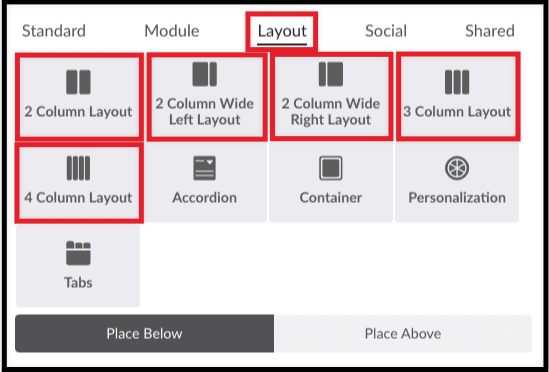 Once you've added a Column Layout to your page, you can add any element to each of the columns. You could even add another Column Layout element, but at that point the columns would almost always be too narrow to function well.
Unlike standard Page Layout boxes, it's possible to move a Column Layout element between boxes by dragging and dropping. You can also delete a Column Layout element - but keep in mind that doing so will also delete any elements inside of it.
Element Settings
Column elements do not have any customization options beyond the common element settings.
To switch between Column Layout element types, use the Layout Options button at the top right of the element when you hover over it. This opens the Element Layout and Appearance menu, where you can easily choose a new layout for your columns.