Finalsite works with many mobile carriers in non-US countries. Schools can send SMS alerts (text messages) to constituents using any of the cell phone service providers listed below. These carriers can be activated for a site in Site Manager > Site Administration > Site Modules > Alerts.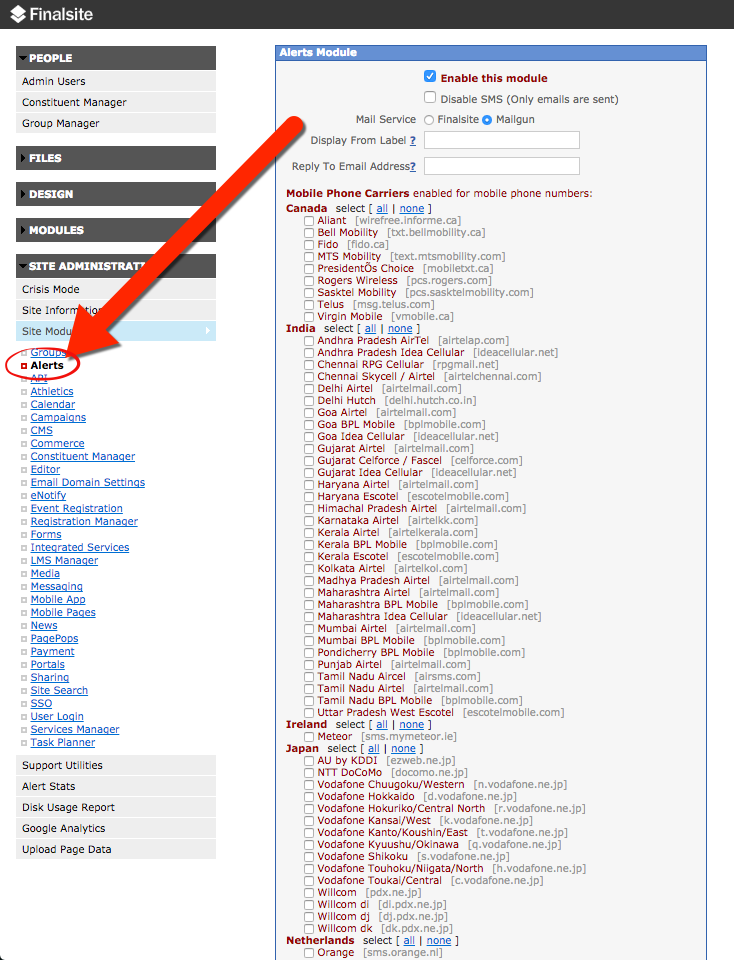 Select the checkbox next to any of the SMS-to-email gateways listed. Save any updates.
Whenever a constituent adds a mobile number to their profile, they will now be able to choose any of the wireless carriers you have selected from the dropdown menu when updating their profile. As a result, they will now be able to receive SMS alerts on their cellular phone.
| | |
| --- | --- |
| United Kingdom |   |
| O2 #1   | 44 + [mobile number] @ mobile.celloneusa |
| O2 #2   | 44 + [mobile number] @  mmail.co.uk |
| Orange    | 0 + [mobile number] @  orange.net |
| T-Mobile    | 0 + [mobile number] @  t-mobile.uk.net |
| Virgin Mobile   | 0 + [mobile number] @  vxtras.com |
| Vodafone    | 0 + [mobile number] @  vodafone.net |
|     |   |
| Canada |   |
| Aliant    | + [mobile number] @  wirefree.informe.ca |
| Bell Mobility   | + [mobile number] @  txt.bellmobility.ca |
| Fido    | + [mobile number] @  fido.ca |
| Mts Mobility   | + [mobile number] @ text.mtsmobility.co |
| Rogers Wireless   | + [mobile number] @  pcs.rogers.com |
| Sasktel Mobility   | + [mobile number] @ pcs.sasktelmobility.com |
| Telus    | + [mobile number] @  msg.telus.com |
| Virgin Mobile   | + [mobile number] @  vmobile.ca |
| President's Choice   | + [mobile number] @  mobiletxt.ca |
|     |   |
| India |   |
| Andhra Pradesh Airtel  | 91 + [mobile number] @  airtelap.com |
| Andhra Pradesh Idea Cellular | 9848 + [mobile number] @  ideacellular.net |
| Chennai Skycell Airtel  | 919840 + [mobile number] @ airtelchennai.com |
| Chennai RPG Cellular  | 9841 + [mobile number] @  rpgmail.net |
| Delhi Airtel   | 919810 + [mobile number] @ airtelmail.com |
| Delhi Hutch   | 9811 + [mobile number] @ delhi.hutch.co.in |
| Gujarat Idea Cellular  | 9824 + [mobile number] @  ideacellular.net |
| Gujarat Airtel   | 919898 + [mobile number] @ airtelmail.com |
| Gujarat Celforce Fascel  | 9825 + [mobile number] @  celforce.com |
| Goa Airtel   | 919890 + [mobile number] @ airtelmail.com |
| Goa BPL Mobile  | 9823 + [mobile number] @  bplmobile.com |
| Goa Idea Cellular  | 9822 + [mobile number] @  ideacellular.net |
| Haryana Airtel   | 919896 + [mobile number] @ airtelmail.com |
| Haryana Escotel   | 9812 + [mobile number] @ escotelmobile.com |
| Himachal Pradesh Airtel  | 919816 + [mobile number] @ airtelmail.com |
| Karnataka Airtel   | 919845 + [mobile number] @  airtelkk.com |
| Kerala Airtel   | 919895 + [mobile number] @ airtelkerala.com |
| Kerala Escotel   | 9847 + [mobile number] @ escotelmobile.com |
| Kerala BPL Mobile  | 9846 + [mobile number] @  bplmobile.com |
| Or Kolkata Airtel  | 919831 + [mobile number] @  airtelkol.com |
| Madhya Pradesh Airtel  | 919893 + [mobile number] @ airtelmail.com |
| Maharashtra Airtel   | 919890 + [mobile number] @ airtelmail.com |
| Maharashtra BPL Mobile  | 9823 + [mobile number] @  bplmobile.com |
| Maharashtra Idea Cellular  | 9822 + [mobile number] @  ideacellular.net |
| Mumbai Airtel   | 919892 + [mobile number] @ airtelmail.com |
| Mumbai BPL Mobile  | 9821 + [mobile number] @  bplmobile.com |
| Punjab Airtel   | 919815 + [mobile number] @ airtelmail.com |
| Pondicherry BPL Mobile  | 9843 + [mobile number] @  bplmobile.com |
| Tamil Nadu Airtel  | 919894 + [mobile number] @ airtelmail.com |
| Tamil Nadu BPL Mobile | 919843 + [mobile number] @ bplmobile.com |
| Tamil Nadu Aircel  | 9842 + [mobile number] @  airsms.com |
| Uttar Pradesh West Escotel | 9837 + [mobile number] @ escotelmobile.com |
|     |   |
| Ireland |   |
| Meteor    | + [mobile number] @  sms.mymeteor.ie |
|     |   |
| Japan |   |
| Au By Kddi  | + [mobile number] @  ezweb.ne.jp |
| NTT Docomo   | + [mobile number] @  docomo.ne.jp |
| Vodafone Chuugoku/Western   | + [mobile number] @  n.vodafone.ne.jp |
| Vodafone Hokkaido   | + [mobile number] @  d.vodafone.ne.jp |
| Vodafone Hokuriko/Central North  | + [mobile number] @  r.vodafone.ne.jp |
| Vodafone Kansai/West, Including Osaka | + [mobile number] @  k.vodafone.ne.jp |
| Vodafone Kanto/Koushin/East, Including | + [mobile number] @  t.vodafone.ne.jp |
| Vodafone Kyuushu/Okinawa   | + [mobile number] @  q.vodafone.ne.jp |
| Vodafone Shikoku   | + [mobile number] @  s.vodafone.ne.jp |
| Vodafone Touhoku/Niigata/North   | + [mobile number] @  h.vodafone.ne.jp |
| Vodafone Toukai/Central   | + [mobile number] @  c.vodafone.ne.jp |
| Willcom    | + [mobile number] @  pdx.ne.jp |
| Willcom Di   | + [mobile number] @  di.pdx.ne.jp |
| Willcom Dj   | + [mobile number] @  dj.pdx.ne.jp |
| Willcom Dk   | + [mobile number] @  dk.pdx.ne.jp |
|     |   |
| Netherlands |   |
| T-Mobile    | 31 + [mobile number] @  gin.nl |
| Orange    | 0 + [mobile number] @  sms.orange.nl |