In this Article
---
Resources offers the opportunity to upload files from a variety of sources. You can upload a new resource directly from your computer, easily drag and drop for speedy efficiency, import from Dropbox or Google Drive, and even migrate existing files from File Manager and Multimedia Manager before you Edit your resource using our Resources Quick Panel.
Note: If you are new to Resources, step back into our main Resources Overview article for a bigger picture understanding of how it all works. 
Public Resource button
To start the process of adding a resource, first select the folder in which you'd like your media to live, then click the green "Public Resource" button that will appear in the top right corner once you've selected your Resources folder. This button allows you to upload a new resource that isn't already in File Manager or Multimedia Manager. Resources can be up to 4GB. 

Alternative upload methods
Browse or "drag and drop"
To upload a resource that is saved on your computer, either click the "Browse" button or simply drag and drop the file(s) into the upload area. If you have multiple files, a bulk upload will automatically begin.
Step 1: Navigate to the folder where you want to put the resource(s).
Step 2: Browse for or drag one or more files from your computer into the upload box.
Step 3: If dragging, release the files when the "Drop files to upload" message appears in red, and the upload process will begin. When the upload is complete, you can edit the settings for the file(s).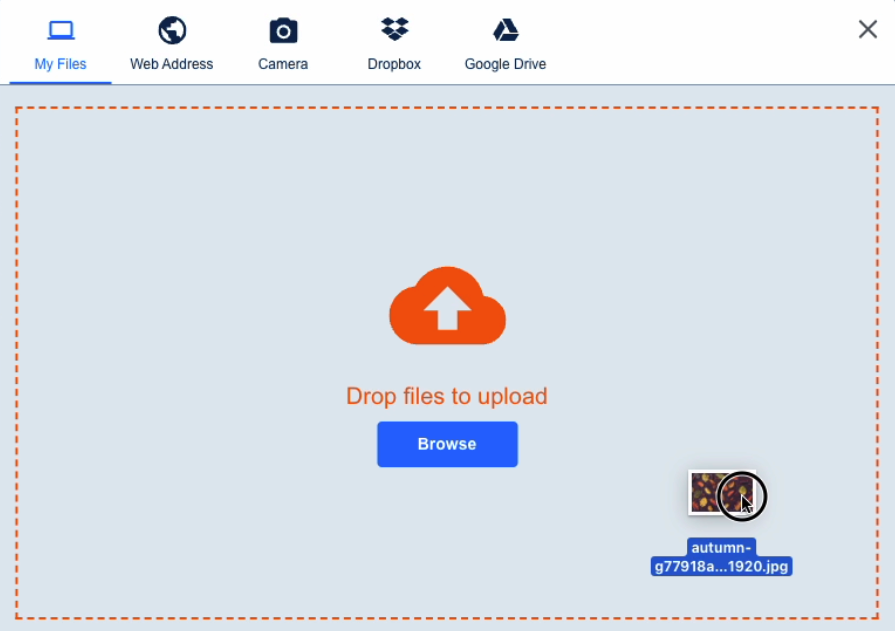 Web Address
Paste the URL of a file from a website to import it into Resources.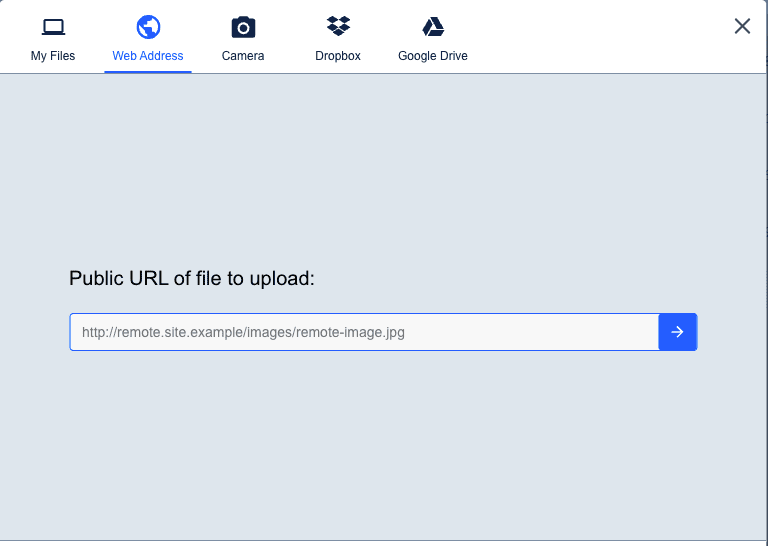 Camera
To upload a webcam photo, make sure that your browser is set to allow camera access. Then, position yourself or your subject in front of the camera and click "Capture." The image will be automatically uploaded.
Dropbox or Google Drive 
Connect your account for each of these file services to access photos. Select the files you want to add to Resources and click "Upload."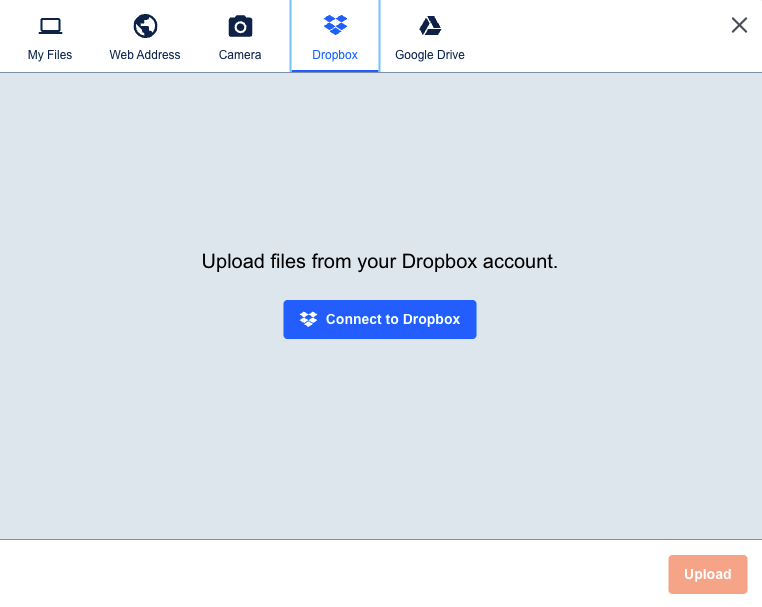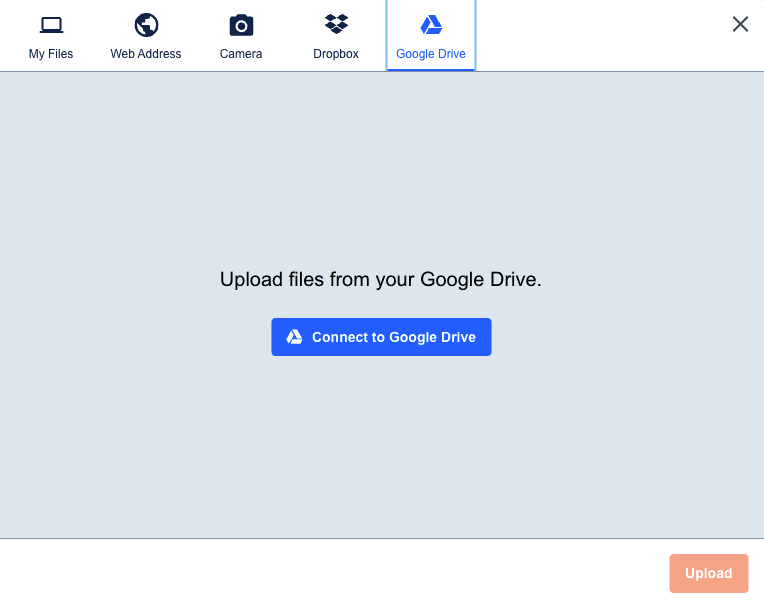 Note: After July 1, 2023, the upload widget no longer supports Instagram or Facebook as third-party upload sources. If those sources are requested, they will no longer work.
File Manager or Multimedia Manager
From either the "Add Resource" screen or the "Upload Resource" dropdown, click the gray File Manager button to open File Manager. Navigate to the file you want to add to Resources, and select the file name to import it.
Alternatively, import all of the files from a folder in bulk by navigating to that folder and clicking on the "import to resource manager" link at the top-right of the File Manager window.
Resources that have already been migrated appear with a green checkmark. Instead of adding it again, search for the existing version in the All Resources screen in Resources, and add it to the gallery from there.
From either the "Add Resource" screen or the "Upload Resource" dropdown, click the gray Media Manager button to browse for a playlist. Find the playlist that you want to upload, and click to highlight it. Click "Import," and the files in the playlist will be migrated as a bulk upload.
Edit Resource
Once you upload a resource, you can edit its properties before saving.
Quick actions panel
After you upload or migrate a resource in any of the above ways, an edit screen will appear. If you are importing more than one resource at once, the bulk edit screen will appear. For a single file, you can change any of the following options in the Resources quick panel:
Title
Give your resource a title that can be displayed on the website, separately from the file name.
Name
Due to (overwhelmingly) popular demand, you can change the file name! The name must be comprised of numbers and letters, with no spaces or symbols. (Hyphens and underscores are OK.)
It's necessary for the file name to be unique. If you try to give a file the same name as another resource in that folder, Resources will force the new file's name to be unique by adding a number to the end of it.
Tip: As a best practice for file names, briefly describe what's going on in the picture and include the original file size, e.g. kids-studying-500x700.
Description
The file description can be displayed in Composer as the caption (in some cases you can override it with a custom caption in the Composer element).
Alt Text
Alt text is a written description of the file for screen readers and other assistive technology, and it is required on images by current ADA standards. Alt text for a file can be a maximum of 125 characters. See Add alt text to images for more information about how to construct useful alt text.
Adding alt text to a resource in Resources Manager means that you don't have to worry about adding alt text every time you add an image to a page! The alt text that you set in Resources will follow the image anywhere it's used.
Tags
Add tags to your uploaded resources to easily find them again using the Resources filter tool. Tags are only used in Resources and are not displayed in Composer.
Bulk edit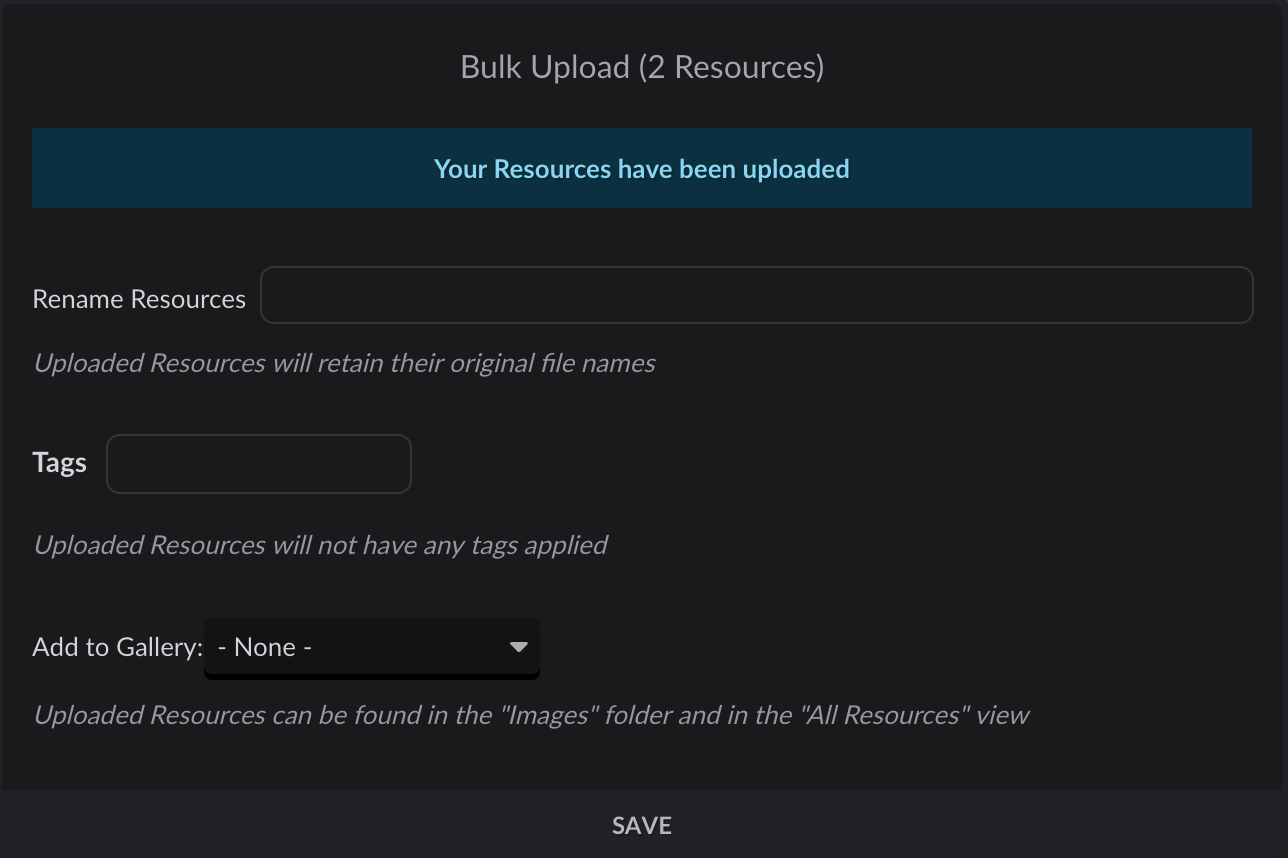 Some of these features - such as My Files, File Manager, or Media Manager uploads - have the option to upload multiple files at once. Once a bulk upload is completed, a window will appear that gives you the opportunity to collectively edit several options for the resources you uploaded.
You can add a custom name to the group, and the file name will be changed to the name you provide with a number value for each file.
You can also add tags and choose a gallery to add the files to.
Tip: Applying a tag to a large bulk upload will make it much easier to find those resources again later!
Resources Quick Panel
When working in Resources, click on a file to open the quick panel and find the following actions: 

Add to Gallery: add file to an existing gallery.
Move to folder: move file to an existing folder.
Delete resource: moves file to Deleted Resources for 30 days before deleted permanently.
Replace resource: replaces the files in all instances where it is displayed on the site.
Edit image: only basic cropping available; use image ratios.
Where used: see where a file is used and located throughout the site.