In this Article
---
After a message has been sent, you can view the message report by clicking on "View Report" in the bottom-right corner of the Message Details screen, or clicking on the icon next to the message in the Messages list.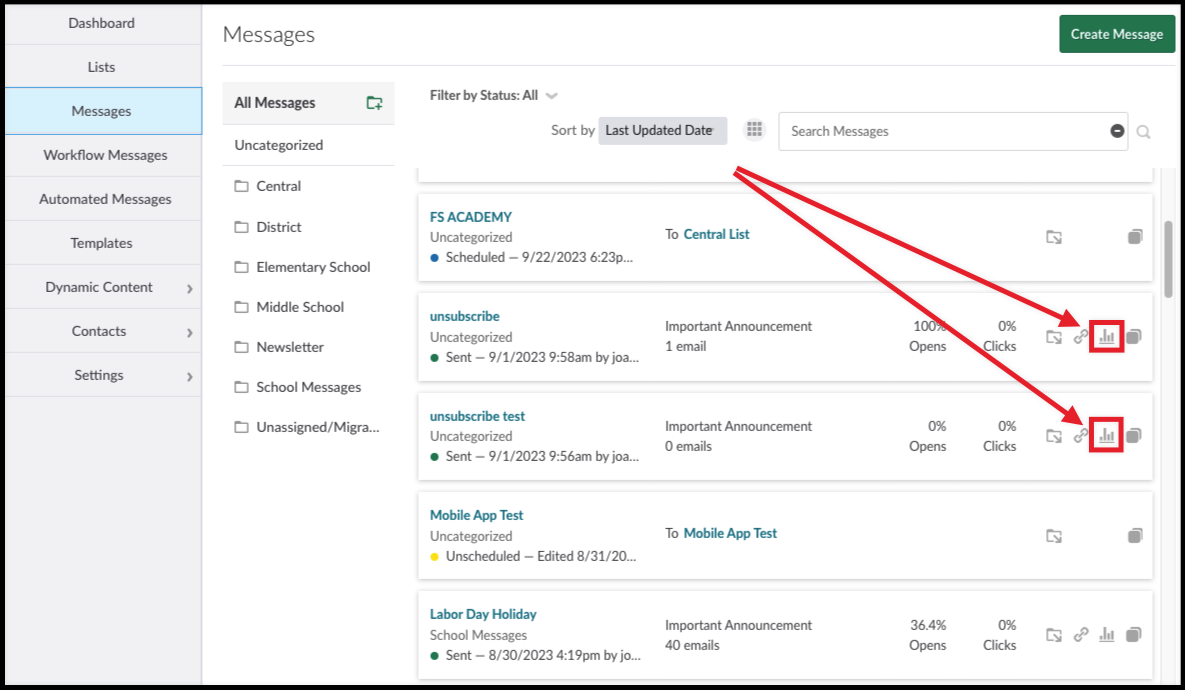 Summary tab
The Summary tab in reporting shows statistics for the message that was sent and includes: 
Deliverability
Engagement
Conversions
Lost contacts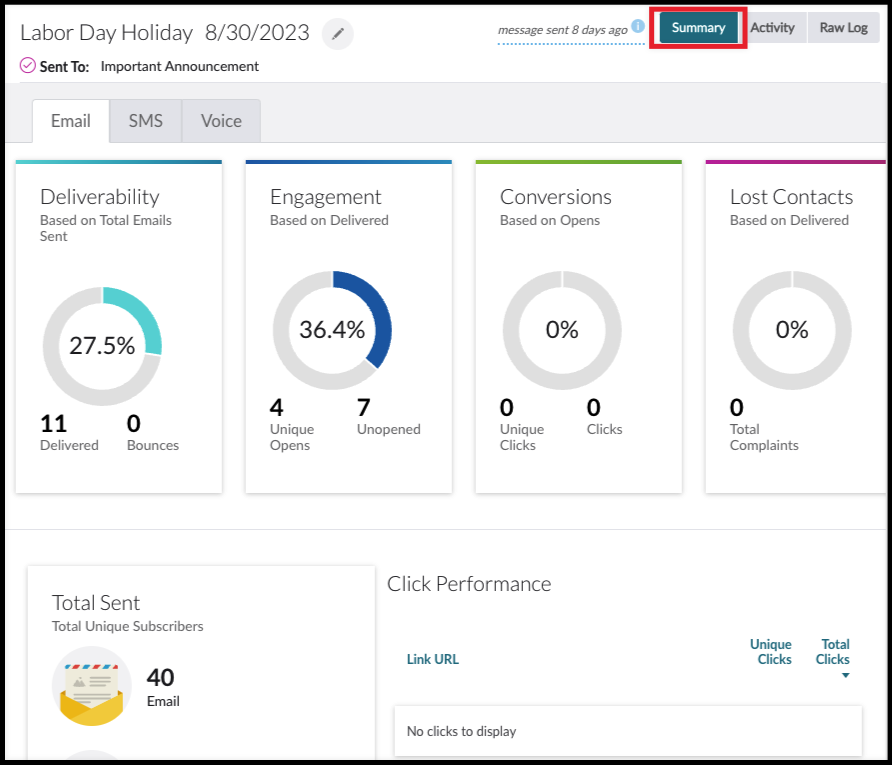 There is also a "Click Performance" table that breaks down each link in your message, how many people clicked on it, and how many total clicks were recorded. Click on the "Unique Clicks" number to see exactly which recipients clicked on the link.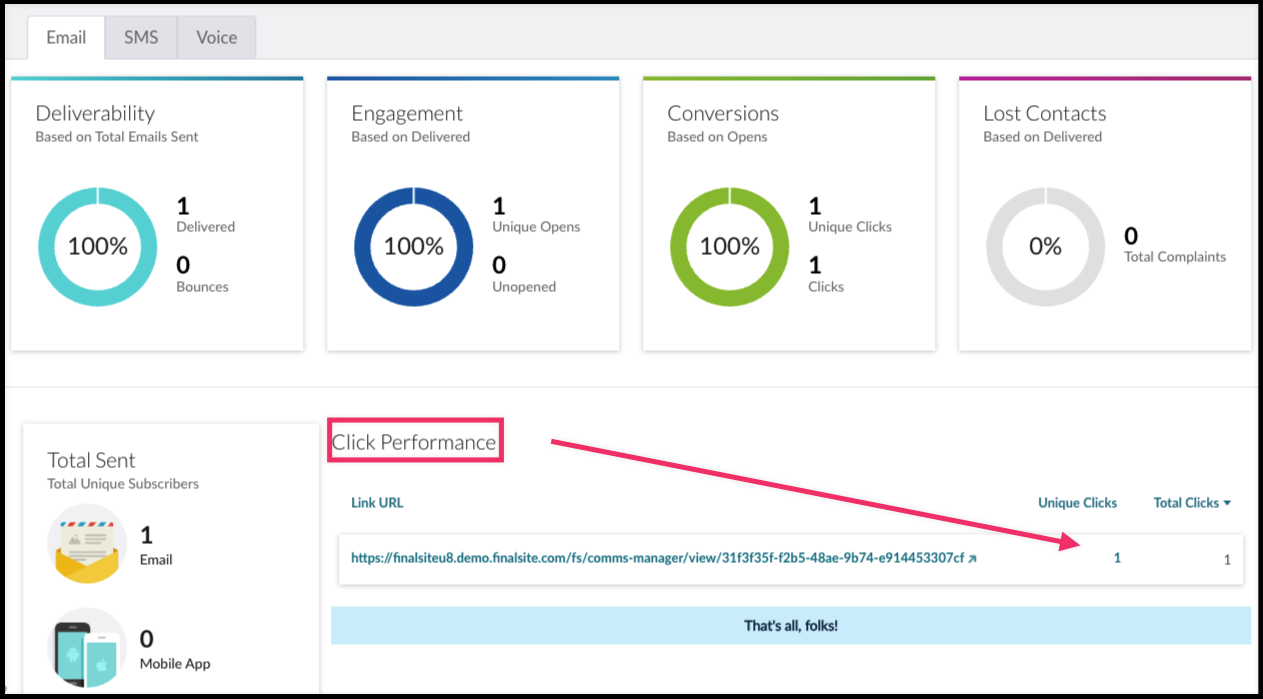 Activity tab
The Activity Report gives you a detailed report of how each user engaged with the message. Hovering over each activity event allows you to view the date and time the message was sent, delivered, opened, and/or clicked. Filter by recipient to view a specific person's status of this particular message, whether it was "Sent", "Delivered", "Opened", or "Clicked."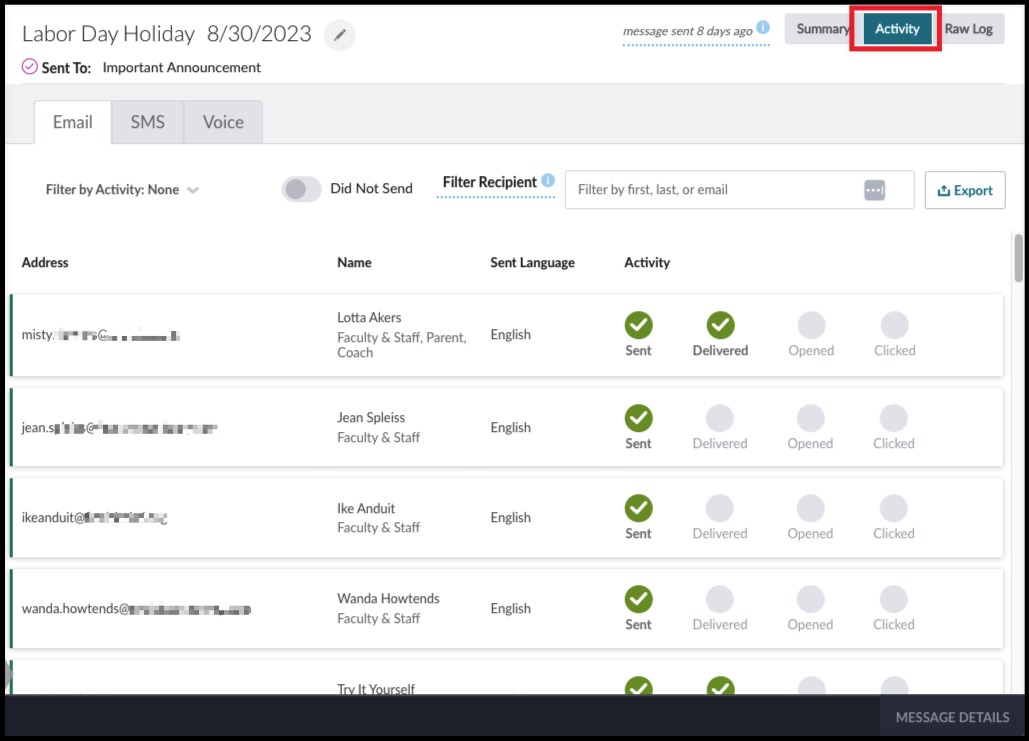 Raw Log tab
The Raw Log is available for 90 days after your message is sent. It contains full records of Delivered, Opened, Clicked, Complained, Bounced and Dropped data. Details about some of the common codes you'll see are available in the article Messages summary code meanings. You can search for a particular email address to find out how the recipient engaged with this message, or you can filter the records by clicking on each status.
Note: This log is only available for 90 days after a message is sent.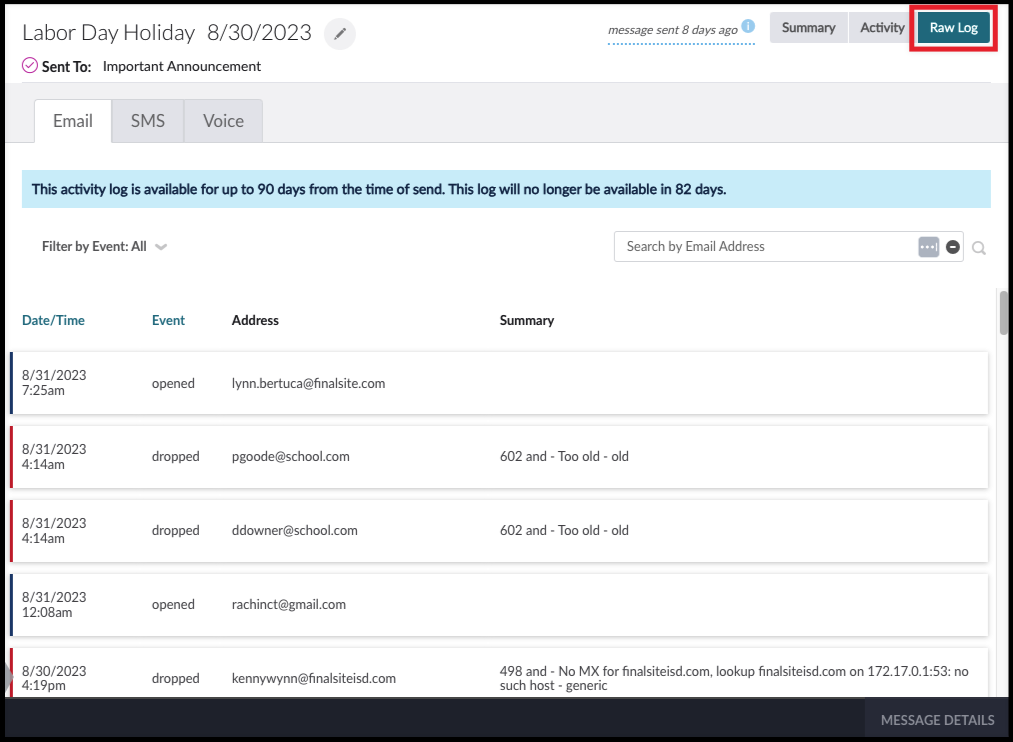 You can filter this log based on the following recipient events: Bounced, Clicked, Complained, Delivered, Dropped, and Opened.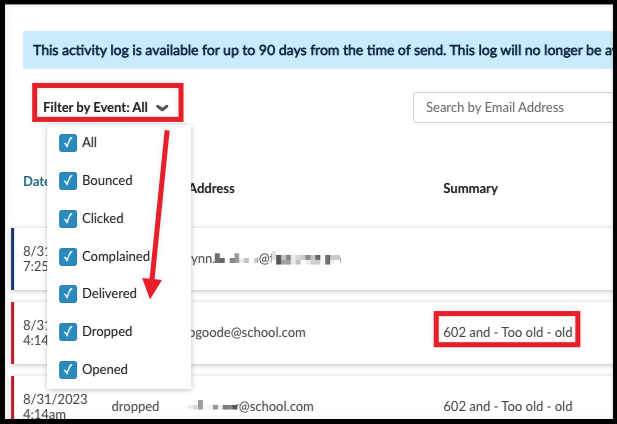 Bounced: A "Bounced" status means that your email cannot be delivered to the intended recipient because of some technical error, so the recipient's email server rejected the message and returned it to your Finalsite server.
Clicked: Something within the message was clicked into.
Complained:

Complained means the recipient marked the message as spam or junk from their email client.

Delivered: The message was successfully delivered.
Dropped:

Dropped messages cannot be delivered after repeated attempts over 24 hours. Dropped email addresses are not unsubscribed from mailing lists.

Opened: The message was not only delivered but also opened up. 
Note: If a recipient is listed as bounced or dropped, the Summary column may offer some insight into what happened to the message. Details about some of the common codes you'll see are available in the Knowledge Base article Messages summary code meanings.
Additionally, a bounced and dropped subscriber's status will be changed from "Subscribed" to "Suppressed". You can troubleshoot recipients who are not receiving communication in Messages in Contacts > Find Recipients.