In this article, we'll discuss the benefits of using a default board post page to give your posts a distinct URL.
The default display setting for a post is to open in a popup. However, when a post opens as a popup, it doesn't have a distinct URL. This means it is difficult to share, there is nothing to track in Google Analytics, and you're not able to search for the post in Google or other search engines.
This is where default board post pages come in, and opening the post in a page.
Opening the post in a page gives us a direct URL for each post, which can be shared via social media, for example. When the post has a URL, we can also search for it internally and externally, as well as track views in Google Analytics.
Instead of opening in a popup, in your "Link To" settings for the Post element, select "Page" and choose your page with a Single Post element.
If you'd like to open posts in a popup on an individual page, you can do so and still reap many of the SEO benefits by having the default board post page set.
The default board post page needs to have a Post element with the format set to Single. Then, in the Formatting section of the element, select the "Override Page Title and SEO Metadata" option. This ensures that the page title will be replaced with the post title each time a post is viewed.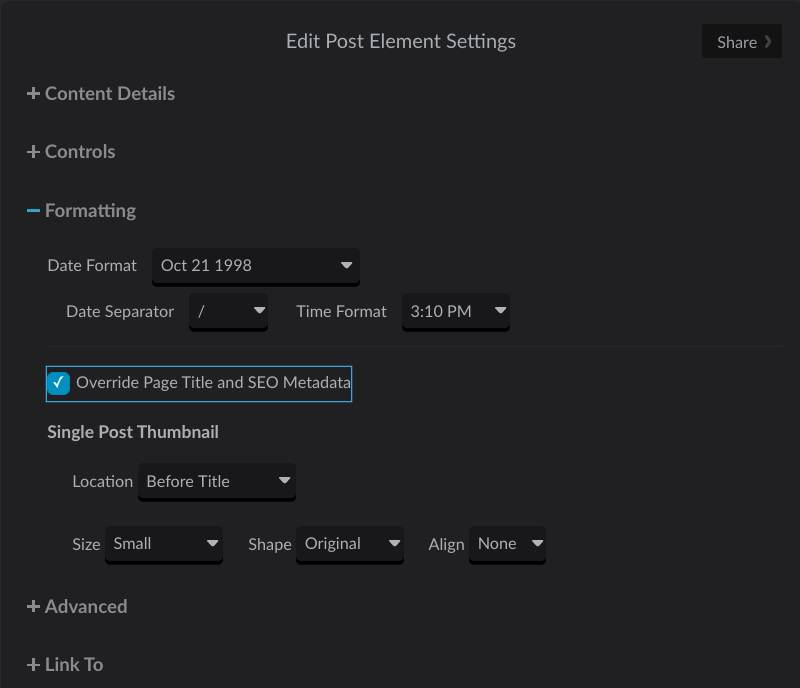 Once you have set up a page, select that page for the board's default board post page in the Board Settings. Even if you don't set your Post element to "Open In" this page, you'll still have links for each post on this board available, which will be crawled by search engines. The direct link for each post can also be found underneath the post's title.