In this Article
---
Once you've built and activated a form, it's time to share it to your users to get submissions. This article describes two ways to get your form out there:
Display a form on a page
To share your form on a Composer page, use the "Forms" element from the Module Element Library. Just add the element to the page, click into it to edit the Element Settings, and select your form from the dropdown menu. It's that simple!
Note: The element used to add a form from our legacy forms module, Forms Manager, is called the "Form" element. This may be confusing. Just aim for the element with the "new" badge!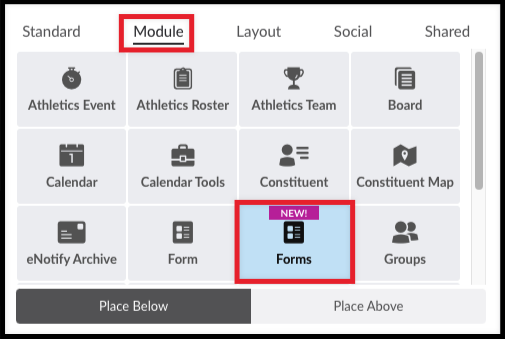 Share with a direct link
Using a Composer page is the preferred method, because then the form takes on your site's styles and attractive formatting. However, sometimes you just need the direct link to a form. 
For that, click the "Share Form" icon in the bottom-right of the form. The form's full URL will be displayed. Click the "Copy URL" icon at the end of the URL field to place the link on your clipboard so you can paste it elsewhere. Or, click the "Open URL" icon to preview the unformatted form.
You may want to set a form landing page to apply your site's styling to the form when the direct URL is shared with others.