Google recently released a new analytics property known as Google Analytics 4, which is intended to replace Universal Analytics in 2023.
As of July 1, 2023, standard Google Universal Analytics (UA) properties will no longer process data. New data will only flow into Google Analytics 4 properties. You'll be able to see your UA reports for a period of time after July 1, 2023.
Add GA4 Measurement ID to Composer
Composer now natively supports GA4 Measurement IDs ("G-XXXXXXX") through the interface.
Step 1: Create a GA4 property
Follow the instructions from Google to set up your account and create a Google Analytics 4 property for your site.
Step 2: Copy your GA4 Measurement ID
Then, copy the GA4 Measurement ID to add it to Composer. You can find this in the "Data Streams" tab after you select the property.
Step 3: Paste Your GA4 Measurement ID in Composer
In Composer, click the three-dot menu next to the domain in the Pages menu, then select "Settings."
Go to the "SEO" tab and paste the Measurement ID into the "Google GA4 ID" field.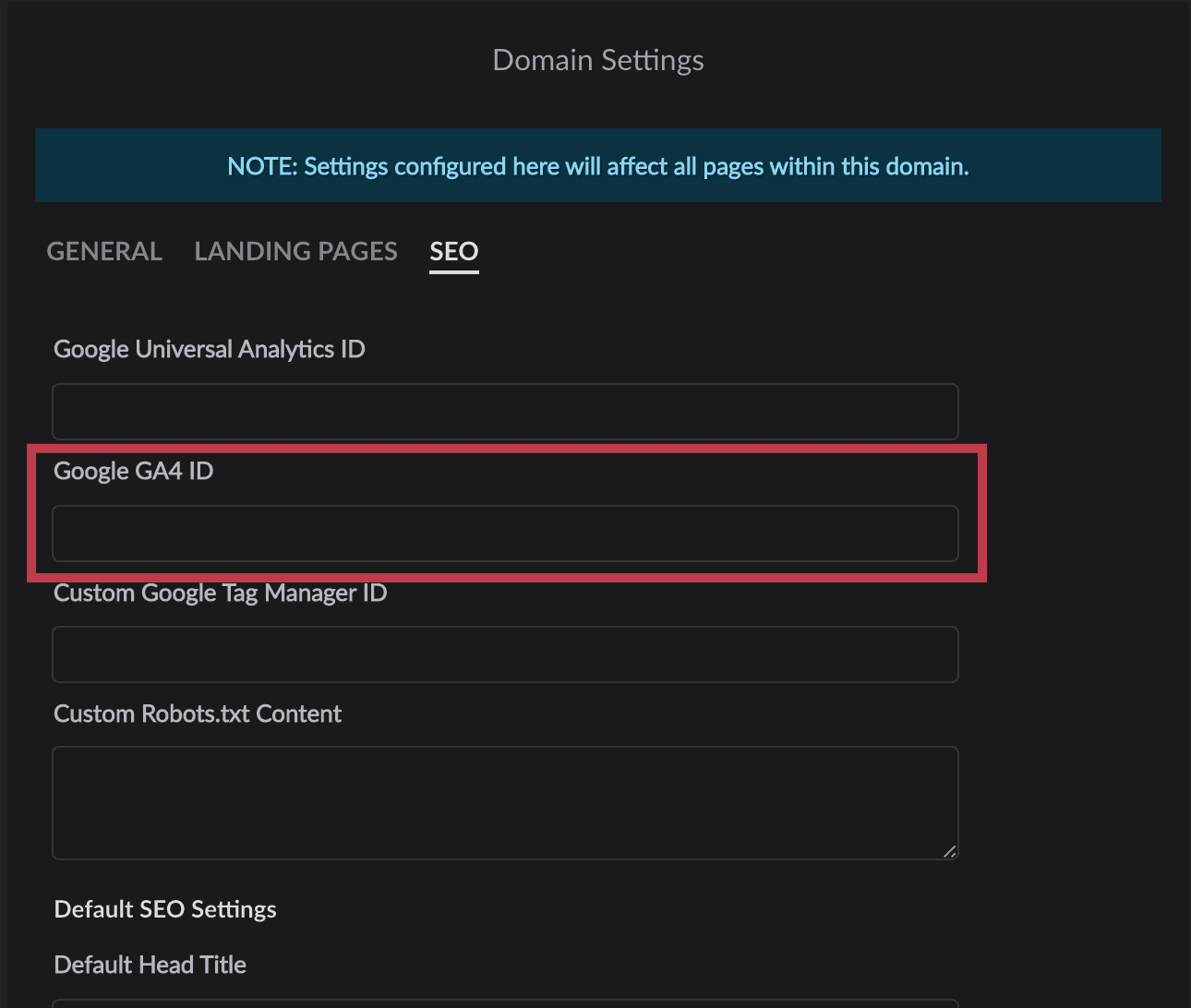 Note: You can keep your Google Universal Analytics ID in the settings, as well. Until Google stops supporting UA in 2023, both may be used simultaneously to collect data.
Click "Apply" to save the changes.
Create custom dimensions
To allow for more comprehensive reporting and attribution in Google Analytics, we've set up automatic event tracking for several features on your Composer site.
Select "Admin" in the left navigation of Google Analytics.
Within "Property" settings, select "Custom Definitions."
Click the "Custom dimensions" tab and enter the following:
| | | | |
| --- | --- | --- | --- |
| Dimension Name | Description | Scope | |
| button_text | Button Text | Event | button_text |
| click_text | Click Text | Event | click_text |
| element_text | Element Text | Event | element_text |
| element_url | Element URL | Event | element_url |
| form_text | Form Text | Event | form_text |
| media_title | Media Title | Event | media_title |
| resource_title | Resource Title | Event | resource_title |
| resource_url | Resource URL | Event | resource_url |
| url_path | URL Path | Event | url_path |
| video_name | Video Name | Event | video_name |
| video_state | Video State | Event | video_state |
| video_title | Video Title | Event | video_title |
For more in-depth information on custom dimensions, see the following Google Support article: configure custom dimensions.
We track your site's Google Analytics stats for you by way of a custom Google Tag Manager (GTM) container, which allows us to make Composer-specific enhancements to how GA tracks website data and manage those enhancements across all our sites. We also use this container to collect platform-wide data that assists us in our constant work to improve Composer. Please contact Support for more information about this container.
If you wish to install a GTM container for your own purposes, we encourage you to request from Support the current version of the container that Composer embeds on your site's pages and review it to ensure there aren't any conflicts between it and your container.
Please note that duplicating any part of the provided container may cause your site to report data inaccurately; Support will provide it only to allow you to prevent conflicts.
Acknowledge user data collection policies
Google has specific policy requirements for its advertising features, so you'll need to ensure your privacy policy is up to date to leverage Google's cross-device tracking.
Once you have updated your privacy policy to meet Google's requirements, click "I acknowledge" in the "User Data Collection Acknowledgment" in your Google Analytics Admin Settings.