By linking your Analytics property to your Search Console account(s), Search Console data will be imported in Analytics and included in your Google Analytics reporting. In order to use the Search Console reports, you need to enable Search Console data sharing in your property settings. You must have administrator permissions on both the Google Analytics and Search Console accounts that are to be linked.
1. Sign in to your Analytics account.
2. On the left navigation menu, click "Admin" at the bottom to access the Administration settings.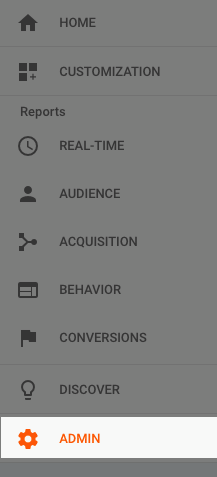 3. On the Administrative Settings panel, in the middle column labeled "Property" click on "Property Settings".

4. On the Property Settings panel, scroll down to the Search Console section and click the "Adjust Search Console" button.

5. On the Search Console Settings panel, click the Add link at the bottom of the text. This should open up a new tab in your browser.

6. You should see your site URL if it has previously been set up in Search Console. Click the radio button next to your site URL and click "Save" to connect you  Web Property to your Search Console Site.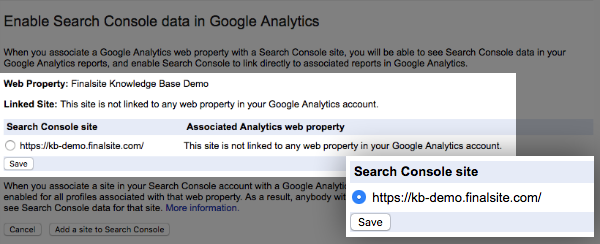 If you do not see your site listed,
Make sure you're using the same account in Analytics that was used to set up Search Console. You must have administrator permissions on both the Google Analytics and Search Console accounts that are to be linked.

Make sure the site has been set up and verified in Search Console. If it hasn't, you may want to click the "Add a site to Search Console" button, and follow the steps in the Knowledge Base article Submit your sitemap to Google
For more information about Search Console integration with Google Analytics, you may want to check out the Google Analytics Search Console Help Documents