Site admins can review and edit or cancel recurring payments from the Payment Manager module. To access the Payment Manager module, navigate to Modules > Payment Manager.
Note: Recurring payments plans will not reflect in Payment Manager for sites using Finalsite Payments powered by BlueSnap. Please manage recurring payment plans in your BlueSnap account.
On the "Recurring Payment Plan Reports" tab, every recurring payment plan that users have established on the site can be viewed in detail. Hover over a record and click on the eye icon that appears at the left-hand edge.

This pops open a detailed view of the recurring plan.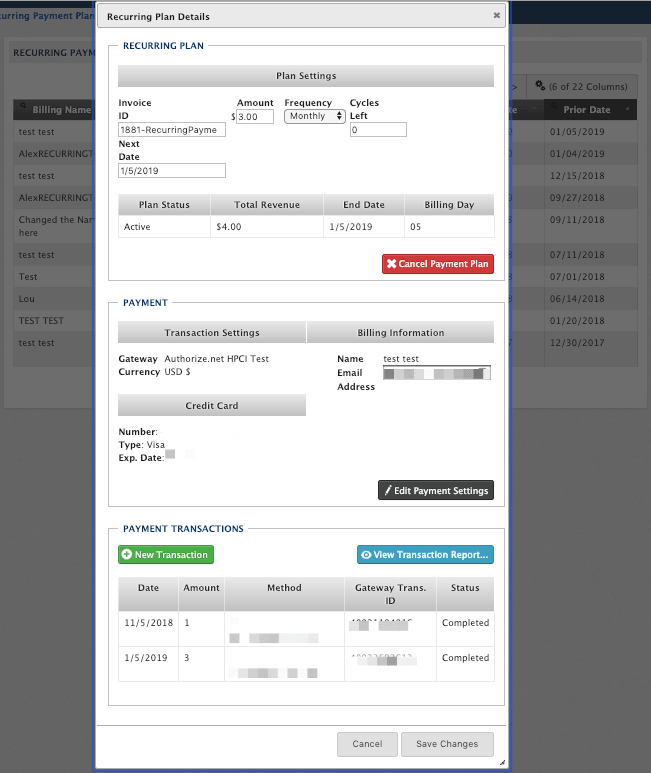 The Plan Settings are shown at the top of the detail view, including the plan's unique invoice ID, the amount of each payment, the frequency, the number of billing cycles remaining, and the date of the next scheduled transaction.
Underneath that, the Plan Status ("Active," "Pending," or "Cancelled") is shown, as well as the total revenue collected to date, the scheduled end date of the plan, and the billing day – the day of the month that monthly plans are charged. Click on the red "Cancel Payment Plan" button to end a plan. This will prevent any future payments from being collected. The plan will switch from "Active" or "Pending" status to "Cancelled."
The middle section of the Plan Details window shows the Transaction Settings. This includes the payment gateway used to process the transaction (typically, this will always be the same gateway, which is configured by following the instructions in Set up a payment gateway) and the transaction currency.
The Credit Card section shows a partially redacted view of the card number that was entered when the plan was established, along with the type (Visa, Mastercard, American Express, Discover, etc.) and expiration date.
The Billing Information section displays the name and contact info of the user who created the recurring payment plan. Name and address information is drawn from the credit card account used to establish the recurring payment plan.
Click the gray "Edit Payment Settings" button to update any of this information. An admin can update the credit card used to conduct the plan's transactions, for instance. A $1 transaction will be authorized on the user's card to confirm that it is valid. This is an "Authorize Only" transaction, and no funds will be captured.
Finally, the Payment Transactions section contains a list of all transactions made on this plan, including the date, amount, method (card type and number), gateway transaction ID, and status. Use the green "New Transaction" button to create a one-time transaction under the existing payment subscription. Or, click the blue "View Transaction Report…" button to be taken to the "Transaction Reports" tab to view additional information about the transactions.