Access to the Calendar Manager module is controlled by the settings on the Admin Users screen. This determines only whether users are able to access Calendar Manager from the module menu.
Setting admin permissions
These settings are controlled on the Admin Users > Site Admin User Group screen: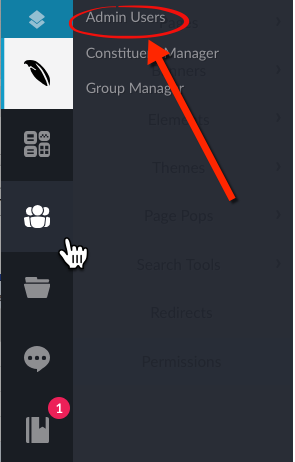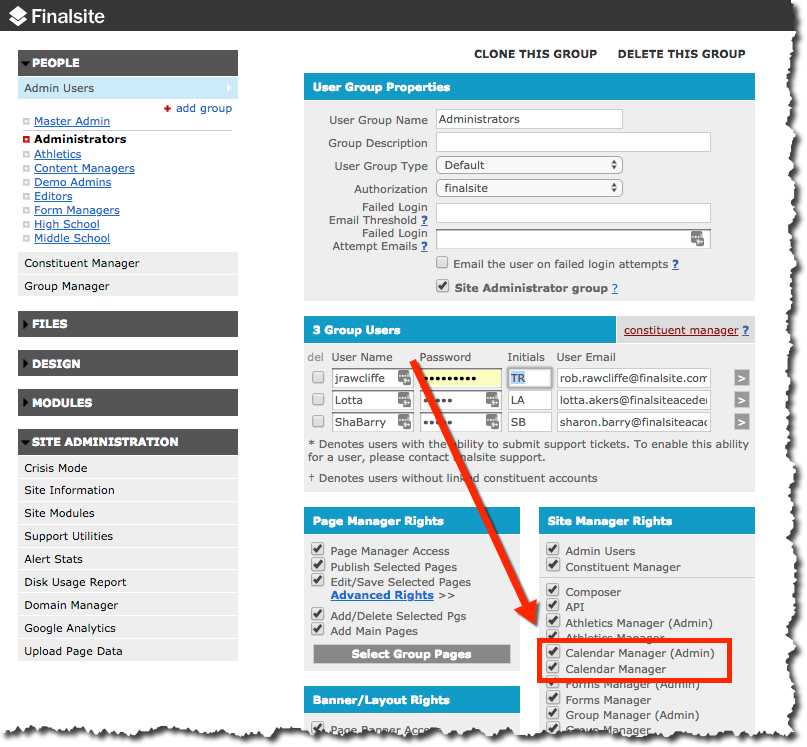 There are two options related to Calendar Manager that can be granted to an admin user group:
Calendar Manager - Allows users to access the Calendar Manager module, but they are restricted in what they can do there by their module-level permissions.

Calendar Manager (Admin) - Allows users complete access to the Calendar Manager module, AND users are allowed to set module-level permissions for other users.
Calendar module-level permissions
The module-level permissions determine what a user can do once they have accessed Calendar Manager.
Within Calendar Manager, permissions are set at the individual Calendar level. Each calendar can have a different set of admin users, each with their own customized level of access. Or (far more commonly), one or more groups of admin users share full access to Calendar Manager and all of the calendars in it.
Accessing calendar permissions
Module-level permissions are found within each calendar's settings.
From the Calendar Manager dashboard, click on the "Calendars" tab.

Find the calendar whose permissions you want to adjust, and click the corresponding "Edit pencil."

Click the "Rights" button to display the Calendar Rights screen.
There are five distinct permissions that can be granted or revoked to users: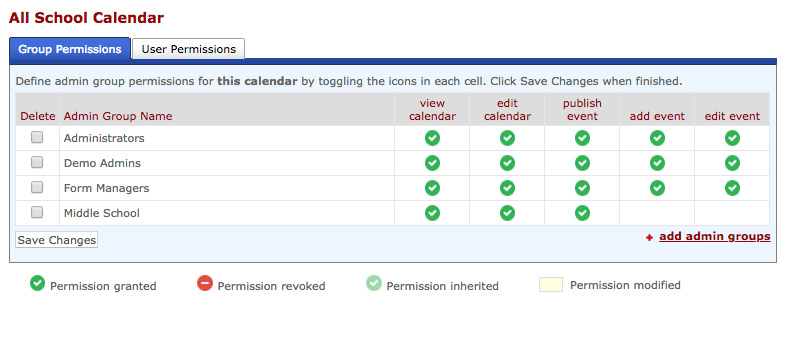 View Calendar - Users with this right can see the calendar but cannot make edits to it.

Edit Calendar - Users with this right can change the calendar settings (name, icon, categories, etc.)

Publish Event - Users can make events on this calendar "live" on the website, that is, visible to site users.

Add Event - Users can create new events.

Edit Event - Users can change the name, date, description and other properties of existing events on this calendar.
The permissions matrix displays all of the site admin user groups as rows, and all of the available rights as columns. Click on the intersection of each row/column to cycle through the various permissions settings. Rights granted/revoked on the "Group Permissions" tab will be applied to all of the members of that admin user group. Click over to the "User Permissions" tab to override the group defaults for individual users.