You may not always need to send a message to everyone on your list. Use list segments to create a subset of subscribers based on how they have interacted with a previous mailing. Then, target them by sending your message to the segment.
Create a segment
To create a list segment, go to your mailing list on the Lists tab and click the "Segments" tab.

Click the green "+ Segment" button to start a new segment.


Give your segment a name, then use the dropdowns to start creating your first segment condition.
The first dropdown will be "Message Activity." The second dropdown can be "Opened" or "Unopened." The third dropdown will populate with a list of messages that have been sent to this mailing list. The condition is that a segment includes anyone who did or did not open a specific message you have sent them.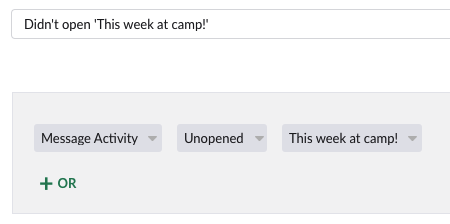 A segment can be modified by adding additional conditions using "AND" or "OR" logic. To add an "OR" condition, click the "+ OR" link inside the gray box. To add an "AND" condition, click the "+ AND" button outside the gray box. A new row of dropdowns will appear to complete in the same way. Continue adding "AND" or "OR" conditions in this manner until the segment is as general or specific as you wish.
Click "Save" when you have finished your segment.
Send to a segment
Once you have created the segment for your list, you will have the option to use it on the Message Details page. Under "Who are you sending to?", select the dropdown for the list, and below that, the dropdown for the segment. The message will be sent only to the subscribers with the message activity defined in that segment.

A message may only be sent to one segment of a list at a time.
Best practice: Using Segments
Segments are great to use when Workflows is a bigger tool than the job requires. Use it to send a one-off message to a group of subscribers who are more likely to be interested in a particular subject -- which they indicated by opening your last message about it. Or, send a follow-up about the important message you sent to only the people who didn't open it the first time.