When working on pages that include private or role-restricted content, you may find it difficult to preview what different types of users are going to see. Double-checking your privacy settings before you publish sensitive content is highly recommended, so this article discusses using the "log in as" feature to simplify the process.
Note: This powerful feature is only available to members of site administrator groups. Contact Support if you want to grant these permissions to another admin group.
As an admin user, you have admin-based permissions to view certain content within each module. In Composer, however, what you can view from those modules is determined by your constituent role. While you can always assign yourself to all available roles in Constituent Manager, this creates data integrity issues and still doesn't tell you what someone in a specific role sees.
Log in as this portal user
Instead, find a suitable user in Constituent Manager (or create a test user) and log in as them to mirror their site experience.
Best practice: It's a good idea to create test users so that you can preview different settings without using a real constituent's account. You can add the profile manually, even if you use an integration. Once you've finished testing, though, make sure that "Unpublish Profile" is selected so that the user doesn't show up in a live directory, for example.
To log in as a portal user, find their profile and go to the Account tab. Next to "Portal Login," click on "log in as this portal user."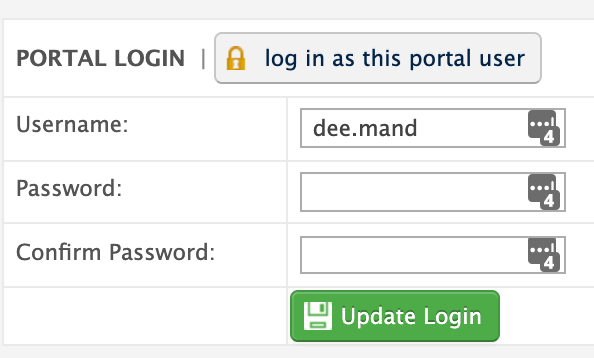 After confirming that you wish to log out, you will be taken to the user's role-based landing page.
From this view, you can see everything the user has access to on the live site. To preview content before you publish it, though, you'll need to go back to Composer. That means logging back in as your admin self. But don't log out yet!
On the user's portal toolbar, you'll see one link that the user doesn't: "Admin Login."

Click on this link to automatically log back in as an admin. You'll remain logged in as the portal user, so you'll be able to view the unpublished content in Composer with the user's portal permissions.
Note: Logging in as a constituent is not a full login. You can also use this feature to troubleshoot a user's account and take action on their behalf, but the system logs will reflect that you were logged in as them.