Banners frame the main content area of a page and provide additional locations to add elements. Left and right banners are generally narrow and vertically oriented. Top and bottom banners are called "headers" and "footers," respectively.
Banners can be applied individually to a page by activating "Compose" mode and clicking the Page Layout and Appearance icon on the bottom bar.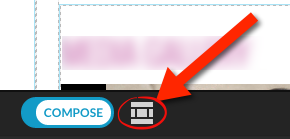 In the Page Layout and Appearance popup, define the banners that will appear on the page.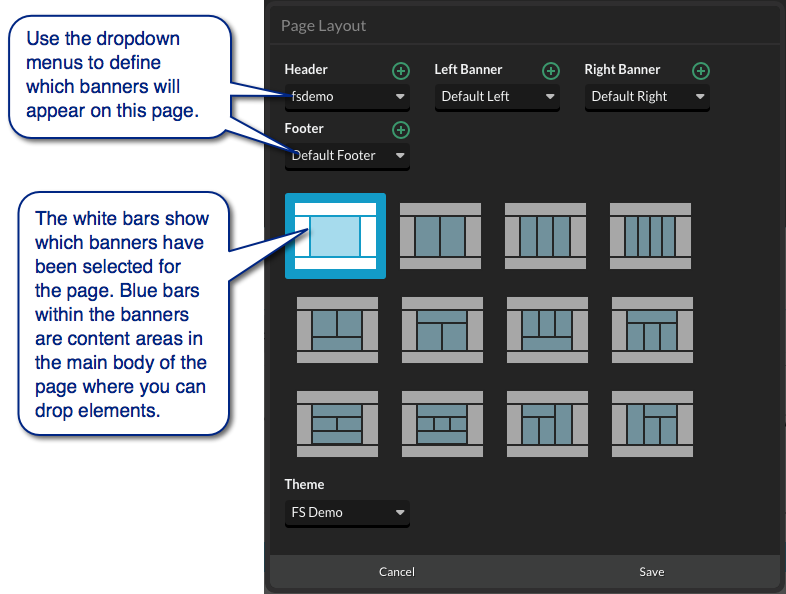 Creating new banners
There are two ways to create a new banner. In the "Banners" section of Composer, click on the green "+" button next to the type of banner you want to create. Or, to create a banner and immediately apply it to a page, use the green "+" buttons next to each banner's dropdown menu in Page Layout and Appearance.

Give the new banner a name.

After saving your changes on the Page Layout and Appearance screen, the new banner will appear in the page's Composer view. Click on the banner's name on the page to begin editing. In the Banners section, the banner will be added to the list and you will see a blank screen where you can begin adding elements.

As with pages, banners can be populated with elements by selecting them from the element library.

The appearance of banners can change based on the Theme applied to the page. When editing a banner on a page, the banner will take the page's theme properties. It may look different when applied to a page with a different layout. When banners are edited in the Banners section, the elements have no styling at all.

To preview a banner from the Banners section, it has to be applied on a page (but not necessarily published that way!). Then, you can click on the "Preview Banner on a Page" icon to select a page on which to view the banner.

When you're finished editing, publish your banner. In Banners, click the "Publish" button in the bottom-right corner. On a page, the "Publish" button will appear at the top of the banner box. Note: When displayed on a page, even in "Compose" mode, the published version of a banner will be shown. To view unpublished banner changes, click into the banner to enter editing mode.