The left navigation bar lets admins access and edit site content, as well as open modules and files, configure site settings, and contact Finalsite Support.
Composer tab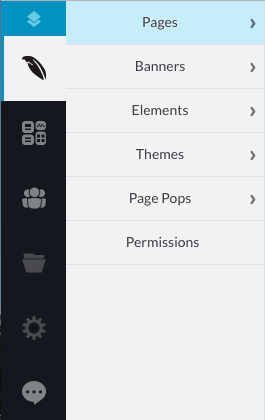 The Composer tab is where site pages are created and edited. In addition to full pages, you can also edit the individual components of pages, including banners and page elements. Themes allow you to alter the appearance and behavior of your site using CSS and Javascript. Page Pops can be set to appear on any page to deliver important messages to site visitors. The Permissions section allows site admins to control which administrative users can edit the site, and what they're able to do.
Pages
Domains
Composer can be used to administer more than one website at once. When you first click on "Pages," you'll see all of the websites that Composer operates, called "Domains." To edit the pages on a website, click on its domain to view a list of all the site's pages.
The Domain Settings control, found by hovering over the domain in Composer and selecting the More Actions menu, has three tabs that allow admins to adjust settings that impact every page on the site collectively: General, Landing Pages, and SEO.
Page settings
Pages created in Composer are listed in an "expanding tree" format. If a page has sub-pages underneath it in the site hierarchy, click on the small triangle to the left of the name to view them.
Hover over a page name to bring up a More Actions menu, indicated by a three-dot icon. Clicking the icon brings up a series of options to administrate the current page as well as any "child" pages saved under it: New Page, Move to a New Parent, Bulk Style, Bulk Publish, Delete, and Clone Page.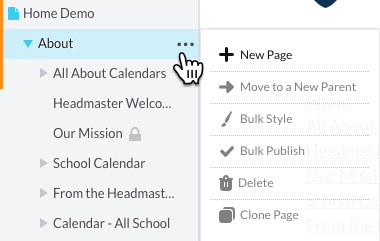 Banners
Click on "Banners" under the Composer tab to open a list of banners that have been created for your site. Click on a banner to view/edit it.
Elements
When you save a custom element for re-use elsewhere on the site, it appears under the "Elements" section of the Composer tab. You can open a shared element here for further editing.
Note: When you edit a shared element from this menu, your changes will affect every instance of that element currently in use on the site. If you want to edit a single instance of a shared element, navigate to that specific instance in a site page or banner, select to "orphan" it, and edit it there.
Themes
Themes are collections of Javascript and CSS files that dictate the visual appearance and behavior of many aspects of your website. Edit existing themes or create new ones by clicking on the "Themes" button in the Composer tab.
Page Pops
Page Pops are message windows that pop up on a specific page or pages on your site. Use them to send messages to site visitors, to announce breaking news, or for any other communications that you want to draw attention to.
Permissions
Use the Permissions controls in the Composer tab to determine which admins on your site are able to edit site pages, banners, themes, and shared elements.
Module menu
The Module menu contains links to individual Finalsite modules. The exact list of modules you see depends on your school's contract.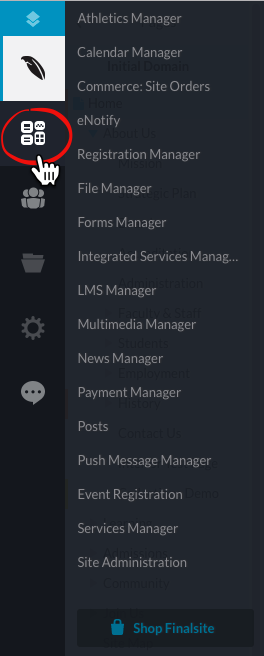 Click on any module to open it. Use the Site Administration menu item to access the "back end" of Composer to adjust certain settings.
Modules that display an arrow pointing to the upper-right when you hover over them will open in a new browser window. Modules that display a right arrow will open directly in Composer.
People menu
The People menu has links to Constituent Manager, Group Manager, and the Admin Users settings.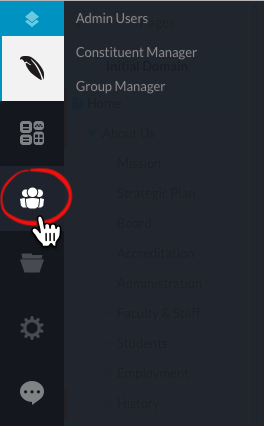 Resources
Resources is Finalsite's file-management solution. This is where you can upload files for use throughout your website, including media files, PDFs, or any other documents you want to link.
Finalsite Support
The Support menu brings together all of the various resources you can access to learn about Finalsite, get answers to questions, speak to other Finalsite users about best practices, and contact Support for any help you might need.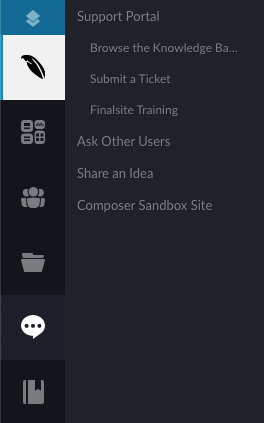 Support Portal
The Support Portal includes the Knowledge Base, downloads (for useful documents such as datasheet templates), website status updates, and other information to help you make the most of Finalsite. Click on "Browse the Knowledge Base" to go directly to the Support Portal.
The Submit a Ticket menu item will open the ticket-entry window (if you have permission to create tickets). Tickets are the primary way to communicate with Finalsite Support about any issues you might have with your site.
Use Finalsite Training to access the Training Portal, where you'll find webinars and courses that will teach you how to use various Finalsite modules and features.
Ask Other Users
Finalsite Community is a portal that's available to all Finalsite site administrators. Here you can participate in discussion threads with other Finalsite users to share information and learn about how other schools have implemented features and solutions that you might be considering for your own site.
Share an Idea
Finalsite Ideas is a way to connect our developers and Product Managers with our clients, so that we can get first-hand information from clients about how the software is used and what features would make it even more effective.
Composer Sandbox Site
The sandbox is an open Finalsite website that you can log into as an admin to try out new features or experiment with new approaches to site design that you don't want to deploy on your own site. The sandbox is open to all site admins and is reset to its initial state every month or so, with all files and customizations deleted.
Guides
The Guides icon is your link to the Finalsite Resource Center, where you can access information about software updates and other important announcements, in-app software tours and onboarding guides, as well as in-app access to our Knowledge Base.