In this Article
---
Finalsite Central is a free companion app for Messages and Messages XR admins allowing you to draft, send, and review messages from your mobile device. 
Log in to Finalsite Central
There are two different ways you may need to log in to your Finalsite Central app: Finalsite authorization or through the use of a 3-digit access code you can find on your Messages Dashboard. Here is how both of these authentication methods will work. 
1. Finalsite authorization
Username: The username you use to log in to your Finalsite CMS.
Password: Your Finalsite password.
Site Domain: The site domain for your CMS.
Troubleshoot: If you are experiencing a login failure, try using sitekey.finalsite.com instead of your regular domain where site key is your primary domain name. For example: fsacademycom.finalsite.com instead of www.fsacademy.com. For assistance, please Submit a Request to our support team.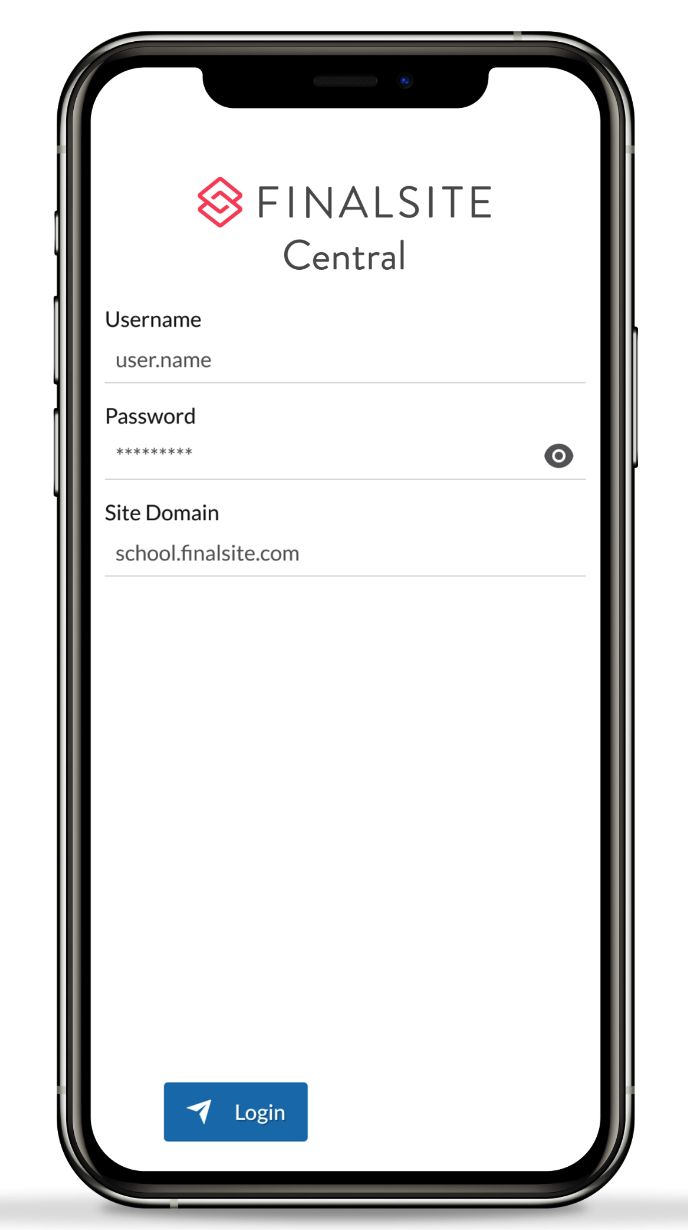 2. Three-digit access code
Otherwise, your phone screen will ask for the following information: 
Username: The username you use to log in to your Finalsite CMS.
Password: Your Finalsite password.
Access Code: The 3-digit access code that you will need to enter onto the homescreen of your Finalsite Central App can be found on your Messages Dashboard in the "Access Messages On-the-Go" box.

Note: Click "Get QR Code" to scan the code and quickly pre-fill both the username and access code onto your home screen. If you have not already downloaded the app, you will first be taken to the app store of your choice to complete the download before the same information will be pre-filled into your login fields.
Access all messages and folders
Once you've arrived into the app, you'll be presented with a list of all the messages that already exist in your Messages module, including those that have been sent out already as well as those ready to send or "Unscheduled." Choose a different folder to open up at the top of the feed, or simply select a message you see in the feed on your screen. Remember that you can start a message on the desktop platform that can be finalized while "on the go" with a mobile device.
Note: Permissions in the Finalsite Central app will mirror the permissions granted in the Messages module.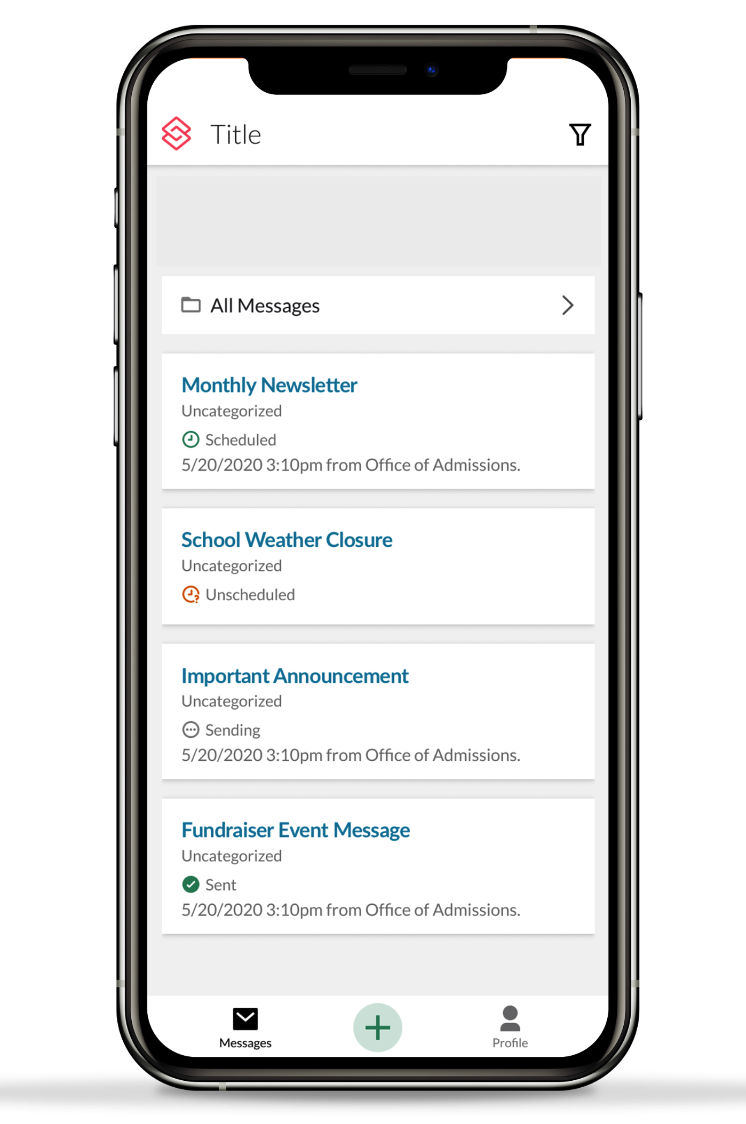 Edit previously created messages
Finalsite Central isn't just for newly created messages, but also for those already in your Messages module on your CMS. Messages created in Finalsite Central will join other messages that exist in folders on your web platform. Open up a message to edit and update, and then send with the mobile Finalsite Central version or when you have returned to your desk. 
Create a new message
To create a new email message, tap on the plus sign in the middle of the bottom toolbar.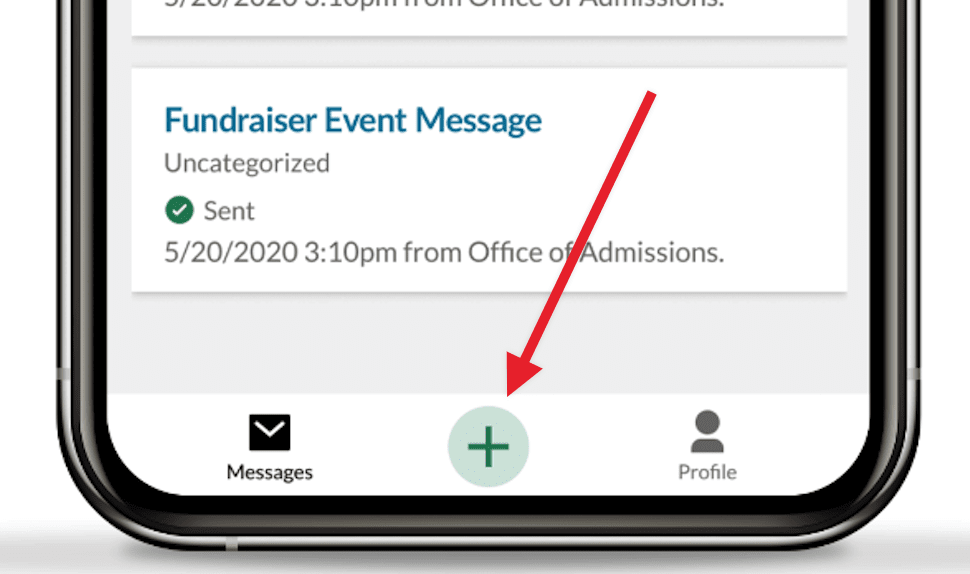 Choose an "Internal Name." 

Make sure the correct "Folder" is selected where you want this message to live

Choose the "Message Type" that defines your message: Promotional or Important Announcement.

Click to "Add Recipients."
Note: In the app, "Important Announcement" is shortened to "Announcement."
Read more about Best practices for sending emails with Messages.
Prepare to send your message
The next screen has further customization options available.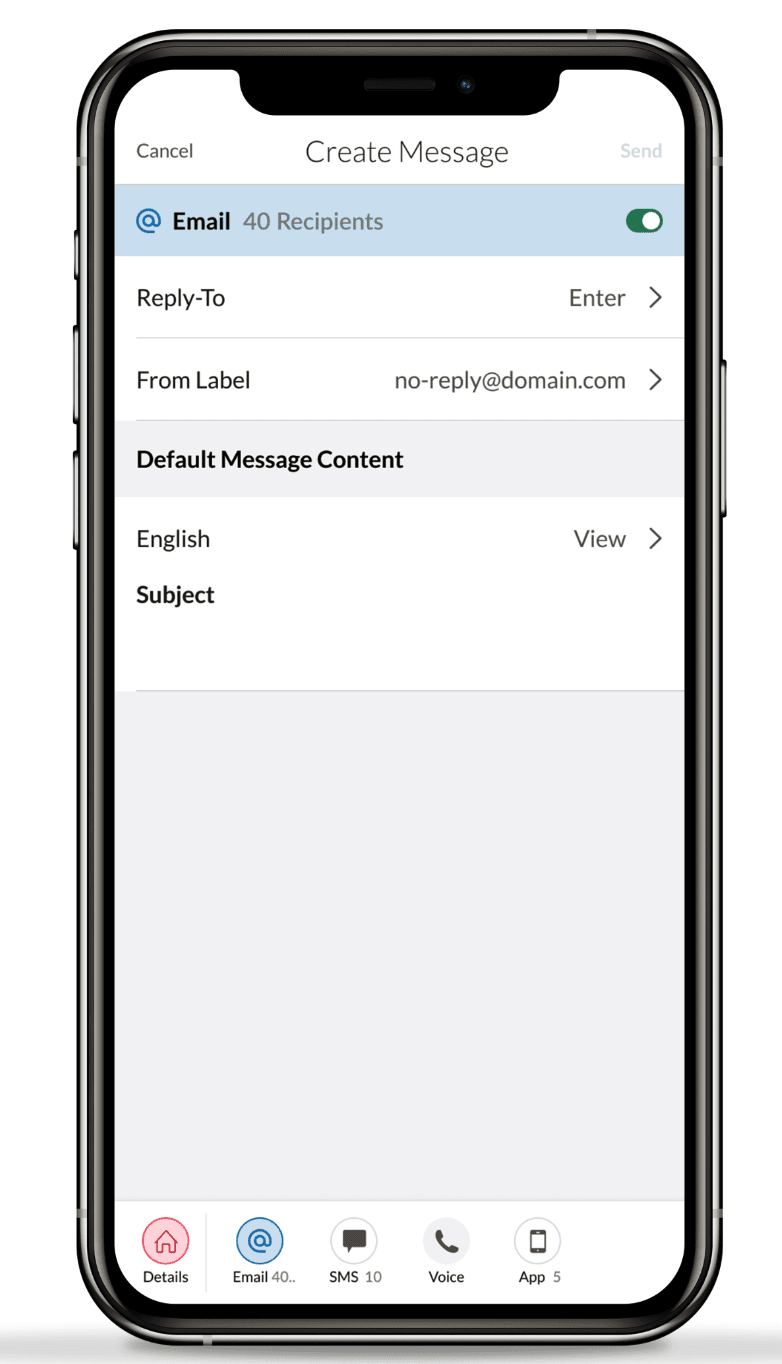 Reply-To
Set your "Reply-To" address. Click the "Reply-To" option to select which email address will be targeted when a recipient replies to your message. You can select your own address (the default), or any Reply-To addresses that you have permission to use.
Edit the "From" Label
Click to enter your text into the content area. This is helpful to ensure that the email is more recognizable in inboxes, with the District name or department more visible (i.e. Communications Department or Finalsite ISD). If nothing is entered here, noreply@myenotice.yourdomain.com will be used.
Write your Message
Now you're ready to write your message! Enter the Subject, which will appear in the recipient's inbox. Then compose your message content. If you are choosing to send your message via Voice, SMS, or Finalsite Mobile app, the text entered in your email will pre-fill into the other channels with the same information.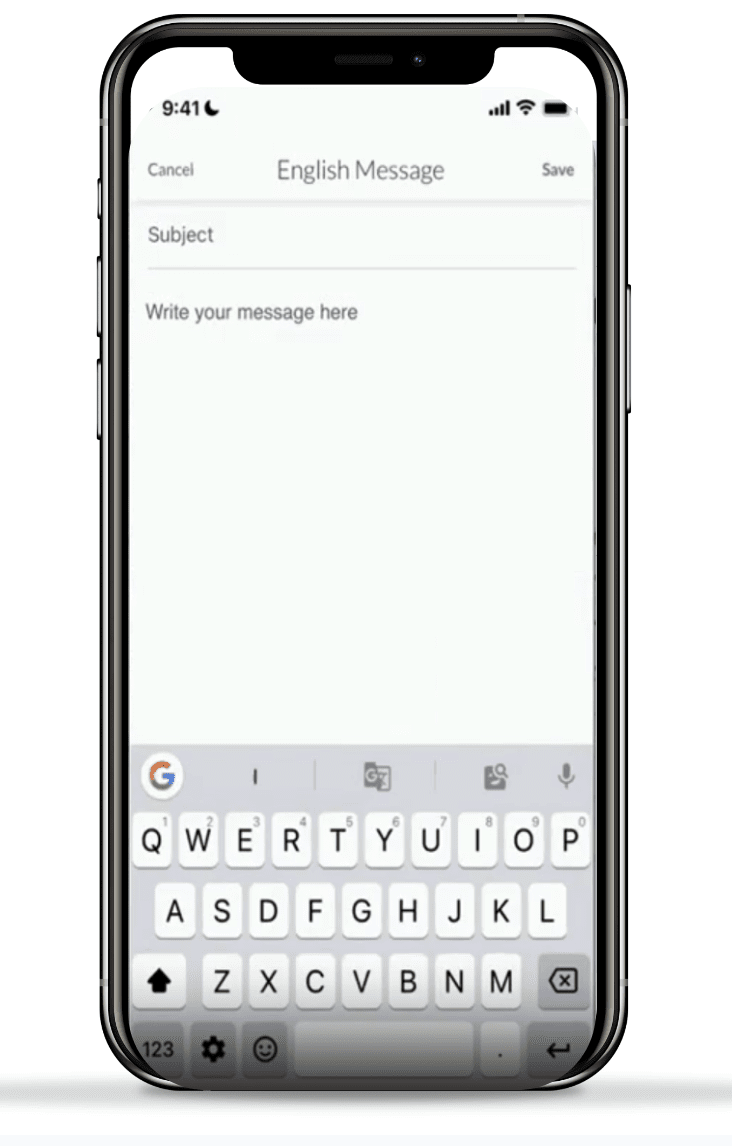 Send messages via email, SMS, voice, and Mobile app
After the message and the sending settings are ready, you can select the other channels.
SMS Message - The information from your email message will autopopulate, but may need to be truncated to fit into the 160-character limit for the SMS message field.
Voice Message - Prepare your message using either the "Text-to-Speech" option (3,000-character limit) which converts your text into a voice message or simply "Record a Message" (3-minute limit). 
Mobile app - You can push your message out as a notification to your Finalsite Mobile app.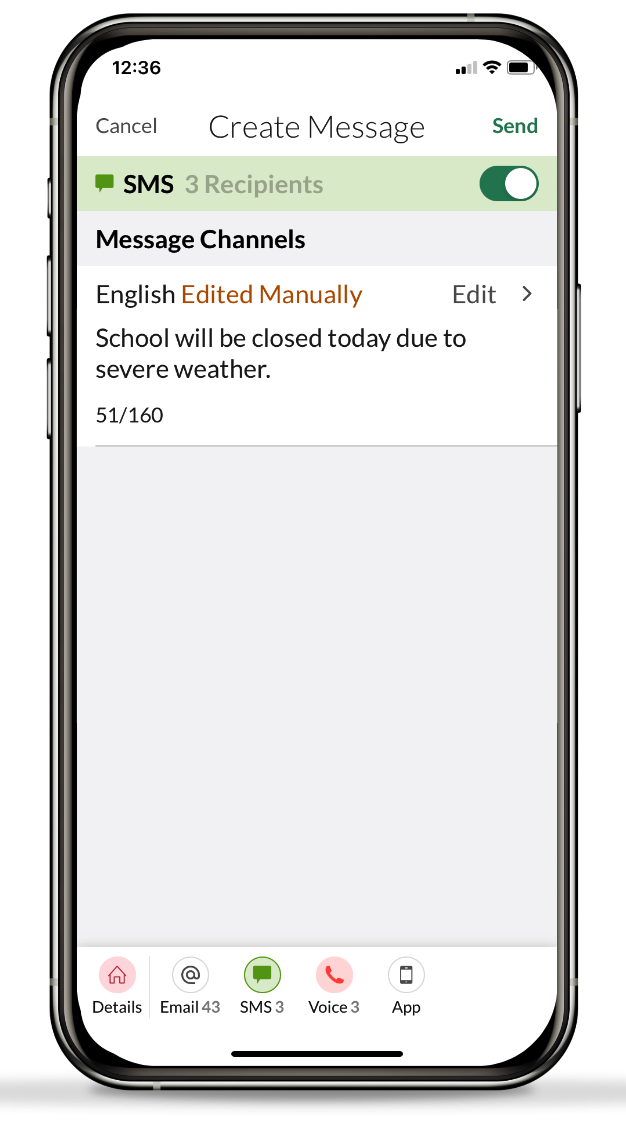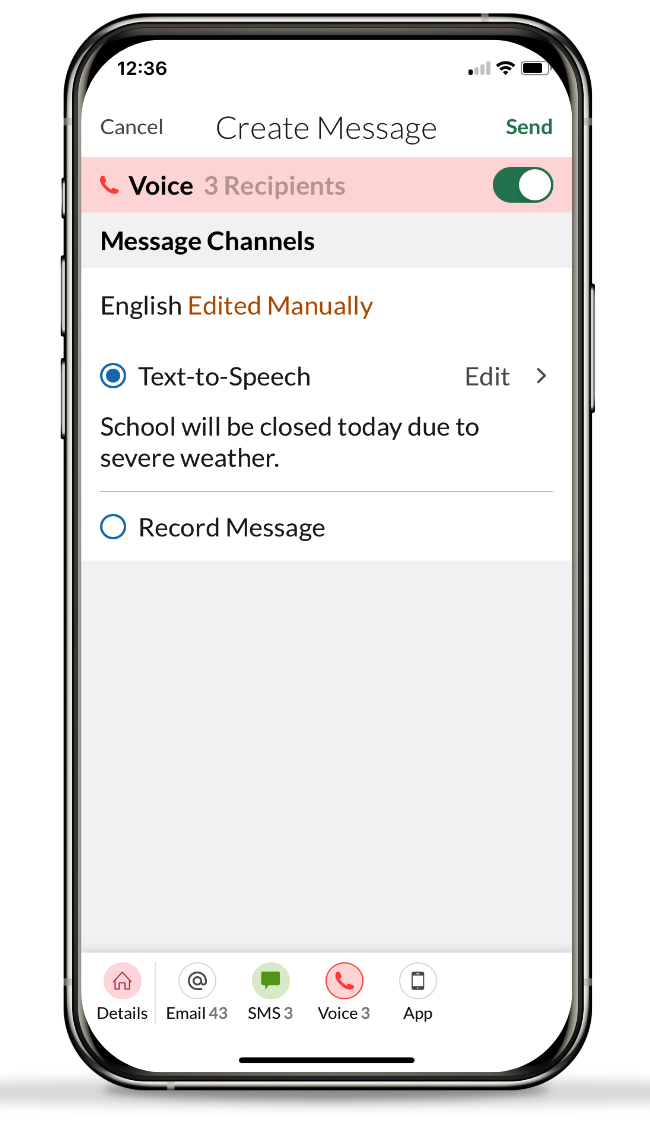 Schedule Messages to send later
Not ready to send? Wanting to send at a specific time of the day? Schedule a message to go out when it is most convenient. When you hit send, the app will give you the choice to "Send Now" or "Send Later." You will see a screen displaying the number of recipients with a final chance to review the messages in each channel.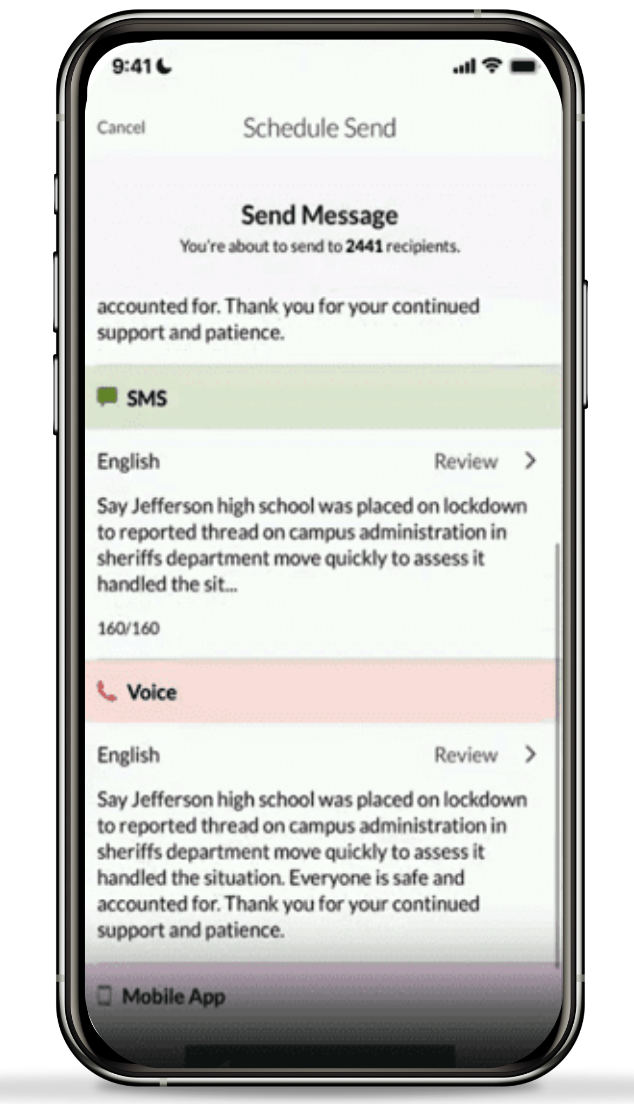 Send confirm screen
Once the message is finished sending, a confirmation screen will appear.