Update 11/19: Facebook sources will continue to work without the authentication as Facebook has decided to delay their API changes until sometime in 2020. For now, you can still add a Facebook source without first connecting the account. Please use the "3rd Party Page" tab in the add source popup box for Facebook.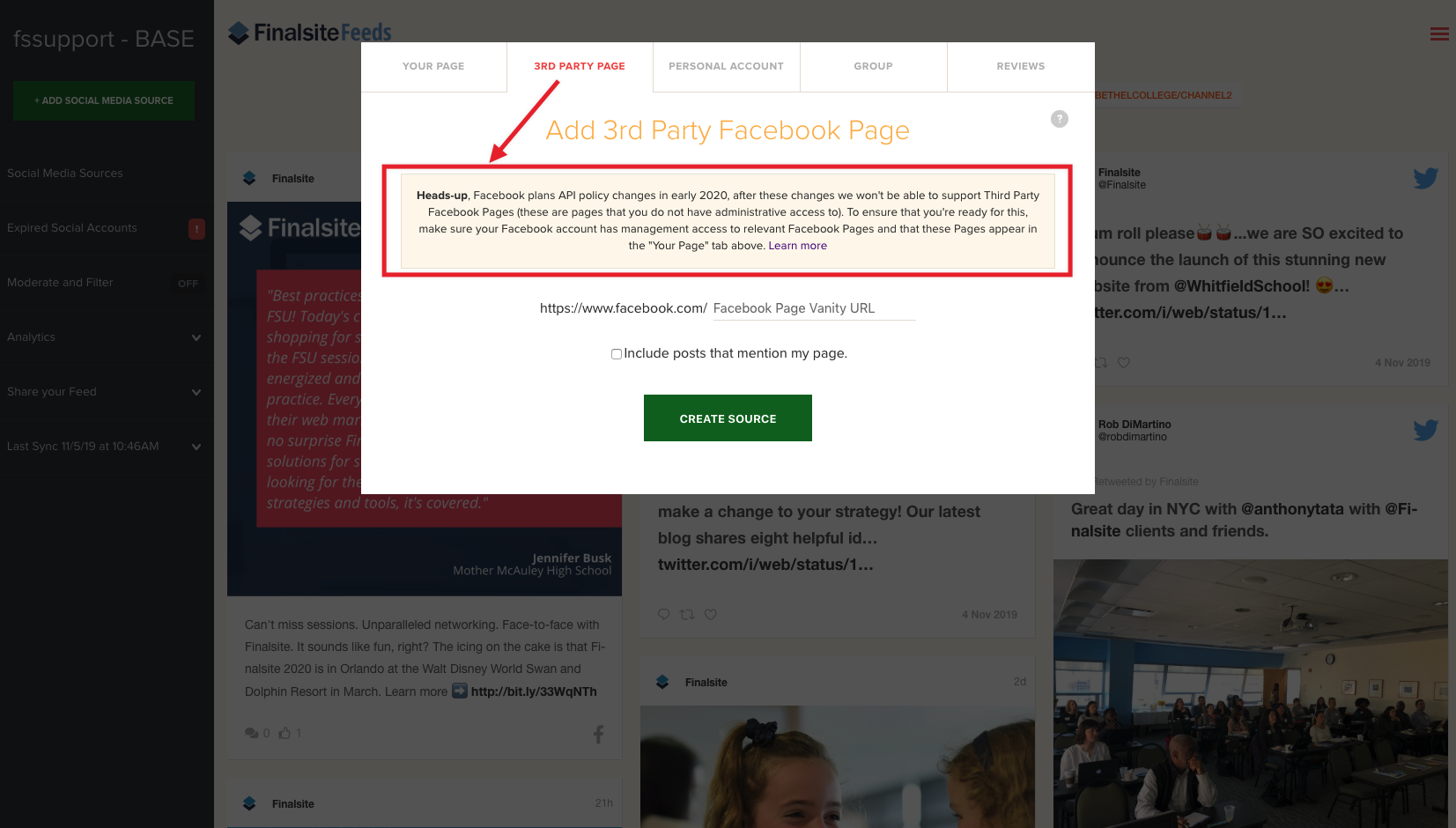 Recent Facebook API changes require validation that you manage any Facebook page you use as a source in the Feeds module.
Beginning October 23, 2019, Facebook requires that you have administrative rights to any Facebook page you plan to display as a source in the Feeds module. You must connect that account in Feeds, similar to what is required for connecting Instagram accounts.
In other words, if you want to display posts in Feeds from the @YourBusiness Facebook page, you must connect a personal Facebook account to Feeds that has admin access to @YourBusiness before you can add it as a source.
Existing Facebook sources already added in Feeds will require you to connect that Facebook account before new posts will pull in for that source.
Providing this validation is a simple process. You will need to connect a personal Facebook account that is a manager/admin of your Facebook page sources at https://feeds.finalsite.com/social-accounts. Posts from the personal account will not be displayed in Feeds.
You can confirm this is completed with the following steps.
Log into Feeds and visit the "Your Social Connections" page at https://feeds.finalsite.com/social-accounts.

Check whether a connection is currently listed on that page for Facebook.

If there is not a connection listed, click the green "+" icon and enter the login details for a Facebook account that is an administrator of any Facebook sources you display in Feeds. (These sources are listed in the "Social Media Sources" panel of your main Feeds dashboard.)

Note: If your browser is already logged into Facebook, Feeds will default to that account. You may need to log out of Facebook before proceeding.

If there is a connection listed, and that account has admin rights for your Facebook sources, no further action is needed.
If you aren't sure whether your personal Facebook account has admin rights to a certain page, you can check by visiting https://www.facebook.com/bookmarks/pages. Facebook pages you display in Feeds should be listed there. If any are missing, contact the administrator of that page and request to be added as one of the page roles. Or, you can connect a different personal Facebook account to Feeds that already has this role.
Once you have established this connection, Feeds can pull in posts from your Facebook page sources. It may require waiting until your next typical update, which is either 4 hours or 5 minutes, depending on your package level.
Using more than one Facebook source in Feeds
At this time, we can only connect one Facebook account in the "Your Social Connections" page of the Feeds module. However, we are working on a way to allow for multiple accounts to be connected, as with Instagram.